Chocolate
From Jacques Torres Chocolate To Your Dining Table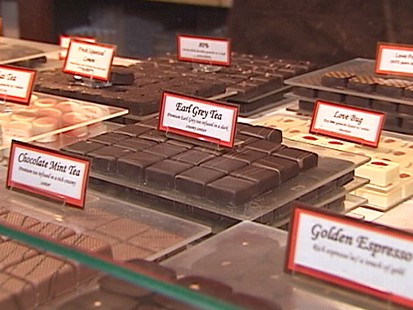 Pastry Chef Jacques Torres melts and swirls fine chocolate into lovers' treats.
From the kitchen of Jacques Torres
Ingredients
Chocolate
Dark or Milk Chocolate, Melted and Tempered
Cooking Directions
Mendiant Heart
Fill pastry bag with tempered chocolate of your choice, dark or milk.
On a chilled cookie sheet lined with parchment paper, pipe two circles of chocolate.
With a spoon or offset spatula, spread the chocolate into the shape of a heart.
Personalize the heart with either nuts, store bought candies or decorations.
Repeat the process for the number of hearts that you need.
Place the cookie sheet in the refrigerator so the hearts will set.
Remove the cookie sheet from the refrigerator and carefully remove the hearts from the parchment paper.
Package the hearts for gift giving.
Recipe Summary
Main Ingredients: chocolate, nuts, fruit, candies
Course: Appetizer/Starter, Side Dish, Dessert