Diane Henderiks' Tortilla Pizza
Recipe Courtesy Diane Henderiks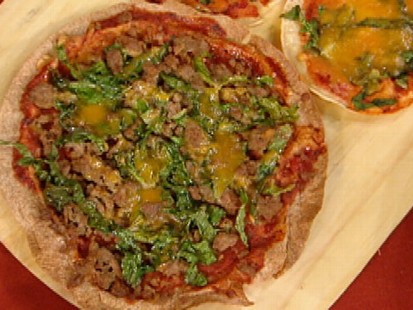 Break out of a food rut with seven recipes from seven staple ingredients.
From the kitchen of Diane Henderiks
|
Ingredients
Whole grain tortillas
Marinara sauce, homemade or healthy jarred sauce
Basil, chopped fresh or dried
Your favorite toppings
Low fat cheddar cheese
Dried oregano
Cooking Directions
Pre-heat oven to 350 degrees.
Place tortilla on baking sheet and bake for 5 minutes.
Lightly spread sauce over the entire tortilla.
Sprinkle with basil.
Top with your favorite toppings.
Sprinkle with cheese and oregano.
Bake for about 5 minutes. (Note: the longer you leave it in, the crunchier it gets)
Enjoy!
Other Recipes That You Might Like