Roasted Trumpet Royale Mushrooms with Fontina Fonduta
From 'Chef's Table'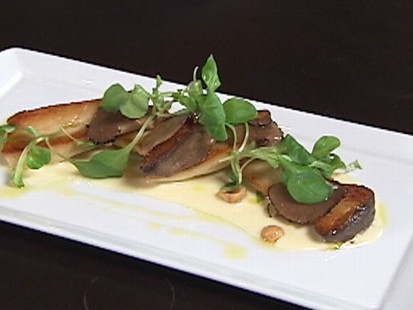 A Voce chef Missy Robbins has fun with mushrooms and cheese.
From the kitchen of Missy Robbins
Ingredients
For the fonduta:
1 quart cream
8 oz. fontina cheese
1 tsp truffle oil
Salt and pepper to taste
For the mushrooms:
12 Trumpet royal mushrooms
2 tablespoons olive oil
4 sprigs thyme
2 tablespoons butter
16 slices truffles
8 bunches mache lettuce
Cooking Directions
For the fonduta:
Very slowly reduce cream until it is about 3/4 reduced and thickened. In the meantime, grate the fontina cheese on a large side of a box grater. When the cream is reduced, gradually begin to whisk the cheese into the cream. Continue whisking until all of the cheese is melted into the cream and dissolved. Whisk in the truffle oil and season with salt and pepper. Set aside in a warm place.
For the mushrooms:
Preheat and oven to 450 degrees. Peel the outer layer of the mushrooms and cut them in half lengthwise. Score the inner side of the mushroom with a knife in a crisscross pattern. Heat a large sautee pan to medium and add the olive oil. Place the mushrooms in the pan scored side down and slowly cook until they begin to turn golden brown. Put the butter in the pan with the thyme and season with salt and pepper. Transfer to the oven and cook until the mushrooms are tender.
Spoon the fonduta onto a plate. Place the mushrooms on top. Garnish with Mache and slices of preserved truffle.
Recipe Summary
Main Ingredients: fontina cheese, trumpet royal mushrooms, truffles
Course: Dinner, Brunch, Appetizer/Starter
More Info: Kid Friendly