Pioneer Woman's Homemade Ranch Dressing With Iceberg Wedge
Ranch Dressing From Your Pantry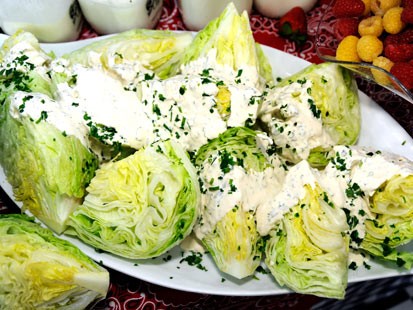 From the kitchen of Ree Drummond, 'The Pioneer Woman'
|
One day, Ree Drummond found herself fresh out of the ranch dressing packets that you buy from the grocery store. She headed to her pantry and made up the recipe with what she had on hand and with fresh herbs from her garden. You may substitute dry herbs in place of the fresh. Just make the amounts smaller.
Ingredients
1/4 teaspoon kosher salt
1 garlic clove, chopped
1 cup real mayonnaise
1/2 cup sour cream
1/4 to 1/2 cup milk or buttermilk, depending on how thick you want the dressing
1/4 cup chopped flat-leaf parsley
1 tablespoon chopped fresh chives
2 tablespoons chopped fresh dill
1/2 teaspoon distilled white vinegar
1/2 teaspoon Worcestershire sauce
1/8 teaspoon cayenne pepper
1/4 teaspoon paprika
1/2 teaspoon black pepper
Dash of hot sauce
2 heads iceberg lettuce
Cooking Directions
Sprinkle the salt over the garlic. With a fork, mash the garlic and salt together to make a paste. The finer the better, as the garlic is very strong in the finished dressing.
Add all the dressing ingredients to a bowl and stir together gently, adjusting the seasons as needed. Make the ranch dressing all yours -- add in more of what you like.
Chill the dressing for at least 2 hours before serving. Thin with milk if needed.
Wash and dry the iceberg lettuce and cut into wedges. Arrange the wedges on a platter and drizzle the ranch dressing over the top. Be generous with the dressing, since it needs to reach all the lettuce in the wedge.
Other uses for homemade ranch dressing:
Serve as a dip for carrot and celery sticks.
Mix in crumbled blue cheese and serve with Buffalo wings.
Drizzle on a submarine sandwich.
Pour into a hollowed-out red cabbage and serve on a fancy crudite platter.
-"Good Morning America" food dishes styled by Karen Pickus.
Other Recipes That You Might Like