— -- Amy Robach underwent her first-ever mammogram last year, live on "Good Morning America" for breast cancer awareness month, but never imagined she'd hear the words: "You have breast cancer."
Deb Greig was watching from her home in Charleston, South Carolina. The former news director at ABC News' Charleston affiliate, WCIV, knew of Robach early on in her career, and was stunned when Robach shared the news of her breast cancer diagnosis in November 2013.
"I was actually putting my makeup on to get ready for work and I ran around to watch the story. And I was shocked," Greig recalled.
Robach decided to have a double mastectomy and underwent chemotherapy. Fast forward a few months to when Robach was reading letters of encouragement from viewers and opened a thank you note from Greig.
"I had been driving around with my mammogram prescription in my car for a year when I heard you tell your story on GMA," the card read. "I booked by mammogram that morning, had the mammogram two days later ... a biopsy the next day, and learned I had cancer the next day. ... I want to thank you for saving my life."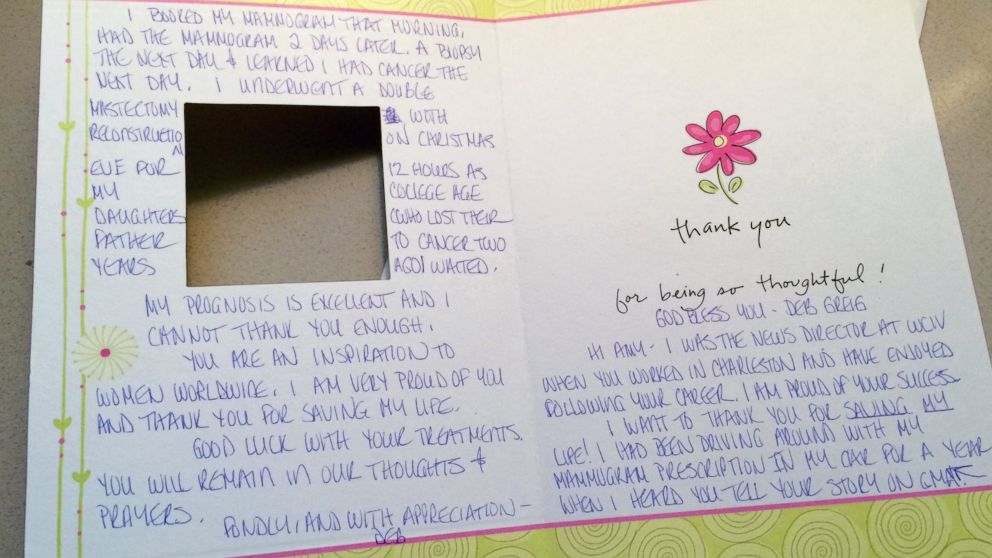 ABC News Goes Pink: Take the pink pledge to understand your risk!
The letter meant the world to Robach, who reached out to Grieg and later visited her family at home in Charleston.
Greig, who is in her 50s, had been putting off getting a mammogram for many of the same reasons as Robach and other woman around the country.
"I did self-exams. I was very aware of breast cancer, and I felt healthy. And I was really busy, like every woman in this country," she said. "So I kept thinking, 'I feel good, I can't feel anything, I'm fine.' And as it turns out, there was a tumor about the size of a lipstick tube hiding where it couldn't be felt."
WATCH: 5 Things You Need to Know About Breast Cancer
Read: Amy Robach Cut Her Hair to 'Take Control' During Chemotherapy
"If I had not had the mammogram it would've just continued to grow into a mass and I would've been in trouble," she said. "From the time that it was detected and that I had the surgery it had doubled in size. But it had not yet spread out. So I was very lucky."
For Greig and her two daughters, Danielle and Nicole, who lost their father to lung cancer nearly two years earlier, the diagnosis was another emotional blow.
"I was very angry and very scared for them. ... That definitely was the hardest part," she said. "And I could not believe that God would do that to them and have them lose two parents. But I knew it was a possibility."
With her girls at her side, Greig had a double mastectomy on Christmas Eve 2013.
"I had been feeling sorry for myself beforehand," she said. "And one of the nurses had said, 'Why don't you look at things a little bit differently and instead say, 'I'm having my surgery on Christmas Eve and I'm gonna wake up Christmas Day cancer-free'? And that's how the girls and I decided to look at it."
Greig and Robach are two women who speak to the larger picture of breast cancer in America. Both were fortunate enough to get a mammogram, catch their cancer early and beat it, and now they want to inform others and encourage women to be vigilant.
ABC News Goes Pink: Take the pink pledge to understand your risk!
'Angelina Effect' Boosts Breast Cancer Referrals, Study Finds
How a Mammogram Can Save a Life
Nine months later, Greig looks vibrant and healthy as ever. Her prognosis, according to her doctors, is good.
"I feel like a fighter," she told Robach with a laugh.
"A warrior," Robach replied with a smile. "We have our battle wounds."
Beating cancer has given Greig a new lease on life, said her daughter, Nicole, 23.
"Our mom beat cancer," she said. "She has a new outlook on life. And she's just so positive and strong. I feel very blessed."
Greig feels thankful for every day.
"I'm much more positive. I won't hesitate at all to take a second to help anybody that needs anything. I'm thankful," she said. "Every day is a gift."