First Child's Death From Liquid Nicotine Reported as 'Vaping' Gains Popularity
Cases of liquid nicotine exposure has more than doubled since last year.
December 12, 2014, 5:40 PM
— -- A toddler from upstate New York could be the first child to die from liquid nicotine, the substance used in e-cigarettes, poisoning in the U.S., concerning health officials as e-cigarettes continue to rise in popularity.
Police reported that the 1-year-old child died after ingesting liquid nicotine at a home in Fort Plain, New York, on Tuesday. The child was found unresponsive and rushed to a hospital where he was later pronounced dead.
Fort Plain police released a statement saying the death is believed to be a "tragic accident." They declined to say whether the liquid nicotine was associated with an e-cigarette.
5 Things You Need to Know About E-Cigarettes
E-Cigarette Poisoning on the Rise, CDC Says
Heart Group: E-Cigarettes Might Help Smokers Quit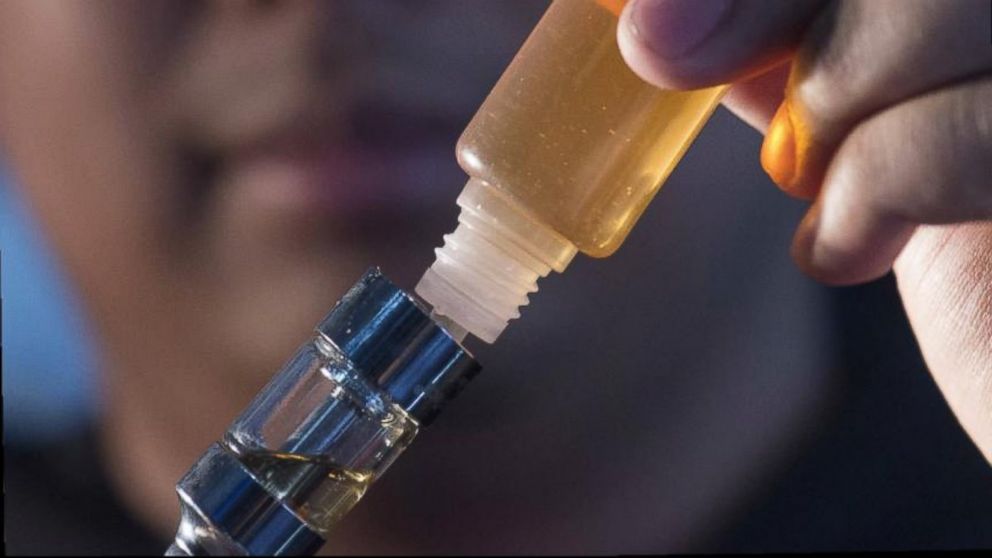 But health officials are concerned if steps aren't taken to protect children, they could see more fatal accidents similar to this one.
The rise of e-cigarettes and "vaping" in recent years has also meant a rise in the purchase of liquid nicotine. Coming in flavors like cotton candy or gummy bear, health officials say that the brightly colored liquid could appeal to young children.
"One teaspoon of liquid nicotine could be lethal to a child, and smaller amounts can cause severe illness, often requiring trips to the emergency department," the American Association of Poison Control centers in a statement today. "Despite the dangers these products pose to children, there are currently no standards set in place that require child-proof packaging."
In November the American Association of Poison Control Centers announced that the number of dangerous "exposures" to liquid nicotine has skyrocketed in recent years with 3,638 exposures as of Nov. 30. An exposure means coming into contact with liquid nicotine through ingestion, inhalation or by absorbing the substance through the skin.
The number is more than double the 1,543 exposures reported in 2013 and exponentially higher than in 2011 when 271 exposures were reported.
Before this week, the only confirmed death related to liquid nicotine happened in 2012 when a man injected himself with the substance, according to the American Association of Poison Control Centers.
Dr. Donna Seger, director of the poison control center at Vanderbilt University Medical Center, said her center has started to get more calls about exposure to e-cigarettes or liquid nicotine.
"They're not that difficult to get into," Seger said of the vials that contain the nicotine. "The issue is once the exposure occurs, it could be bad."
Seger said just a small amount of nicotine can cause dangerous symptoms in children, including seizures.
Phil Daman, president of the Smoke-Free Alternatives Trade Association, said he was "saddened to hear the terrible news."
"[We] want to always be mindful to put safe products on the market," said Daman, who said the trade association recommends childproofing products to "err on the side of caution."
Daman questioned if the child could have gotten a hold of a high-grade liquid nicotine that could be a much higher concentration than what is in many common e-cigarette products. Because e-cigarettes are not federally regulated there is a wide-range of liquid that could be purchased to use in e-cigarette products, ranging from potent high grade liquid nicotine to material that has an extremely small amount of nicotine.