As the pandemic seemingly enters a new phase with the public health emergency ending in early May, many COVID data trackers are shutting down, no longer sharing data such as number of cases or hospitalizations, despite about 500 Americans dying each day from the disease.
Experts interviewed by ABC News detail how the onset of the pandemic brought a slew of data trackers to monitor numbers to inform officials. They warn that investments in epidemiological tracking can't dwindle, especially as respiratory illnesses like influenza and RSV placed a heavy burden on some hospitals across the nation this past winter.
John Hopkins University reported their Coronavirus Resource Center will be shut down in early March. The site was one of the first to track real-time COVID data and was widely appreciated – even the White House relied on the site in the very beginning of the pandemic to learn about the outbreak that was occurring abroad, explained Dr. Blythe Adamson Ph. D., CEO and founder of infectious economics and former member of the White House Coronavirus Task Force, told ABC News.
"Clearly the challenges, especially at the earliest outset of a pandemic, was that there was not really good data infrastructure to report aggregate data, like case counts. The Johns Hopkins tracker played a real vital role in filling in some of those gaps," said John Brownstein, Ph.D., an ABC News contributor and chief innovation officer at Boston Children's Hospital.
Other trackers, like the one managed by the Department of Health and Human Services are being shut down as well, in favor of the dashboard managed by the Centers for Disease Control and Prevention.
Accurate data has been essential for public health officials and policymakers to develop and adjust COVID policies. Yet, almost no jurisdiction is widely imposing any policies like mask-wearing or social distancing.
"These trackers are only as valuable as the actions that they inform and where we're at in the pandemic. There are still a lot of important decisions that need to be made, actions that can be taken and I would argue that the type of information that we need to make those decisions is different now than it was at the beginning of the pandemic," Adamson said.
Losing momentum on the investments made in public health data may place communities in vulnerable positions, experts say.
"The investments that took place in COVID should extend out to other public health crises and I think that has always been a worry, that post-response we'd be left with a graveyard of software code that would basically be never utilized and that would be such a shame," Brownstein said.
At-home tests have now made case numbers less reliable, although officials continue to encourage anonymously reporting tests to MakeMyTestCount.org – a site led by the NIH. Experts say tracking cases can still help inform public health agencies.
"For infectious diseases, it's very important for public health agencies – I'm really referring to state and local health departments and CDC – to continuously monitor how many people are getting sick, who is getting sick and of course to evaluate the pathogen itself," said Dr. Jay Varma, director of the Cornell Center for Pandemic Prevention and Response.
Tracking cases is also important because it alerts officials of potential surges. There have been some notable ones like the Delta surge in the summer of 2021 which impacted many hospitals.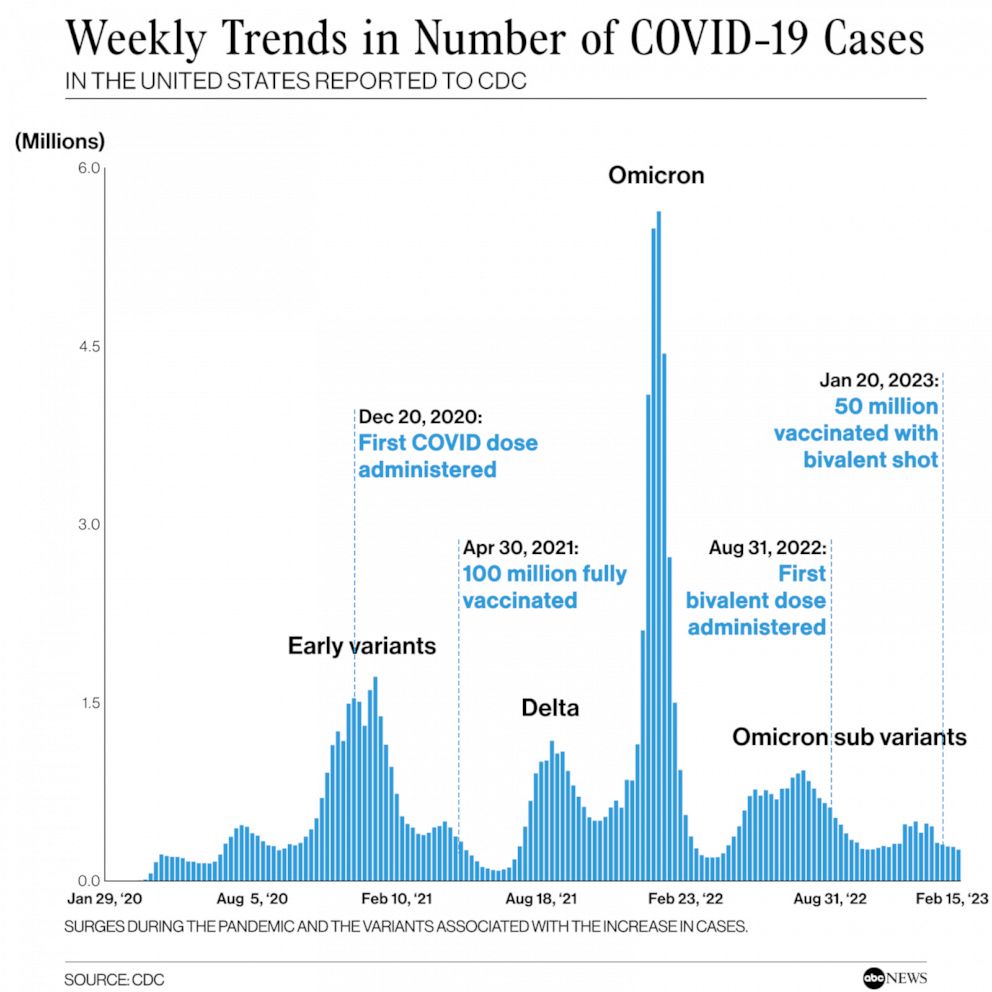 12/14/20: First COVID dose administered
04/30/21: 100 million fully vaccinated
08/31/22: First bivalent dose administered
01/20/23: 50 million received bivalent shot
Yet, the Omicron surge obliterated its predecessors in terms of the sheer numbers of cases. Since then, small rises in cases have all been attributed to offshoots of the variant.
"I don't think we fully know the intrinsic versus extrinsic factors that are influencing these cycles. There's absolutely a behavioral component. There's an intrinsic biological component. We're seeing waves of different magnitude, at three to six months increments," Brownstein said.
"The reality is sometimes it can take many years after a new pathogen enters the world for us to understand what these patterns are, and what the factors are that drive them," Varma said.
COVID numbers will continue to ebb and flow, yet a serious surge would most likely require a completely new variant, experts believe.
"I think, without a doubt, we will have surges. The frequency and size of those surges is still very hard to predict. In all likelihood, we will see a bigger surge at some point in the coming year or two. We will likely be challenged with a new variant, no mitigation strategies and waning immunity and I think that recipe will lead to a surge," Brownstein said.
In general, predicting COVID numbers – just like predicting how the stock market will do – is an almost impossible task.
"One of the most important lessons of the COVID pandemic has been that subject matter experts, like myself, have to be very humble about making predictions for the future," Varma said
However, experts are optimistic that things will get better. "The most likely scenario is that through repeated infections, and through vaccination, COVID will overtime cause fewer hospitalizations and deaths than it has over the past few years," he added.