Ebola vaccine deployed in Congo: What to know about the experimental approach
The World Health Organization and Merck approved using the vaccine in Congo.
As the deadly Ebola virus rises again in central Africa, health officials have decided to try a different approach to fight back –- rushing more than 7,500 doses of an experimental Ebola vaccine to the Democratic Republic of Congo.
At least 26 deaths have been tied to the current outbreak of Ebola virus in the Democratic Republic of the Congo's Bikoro Health Zone, Equateur Province, according to the World Health Organization. There were 46 confirmed and suspected cases identified as of May 20, according to the Ministry of Health in the DRC. Since Ebola has a three-week incubation period, health officials fear the number will soon rise.
The WHO has received approval to use an experimental Ebola vaccine, using a "ring vaccination" approach, around the epicenter of the outbreak in the Congo. In addition to the current available doses, another 8,000 will be available in the coming days, the organization said.
"We need to act fast to stop the spread of Ebola by protecting people at risk of being infected with the Ebola virus, identifying and ending all transmission chains and ensuring that all patients have rapid access to safe, high-quality care," Dr. Peter Salama, deputy director-general for emergency preparedness and response at the World Health Organization said.
This is the vaccination and strategy the WHO is deploying, along with medical partners from the DRC Ministry of Health, Médecins Sans Frontières (MSF), UNICEF, and the Ministry of Health of Guinea, to fight Ebola: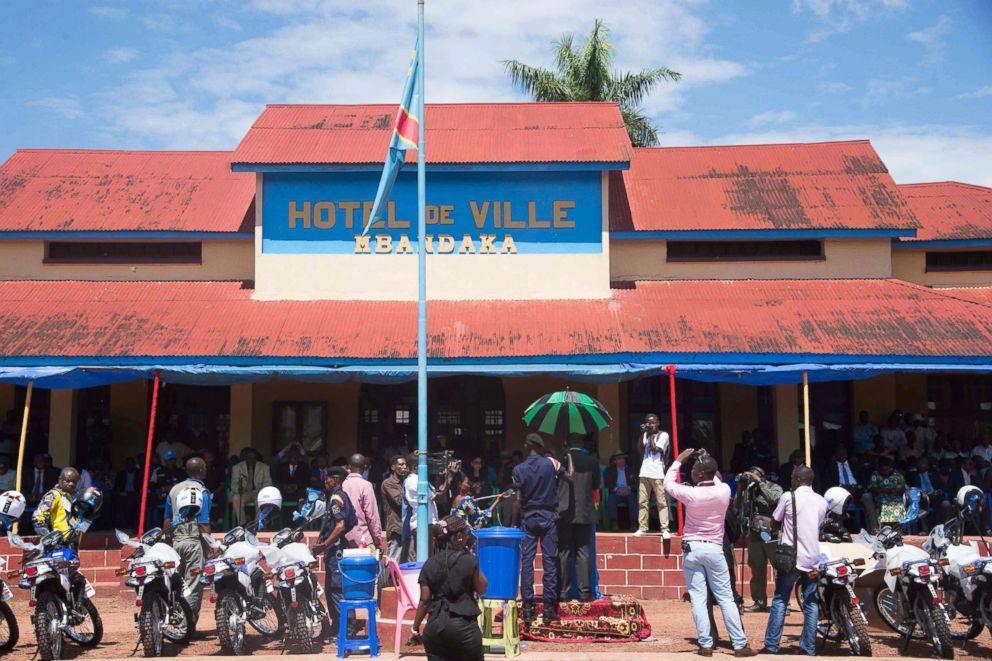 How is Ebola transmitted to people?
Outbreaks of Ebola virus appear to begin when a human comes into contact with an infected animal or its body fluids. Subsequent person-to-person transmission happens after physical contact with the body fluids of a living or deceased patient –- blood, vomit, diarrhea, even semen. Health care workers are often infected as they care for patients, unless they have taken extreme measures to protect themselves.
What are the current treatments for Ebola?
There is no cure for Ebola, so the mainstay of treatment for Ebola virus involves supportive care to maintain adequate organ function, giving the patient's immune system time to mobilize and eliminate the infection.
Several experimental antiviral therapies were used to treat patients who contracted the virus during the 2014 to 2016 outbreak in West Africa, but it's not clear how effective those drugs were and they are in very short supply.
Why this vaccine?
This vaccine was developed to help protect people who have not yet been infected with Ebola. It has been proven safe and effective in human trials, but it has not received a license, so it's still considered experimental.
In the past, U.S. Food and Drug Administration granted the vaccine what is known as a breakthrough therapy designation -- a status reserved for medicines designed to treat serious or life-threatening illnesses.
The vaccine, which is referred to as both VSV ZEBOV and V920, was developed by Merck and has demonstrated the ability to cut the risk of infection in human trials.
In September 2014, WHO identified both VSV and the ChAd3 vaccine as the most advanced candidates for use in the West African outbreak, mainly because both appeared to protect people after a single inoculation.
More than 3,500 people were vaccinated with VSV in 2015, as part of a large trial at the end of Ebola outbreak in Guinea.
Why is this approach different?
This vaccine was designed for use in a so-called "ring vaccination" approach, a strategy used in 1977 to control smallpox. The idea is to vaccinate health care workers who care for those affected, people who know someone who has been infected and then the another group who know those people, in an expanding "ring" around the infections.
Each "ring" may have 100 to 150 people, according to WHO estimates. The vaccines are being given to them free of charge.
So far, 600 people have been identified as part of the "ring" around people who are known or suspected to have been infected in the Congo. There is enough vaccine in stockpiles to cover those identified and many more.
Satyam Nayak, M.D., M.P.H., is an assistant professor and clinical hospitalist at U.T. Southwestern, working in the ABC News Medical Unit.
ABC News' Ann Reynolds and Bianca Seidman contributed to this report.