Inside Parents' Struggle to Choose Risky Prenatal Surgery
A Massachusetts couple decided to have their baby operated on in the womb.
— -- Luelle Ross seems like a typical 1-year-old girl in many ways, playing with her toys and going for a ride in her stroller. But while her life is just getting started, it has already been a long journey for her parents.
Before Luelle was even born, she was diagnosed with spina bifida, and her parents, Shelly and Bobby Ross, decided to take the radical step of having their daughter operated on while she was still in the womb.
Spina bifida, a developmental spinal condition, is one of the most common birth defects. It affects roughly 1,500 babies in the United States each year, according to the National Institutes of Health.
Diagnosed within the first few weeks of pregnancy, spina bifida occurs when the backbone and the spinal column do not form properly, leaving a gap in the spine. Left untreated, babies with the condition could be born with developmental problems, nerve damage or even be paralyzed.
"We were terrified," said Shelly Ross, 27. "They said your options are to terminate, to get this historical post-birth surgery for spina bifida or there is this newer surgery that they will do in-utero that you could maybe qualify for."
That new surgery, performed while the baby is still in the mother's womb, and Luelle's birth are documented in a new three-part series airing this week on PBS, starting Tuesday at 8 p.m., titled "Twice Born: Stories from the Special Delivery Unit."
The docu-series highlights the doctors of the Special Delivery Unit of the Children's Hospital of Philadelphia, known as "CHOP" for short, and follows four families from across the country for 14 months as they undergo life-changing procedures to correct birth defects.
CHOP is one of only a few hospitals nationwide that perform fetal surgery. Out of roughly 4,000 fetal surgeries conducted in the United states, about 25 percent have been done at CHOP.
Just this year alone, the unit at CHOP will evaluate more than 1,500 pregnant mothers and conduct 150 to 200 prenatal surgeries, according to hospital officials.
Dr. Scott Adzick, the chief of pediatric surgery at CHOP, has been performing fetal surgeries for more than 30 years. He helps families decide if the surgery is right for them.
"Personally I try to put myself in the place of that parent, for what I would want for my child," Adzick said. "But if you put the family and the child up like this, and you do the very best you can for them in an honest way and compellingly and frankly, and then you know they can decide, and what they decide I think will be the right thing for them."
But it's not always an easy decision for parents to opt for the in-utero surgery, especially for a family like the Rosses, who are deeply religious.
"It was hard," Shelly Ross said. "You want a doctor to say, 'Here are your options, this is the best one and we can guarantee this,' but they couldn't, on either surgery. They couldn't say that they could guarantee that [Luelle] would walk or that 'we can guarantee that she will survive.' They both had risks, so it was really hard."
In the end, Shelly and Bobby decided to go ahead with the surgery because said they wanted to give their daughter the best chance they could at a better quality of life.
"Shelly said, 'we had to turn off the emotions and go by facts,'" said Bobby Ross, 33.
Dr. Julie Moldenhauer, an attending physician at the Center for Fetal Diagnosis and Treatment and the director of the CHOP Special Delivery Unit, is often the bearer of bad news for families grappling with these difficult situations.
"A good day for me is when I don't make anybody cry," she said. "That's a good day."
Moldenhauer is tasked with counseling parents every day on how to treat their baby's condition. She was also the doctor who walked the Rosses through their decision to go through with the in-utero surgery.
"It's really hard to tell parents the news that you know that they don't want to hear," Moldenhauer said. "Every pregnancy is met with expectation and what's the life going to be like for your child. What happens in that room, over that course of one hour when you sit down and explain what this course is going to look like in a few years, you can imagine it takes the breath out of a family."
For those mothers who qualify for fetal surgery, the procedure takes place between 19 and 25 weeks of pregnancy.
"The reason why we chose to do it is because it did improve the outcome by 50 percent," Bobby Ross said. "So there was enough success for us to justify the gamble."
For the spina bifida in-utero surgery, while the mother is under anesthesia, doctors locate the safest place to make an incision in the uterus, just enough to reach the baby. Once the uterus is open, the baby's back is revealed and the hole in the baby's spine is closed to prevent further damage to the spinal cord.
The highly skilled team of specialists at CHOP performed the in-utero surgery on Shelly and Luelle for only about an hour, but risks to both mother and baby could have been fatal, doctors noted. Shelly could have experienced complications during the procedure, from bleeding and tearing to breathing problems.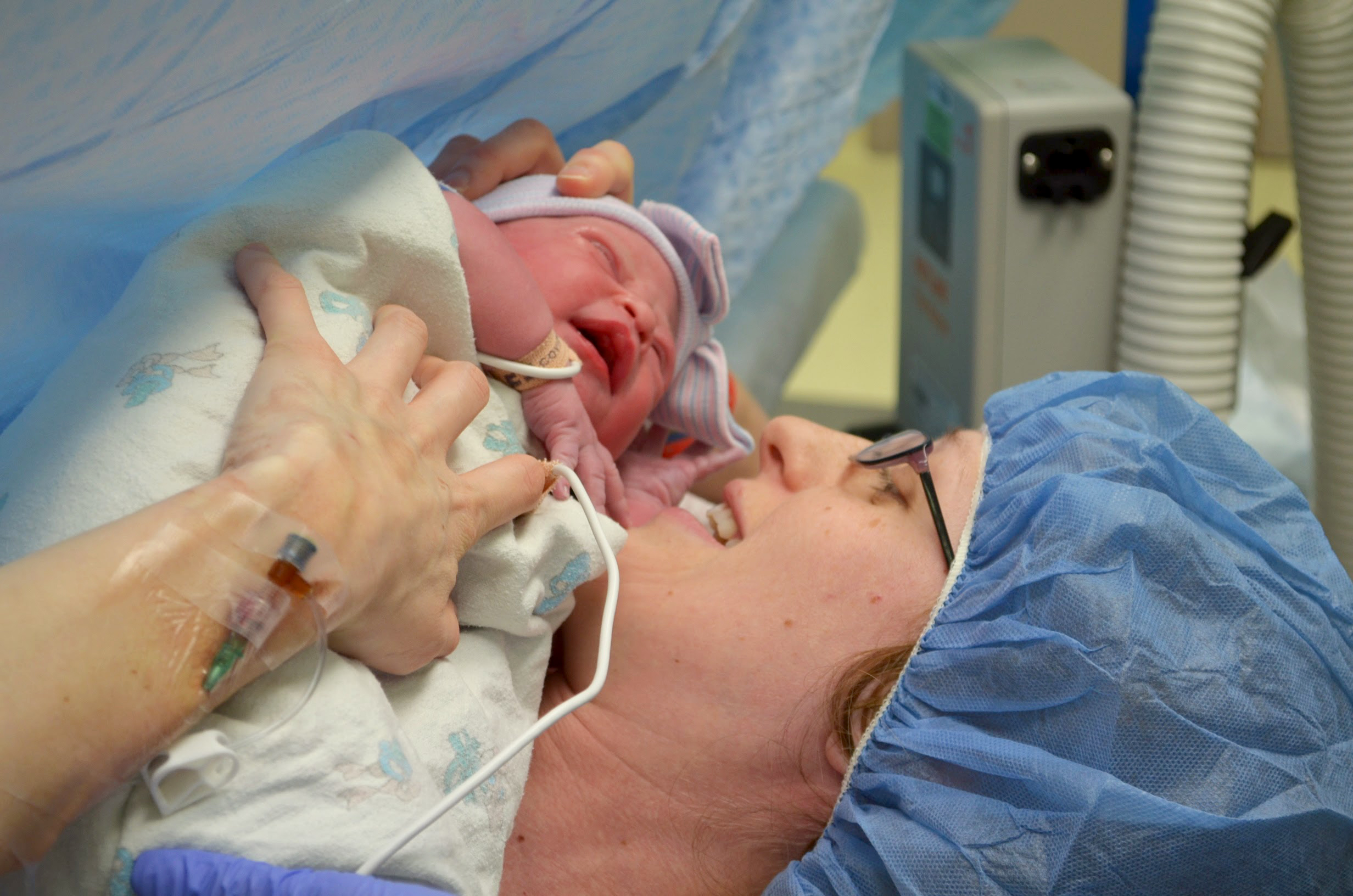 Shelly's surgery was a success, but afterwards, Shelly developed complications. At 34 weeks into her pregnancy, she was admitted to CHOP, and remained there until she gave birth. The family packed up their lives in Massachusetts to move to Philadelphia so they could be together full-time.
After weeks of constant hospital supervision, Shelly gave birth to Luelle, who was born at 6 pounds, 12 ounces, and with a small scar on her back from the in-utero surgery.
"The lu- derivative means light and -elle means bright and shining, so she is a bright and shining light," Bobby Ross said.
For patients like Luelle who suffer from spina bifida, the surgery is only the beginning. She will have to endure years of monitoring and medical attention as she grows older. It's a condition that will follow her for the rest of her life.
"Fetal surgery for spina bifida is not a cure," said Dr. Adzick. "Under the proper circumstances it can make the baby better -- better chance to walk better chance for normal mental development. ... We also need to follow these kids long term ... to make sure that the benefits are durable."
But for this young family, Luelle is a light that will only get brighter in the years to come.
"She's going to be the type of person who will endure the worst this life has to throw at her with a smile because she's endured a lot already," Shelly Ross said. "And yet the moment I walk in the door, the moment she walks in the door smiling and 'hi,' you know she's already been a light."