The Biden administration is moving forward with a plan to increase the U.S. monkeypox vaccine supply by as much as five times.
In an announcement Tuesday, Health and Human Services Secretary Xavier Becerra said he issued a determination, made possible by the public health emergency declared last week, that will allow the Food and Drug Administration to authorize changing the method of injection for the vaccines.
The new approach would produce up to five more doses from each vial by using an injection method that requires less vaccine per shot.
The vaccine would be injected into the second layer of the skin, just below the first visible layer. Most routine vaccinations are given as intramuscular or subcutaneous shots, which go deeper.
But health experts said the vaccine given intradermally — just under the skin — could be as effective against monkeypox.
Bob Fenton, the White House monkeypox response coordinator, called the new approach a "game changer when it comes to our response and our ability to get ahead of the virus."
"It's safe, it's effective, and it will significantly scale the volume of vaccine doses available for communities across the country," Fenton said in a briefing with reporters on Tuesday.
The U.S. now has over 2.2 million doses of the Jynneos vaccine for distribution, up from 441,000. That's enough to vaccinate 1.1 million more people.
Between 1.6 and 1.7 million people are eligible and at-risk, according to estimates from the Centers for Disease Control and Prevention. So far, around 600,000 doses have already gone out, which could be enough to vaccinate about 300,000 people.
It's difficult to know how many people have been fully vaccinated, however, as data isn't being widely reported and some places have been giving people one shot, instead of the recommended two doses per regimen, in order to stretch doses under such high demand.
Dr. Robert Califf, commissioner for the Food and Drug Administration, said the new method still ensured that the vaccine "meets high standards for safety, effectiveness and manufacturing quality that the American public has come to expect."
"If you have the opportunity to get the Jynneos vaccine, urge you to consider getting your first dose immediately," he said.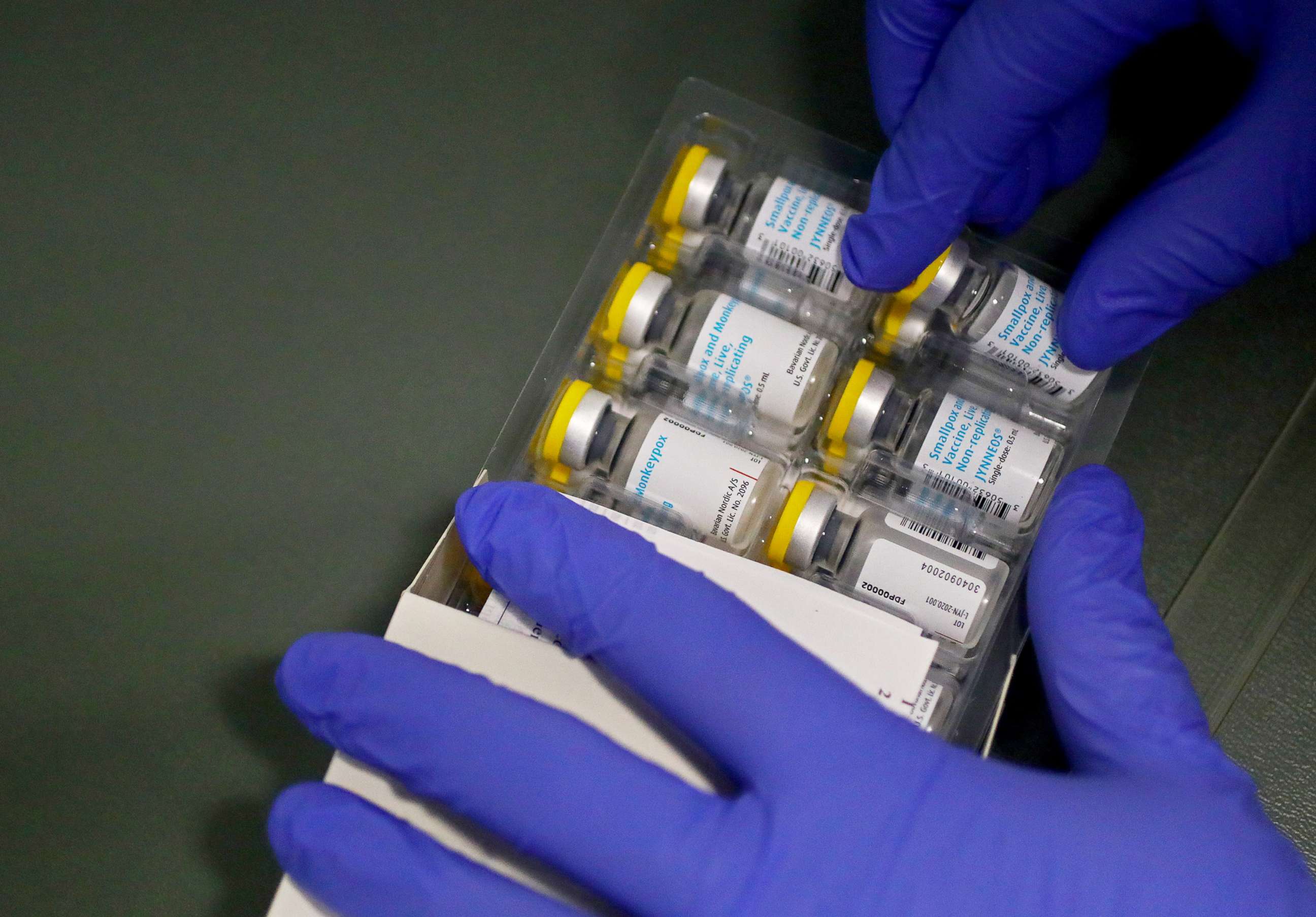 The FDA issued an emergency use authorization earlier on Tuesday that allows health care providers to move forward with administering the vaccine immediately. The emergency use authorization also allows children under 18 who are at high-risk of monkeypox to get the vaccine.
As a basis for the new decision to administer the vaccine intradermally, health officials pointed to a 2015 study as well as the history of administering smallpox vaccines the same way.
"It's not at all new," Dr. Peter Marks, the FDA's vaccine chief, said Tuesday.
"We look at the totality of the available scientific evidence and we bring that together to try to do the best by public health," he said.
Dr. Demetre Daskalakis, deputy coordinator for the White House monkeypox response, said the currently affected community already has a high acceptance rate with vaccines and he expected that to continue.
Over 90% of gay, bisexual and men who have sex with men have gotten a COVID vaccine, he said.
"I think that the due diligence done by the FDA, looking into the data, should assure them that the vaccine is immunologically equivalent and safe," Daskalakis said.
"I imagine that just being clear with that and making sure that our local departments of health message this correctly, I think we're going to see that we will likely still run out of vaccines before we run out of arms," he added.
And CDC Director Rochelle Walensky said this newly-proposed method is actually recommended over what some jurisdictions have resorted to, by giving out only one dose in order to stretch doses further.
"There are not data to do so. And in fact, if anything, there are data saying that that is not protective enough," Walensky said.
"So by using this alternative strategy of intradermal dosing ... we have more doses, and in fact, we have the ability to doubly vaccinate people so that they get the protection that they need," she said.
People who got their first dose subcutaneously, or with a full dosage with a deeper injection, are still recommended to get their second dose intradermally, with the shallower skin injection and a fraction of the dose, both Califf and Walensky said.
"The immunologic response should be the same," Califf said.
Dr. Dan Barouch, the director of the Center for Virology and Vaccine Research at Beth Israel Deaconess Medical Center, told ABC News the intradermal method "is very effective because there are a lot of immune cells just under the skin, and often lower doses are needed compared with intramuscular vaccination."
The same technique is already used in tuberculin skin tests, also called a PPD test. More recently, the influenza vaccine against the H1N1 strain that caused a pandemic in 2009 was tested intradermally in many research studies and was shown to be just as effective at one-fifth the dose of the intramuscular shot.
The announcement to stretch doses using the intradermal method comes as many state and local officials have been raising the alarm that there are not currently enough monkeypox vaccines to address the emerging crisis.
Without this approach, the U.S. only has enough vaccines to reach around one-third of eligible people over the next two months, or 550,000 people.
This authorization, however, could mean that far more people can be vaccinated with those doses.
It's part of a heightened approach rolled out by the recent declaration of a public health emergency over the monkeypox outbreak, which Becerra announced last week following widespread calls from health officials and activists across the country.
Globally, more than 30,000 cases of monkeypox have now been reported, including nearly 9,000 cases in the U.S. — the most of any country. All but one U.S. state — Wyoming — has now confirmed at least one positive monkeypox case.
The majority of cases in the current monkeypox outbreak have been detected in gay, bisexual or other men who have sex with men. However, health officials have repeatedly stressed that anyone can contract the virus and there is currently no evidence it is a sexually transmitted disease.