— -- Emotional support animals can help people suffering from anxiety and other emotional disorders, but some pet owners are gaming the system in order to have their everyday pets travel with them for free.
Federal regulations allow a legitimate emotional support animal, whether it be a dog, a cat, a pot-bellied pig or even a miniature horse in one case, to travel on airplanes in the cabin with the owner, outside of a carrier, and for free if the owner has proper documentation, which means a letter from a doctor or other mental health professional. The animal must be well-behaved and there must be adequate space onboard. The airlines are allowed to ask people traveling with emotional support animals for that documentation, but they are not required to.
Genevieve from Atlanta, who asked that her last name not be used, told ABC News' "20/20" she never had a need for an emotional support animal, or ESA. She simply wanted to fly with her dog, a lab-terrier mix named Kali, by her side in the cabin of the plane. So, about four years ago, she said she lied about having an emotional illness so that Kali could become an emotional support animal.
"I heard from a friend ... that you could get your dog certified as something called an 'emotional support animal,' an ESA, and at the time, I thought it was a very good idea," Genevieve said. "I had wanted to take flights with her for family functions. ... At that point, I thought, 'what's the harm?'"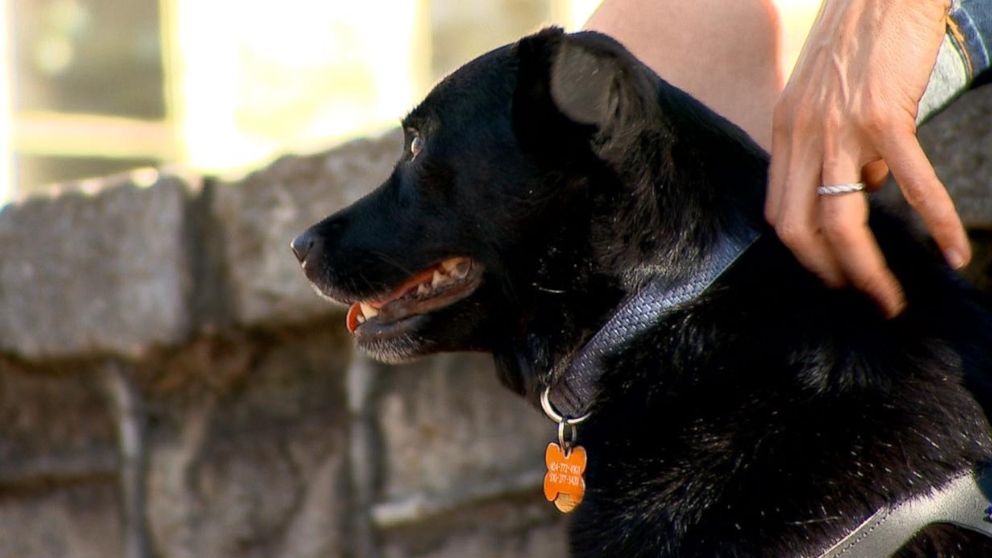 Genevieve found a website that provided a psychological evaluation for free, all she had to do was fill out a questionnaire.
"It was a website where I was able to ... answer questions and possible emotional symptoms I had, and if I answered them in a certain way, I could get a diagnosis," she said.
Genevieve said she provided fake answers for the psychological questionnaire, and received the special letter she needed to show she was permitted to have an emotional support animal. She said the diagnosis she was given was a "panic attack disorder."
Once she had the letter, Genevieve said, "I could begin taking [Kali] on airplanes with me."
Emotional support animals help people by being companions, unlike service dogs, which are trained to perform specific tasks to help people with physical and mental disabilities.
Paul Mundell, the CEO of Canine Companions for Independence, said emotional support animals "provide a valuable service" to people who need them. The problem is there are some pet owners like Genevieve who find it easy to take advantage of the law and the airlines.
"I flew about six times with Kali and I think they looked at my letter twice," Genevieve said.
To see how easy it is to have a pet fly for free as an emotional support animal, ABC News bought meaningless certificates, instead of getting a letter from a mental health professional, proclaiming three different animals as emotional support animals and tried to get those animals on three different airlines.
First, we got our correspondent's 28-pound dog Archie declared an emotional support animal through USDogRegistry.org, where for a fee of $254, with expedited shipping, we bought the deluxe kit, which included a leash, a vest, a photo ID and a certificate with Archie's name and registration number.
While the paperwork looked official, in reality, it had no meaning. The website mentioned the need to have a doctor's note, but did not ask for any proof.
On our first flight, we called ahead to JetBlue to let them know our correspondent was boarding a flight with an emotional support animal. But when we got to the ticket counter, the JetBlue attendants didn't check our paperwork or Archie's tags. They just sent our correspondent and Archie on their way onto the plane.
Next, we bought an emotional support animal certificate for a Lionhead rabbit named Leo. For $99, the ESA (Emotional Support Animal) Registration of America sent us the ESA VIP Kit, which included a registration certificate. This website also says you need to have a note from a mental health professional.
We called ahead to Delta Air Lines to let them know we were bringing an emotional support animal on a flight with us. Delta said to bring documentation, but no one checked it at the ticket counter so we got on a flight with Leo. The airline wasn't doing anything wrong since it's not required to ask for documentation at the terminal.
The airlines "don't want to be intrusive into a person's private life. They don't want to embarrass someone or put them on the spot," Paul Mundell said. "They want to do the right thing, [which] is probably to, if in doubt, accept someone's presence with their animal at face value as an emotional support animal."
Then, the ESA Registration of America sold us a certificate for an albino African pygmy hedgehog named Snickers. We tried to take him on a Delta flight to Boston from New York City, but this time, a Delta agent stopped us, saying we didn't have the proper letter from a mental health professional to allow the hedgehog onboard.
So we wanted to try again. We booked our correspondent on a Southwest Airlines flight from Newark to Nashville. At the ticket counter, the Southwest agent asked for documentation for Snickers. Once we showed her the ESA certificate, we were allowed to board our flight.
Airlines for America, an airline industry trade group, said in a statement to ABC News, "We trust our passengers are honest in communicating their need for service assistant animal support."
United States Dog Registry declined to comment, but ESA said its certificate is a valuable addition to a doctor's note.
Paul Mundell of Canine Companions say people who fake their need for an emotional support animal should be ashamed. He said fake ESAs are taking up valuable cabin space, possibly denying accommodations for real assistance animals. What's more, he said, he has started to hear that poorly-behaved fake ESAs have been disrupting the work of real service animals.
Genevieve said at first she didn't see anything wrong with faking a condition so she could fly with her dog, but after taking Kali on half a dozen or so trips, she said a friend confronted her.
"[My friend] started to tell me that people were having adverse consequences from this. Legitimate people with legitimate animals were getting confronted," Genevieve said.
So Kali's flying days are over, and Genevieve said she is now confessing her story in hopes that other fakers will think twice about what they're doing.