A 6.6-magnitude earthquake struck central and southern Italy Sunday at 7:40 a.m., according to the United States Geological Survey.
Interested in
Italy?
Add Italy as an interest to stay up to date on the latest Italy news, video, and analysis from ABC News.
Twenty people were injured, some seriously, said Fabrizio Curcio, the head of Italy's civil protection agency. There were no fatalities.
He said more than 100,000 are unable to go back home.
The first report of injured on Sunday came a couple hours after the quake struck, when EMS officials in the town of Norcia tweeted that six wounded individuals had been recovered from the rubble.
Sunday's earthquake is believed to be the strongest to strike the country since 1980, when a 6.9-magnitude that year killed some 3,000 people. A 6.1-magnitude earthquake on Aug. 24 quake killed nearly 300 people.
Curcio said buildings were damaged, roads were blocked or damaged, electrical services were down and water services was affected in some areas. Six reconnaissance airplanes were scouring the region and search and rescue teams had been deployed, he said.
There were more than 50 quakes over 3.0-magnitude during the two-and-a-half hours that followed the earthquake, according to the civil protection agency.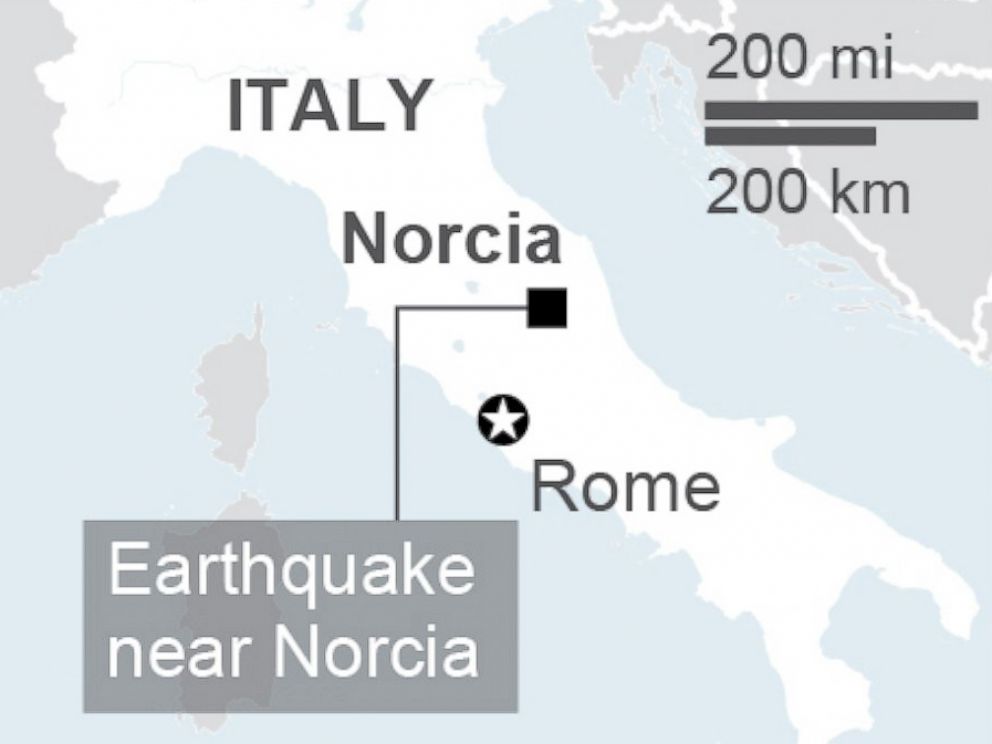 The European-Mediterranean Seismological Center put the magnitude at 6.6 or 6.5 with an epicenter 82 miles northeast of Rome and 42 miles east of Perugia. The quake was centered in a mountainous area straddling the central Italy regions of Umbria and Marche.
The region has experienced temblors the past week, which have left thousands of people homeless. That actually may have helped saves lives on Sunday, since many residents were still sleeping in cars or had been evacuated to shelters or hotels outside quake-prone areas.
While lives may have been spared, many existing damaged buildings were not.
Cesare Spuri, the head of the civil protection authority in the Marche region, said there have been reports of buildings collapsing in several cities.
The town of Norcia was one the hardest-hit by Sunday's earthquake, which was centered 3 miles north of the town. Norcia city assessor Giuseppina Perla told Italy's ANSA news agency, "It's as if the whole city fell down."
Italian television broadcast images of nuns rushing out of a church and into Norcia's main piazza, as the clock tower looked as if it was about to crumble.
The Monks of Norcia at the Monastery of San Benedetto -- an international Benedictine community -- tweeted a photo of the Basilica of St. Benedict, writing that the church was destroyed in the earthquake.
A letter posted on the Monastery of San Benedetto's website signed by Father Benedict read, "Around 7:40 AM, a powerful earthquake struck close to Norcia. The monks are all safe, but our hearts go immediately to those affected, and the priests of the monastery are searching for any who may need the Last Rites. The Basilica of St. Benedict, the historic church built atop the birthplace of St. Benedict, was flattened by this most recent quake."
The monastery also tweeted, "People are trapped in the main square, as nearby buildings may collapse. Trucks are coming to clear a path to safety."
People are trapped in the main square, as nearby buildings may collapse. Trucks are coming to clear a path to safety. #terremoto

— The Monks of Norcia (@monksofnorcia) October 30, 2016
Italian firefighters tweeted late Sunday that a search-and-rescue effort in the center of Norcia had concluded, and that no people had been found there. There had been concerns that people might have been trapped in buildings.
In the town of Ussita, Mayor Marco Rinaldi said he saw huge cloud of smoke rise from the crumbled buildings.
"It's a disaster, a disaster," he told ANSA news agency. "I was sleeping in the car and I saw hell."
Elsewhere in the country, residents of Rome and other cities tweeted the videos below of a light fixtures swaying when the earthquake hit.
After the noon prayer service, Pope Francis said from the window in St. Peter's Square, "I express my closeness to the central Italy earthquake victims. Even this morning there was a strong shock. I pray for the injured and for the families that have suffered major damage, as well as for the personnel involved in rescue and assistance. The Risen Lord give them strength and Our Lady guard them."
ABC News' Matthew Foster, Devin Villacis, Brendan Rand, Phoebe Natanson and Clark Bentson contributed to this report. The Associated Press also contributed to this report.
This story is breaking. Please check back for updates.