— -- Adam Gadahn, the al Qaeda spokesman killed during a U.S. counterterrorism operation, was an American-born suburbanite named Adam Pearlman who went from listening to heavy metal to Islamic radical.
On the FBI's "Most Wanted Terrorists" list, the State Department had offered a $1 million reward for information leading to the arrest of the 36-year old Adam Yahiye Gadahn, who had identified himself as "Azzam the American" and had aliases like Abu Suhayb Al-Amriki. He was indicted in 2006 for treason by a federal grand jury, the first American to have been charged since the 1950s.
A former resident of Orange County, California, he started appearing in a series of videotaped segments broadcast in October 2004, the FBI said. In a 2004 video, he said, "The streets of America shall run red with blood."
At age 17, Gadahn posted a statement online about his conversion to Islam called "Becoming Muslim," rejecting evangelical Christianity and what he called his obsession with demonic heavy metal music.
"I discovered the beliefs and practices of this religion fit my personal theology and intellect as well as basic human logic," he wrote at the time. "Islam presents God not as an anthropomorphic being but as an entity beyond human comprehension, transcendent of man, independent and undivided."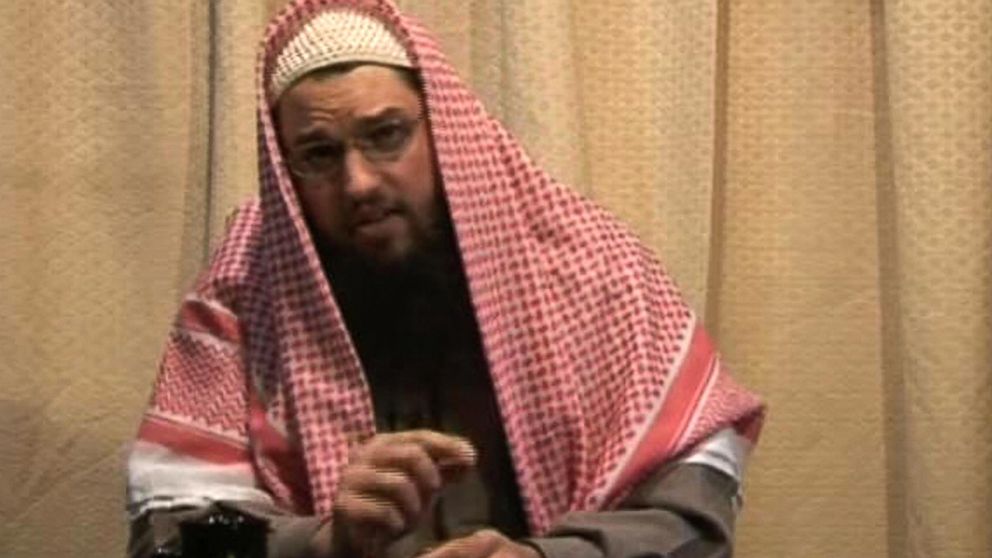 The son of musician Phil Pearlman, Gadahn was raised in Orange County on a goat farm. He was home-schooled until the age of 15, at which point he moved in with his grandparents in Santa Ana, California, ABC News reported in 2004.
His aunt, Nancy Pearlman, told ABC News in 2004 that Gadahn was a typical teenager with shifting interests.
"Adam was a very loving, caring, intelligent young man," she said. "He was listening to hard rock music. He gave that up when he got religious."
Gadahn was recruited by Egyptian Hisham Diab, who ran one of the first al Qaeda support cells out of his apartment complex in Orange County. They met at a local mosque. Gadahn eventually left California for Karachi, Pakistan, where his parents last heard from him in the months after the Sept. 11, 2001 attacks.
Diab's ex-wife told ABC News' Brian Ross in 2004 that Gadahn was "fresh meat."
Gadahn was "someone they could control," Saraah Olson, Diab's ex-wife said. "Not only that, he's very unassuming-looking, he can do a lot of their tasks."
The first piece of evidence that Gadahn was tied to al Qaeda was his name on a tax form for Charity Without Borders, a sham 501(c)3 in Garden Grove, California, that funneled money back to extremists in the Middle East. The group's listed officers included Diab and Khalil al-Deek, also known as "Joseph Adams," who was implicated in the Millennium plot to attack western hotels in Amman, Jordan. Gadahn was also listed as an officer of Charity Without Borders, though his importance didn't become apparent until he appeared in a 2004 al Qaeda video as a masked American promising blood would flow on the streets of U.S. cities.
The "prominent member" of the terrorist organization was killed in January, the White House said today, "likely in a separate U.S. Government counterterrorism operation," from that which killed American hostage Warren Weinstein and Italian national Giovanni Lo Porto. The White House said Gadahn wasn't specifically targeted."
Gadahn once tore up his U.S. passport on camera and regularly produced videos in English and Arabic.
"America is absolutely awash with easily obtainable firearms," Gadahn said in a 2011 al Qaeda video urging individual violent jihad. "So what are you waiting for?"
In October 2012, Gadahn urged al Qaeda's followers to attack the satirical French newspaper Charlie Hebdo.
Gadahn was one of a handful Americans the U.S. had offered millions of dollars in rewards to help capture because they served under Osama Bin Laden or his henchmen.
A family member declined to comment to ABC News.
ABC News' Brian Ross and David Scott contributed to this report.