—CAPE TOWN, South Africa -- Rain clouds rolled in over Cape Town on Friday night and drenched South Africa's drought-stricken city, where residents are bracing for the day the taps run dry, the day they're calling "Day Zero."
Just south of the city, in the sleepy seaside town of Scarborough, people were enjoying local fare and drinks at the laid-back Camel Rock restaurant when the night sky opened up. The rain hammered the roof of the white stucco building, prompting many patrons to leave their tables and step outside to feel the rain on their skin.
One local, in apparent disbelief, asked a friend if the rain was real.
Another resident told ABC News it's the first substantial rainfall they've seen in three months.
The South African Weather Service recorded 6 millimeters of rain, or about 0.24 inches, at Cape Town's Slangkop Lighthouse overnight.
The much-needed rainfall lightened the mood in a city plagued by three years of consecutive drought. But one night of rain is far from what Cape Town needs to avoid the looming water crisis.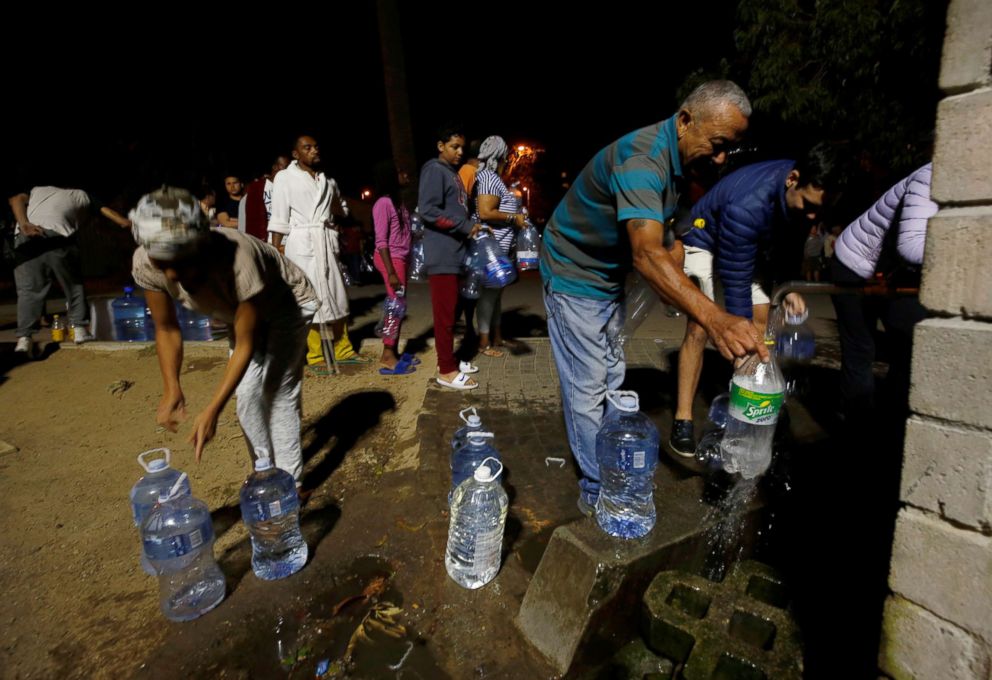 The date the city estimates it will run out of water, which has been dubbed "Day Zero," was originally slated for April 21, but had been moved up to April 12. On Jan. 29, the city pushed the date back to April 16, marking a slight improvement in its situation.
The date was again pushed back to May 11 due to "a decline in agricultural usage," the city announced in a Feb. 4 statement.
But since there hasn't been any significant decline in urban usage, authorities continued to ask residents to limit the amount of municipal water they use to a maximum of just 13.2 gallons per day. Irrigation has been restricted to Tuesdays and Saturdays for one hour, before 9 a.m. and after 6 p.m. local time, to help prevent the remaining water supplies from running out before the arrival of winter rains.
With nearly 4 million residents, Cape Town is South Africa's second-most populous city and the provincial capital of the Western Cape. The sprawling metropolis, renowned for its picturesque harbor, not far from where the waters of the Atlantic and Indian Oceans meet, is one of South Africa's most iconic tourist destinations.
But the water levels of Cape Town's major supply dams, sourced by rainfall, have plummeted due to persistent drought. The combined water level was just 25.5 percent on Friday, with the last 10 percent of water unsuitable for drinking.
"Last year, we had abnormally low winter rainfall, and we cannot assume that this year will be any different," the city of Cape Town said in the Feb. 4 statement. "Even if we have been given a slight reprieve at this stage, we are likely to be facing a late and dry winter."
The situation, aggravated by years poor of water management and political infighting, has left many confused and in fear.