Famous 'Sycamore Gap tree' in northern England found cut down overnight; 16-year-old arrested
The tree was featured in the film "Robin Hood: Prince of Thieves."
Authorities in England have arrested a 16-year-old boy after one of the most famous trees in the world was cut down overnight Thursday.
The "Sycamore Gap tree," also sometimes known as the "Robin Hood tree," was found deliberately cut down early Thursday, according to officials.
"Northumberland National Park Authority can confirm that sadly, the famous tree at Sycamore Gap has come down over night," the park wrote in a statement. "We have reason to believe it has been deliberately felled."
A 16-year-old boy was arrested "in connection with the incident," according to Northumbria police.
"He remains in police custody at this time and is assisting officers with their enquiries," Northumbria police wrote on X, formerly known as Twitter. "Given our investigation remains at a very early stage, we are keeping an open mind."
The statement continued, "We are working with the relevant agencies and partners with an interest in this iconic North East landmark and will issue more details once they are known."
The tree, which is about 300 years old, was located next to Hadrian's Wall, built by the Romans beginning in 122 A.D. to mark the northern limits of Roman Britannia.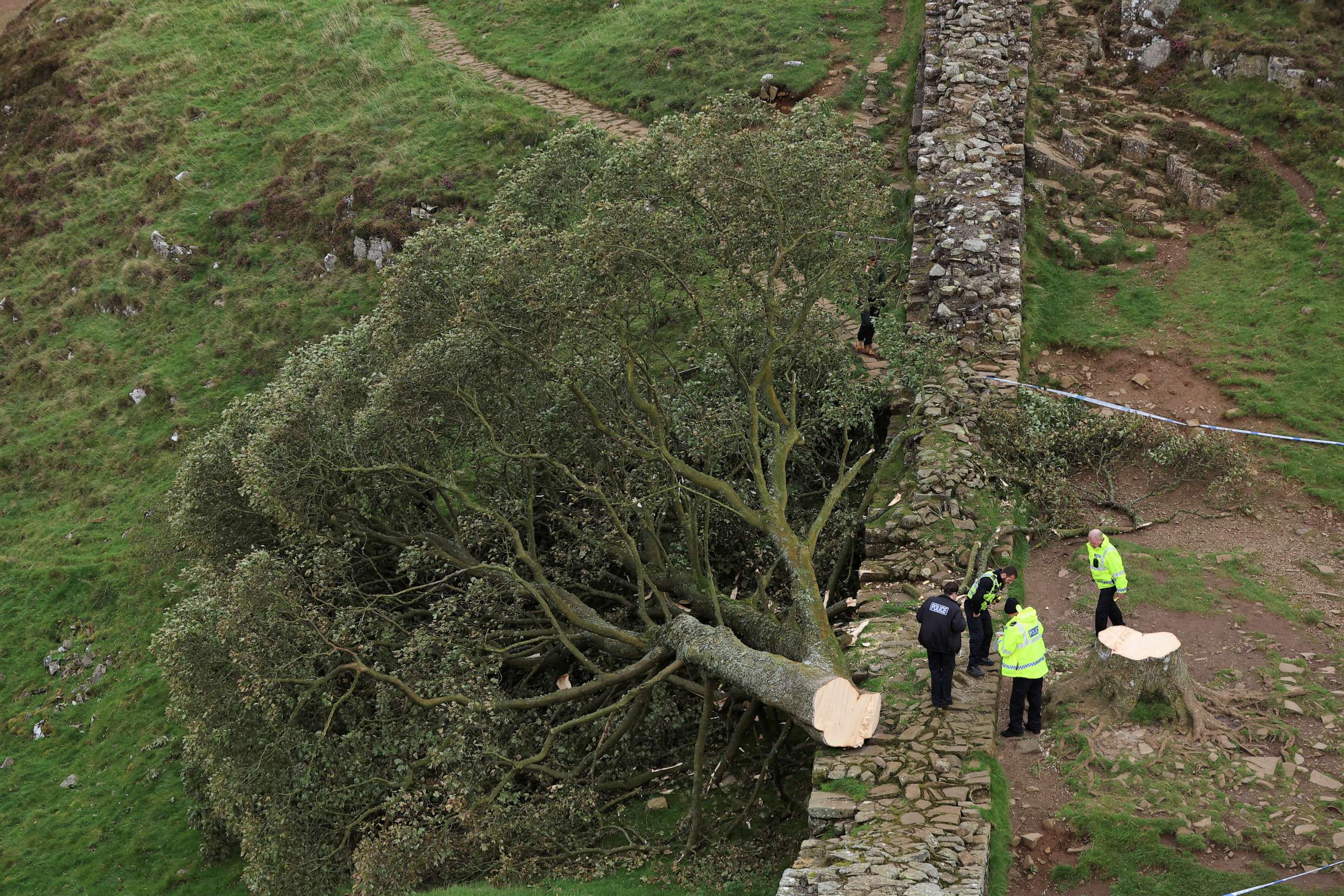 The tree is sometimes called the "Robin Hood tree" because it was featured prominently in the Kevin Costner-led film "Robin Hood: Prince of Thieves," released in 1991.
"I can't express how angry I am at the vandalism of the tree at #SycamoreGap," North of Tyne Mayor Jamie Driscoll wrote on X, prior to the arrest. "People have had their ashes scattered there. People have proposed there. I've picnicked there with my wife and kids. It's part of our collective soul."
The tree was voted the English Tree of the Year in 2016.
ABC News' Joe Simonetti contributed to this report.