— -- When a lone Iraqi flag was planted in a wasteland of rubble on the banks of the Tigris River that cuts through Mosul, it symbolized a milestone in the fight against ISIS that many thought would never come – but the city and its people paid a heavy price.
Mosul was Iraq's second largest city and it's been the bleeding black heart of the Islamic State since the terror group swept through three years ago.
ABC News Senior Foreign Correspondent Ian Pannell was in Mosul last fall when U.S.-backed Iraqi forces launched an offensive that lasted for more than eight months, killing thousands and injuring tens of thousands. Pannell went back to Mosul last week for "Nightline" as the offensive was in its final days.
As Iraqi troops gained ground in the city, hundreds of families emerged from bombed-out buildings to flee the destruction, many of whom were badly injured or had lost loved ones. They climbed over huge piles of debris, shell-shocked and shattered. Some who were physically able tried to help others find their way down the alleyways of the ancient city. Others were separated from their families or were forced to leave injured and dying loved ones behind.
"My mother is there and she is in critical condition and my father had to stay with her to take care of her he said, 'You go,'" one young woman named Maryam told ABC News. (All interviews have been translated from Arabic).
Despite the declaration of victory, the battle for Mosul still isn't over. Iraqi special forces Lt. Gen. Abdul Wahab al-Saadi told ABC News, "Our biggest fear is the civilians, and we're trying to keep them safe as much as possible."
Amnesty International released a new report this week on civilian casualties and deaths from January to mid-May of this year in west Mosul, which states that the attacks carried out by Iraqi forces and the U.S.-led coalition have "failed to take adequate measures to protect civilians, instead subjecting them to a terrifying barrage of fire from weapons that should never be used in densely populated civilian areas," and could amount to war crimes.
U.S. State Department spokeswoman Heather Nauert challenged the report at a briefing Tuesday, saying the U.S. and its coalition partners "do everything that they can to avoid civilian casualties." She also said Amnesty did not contact the Department of Defense nor the U.S's coalition partners for that report.
Pockets of ISIS fighters remain hunkered down, ready to fight to the death, though in the last week, some militants have been caught trying to escape and others have surrendered.
The most dangerous parts of the city are the unprotected spaces in between the buildings, where ISIS snipers perch overhead, picking off victims in the streets below. The ABC News team was close to them on the front lines and dodged ISIS sniper fire. At one point, a suicide bomber leapt off a building to attack two Iraqi soldiers that were part of the brigade ABC News was traveling with. Both soldiers were wounded.
For Iraqi counterterrorism forces, defending Mosul is a kill mission. They hunt down ISIS fighters and rarely take prisoners. U.S. forces assist them with airstrikes.
Soldiers and civilians have paid a terrible price for a war they didn't choose. Six-year-old Malak and her 15-year-old sister Dalal said ISIS fighters stormed their home and used them as human shields as they made them run into the line of fire of the advancing Iraqi Army.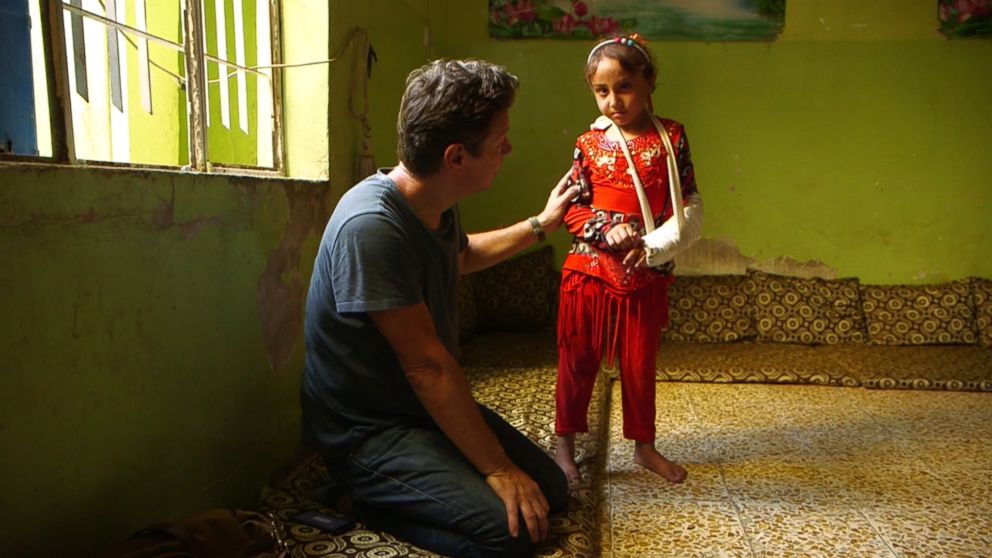 Their father was killed and both girls were severely injured. Malak has three distinct scars on her back from what appear to be bullet wounds and a large scar on her chest from surgery. Her name in English means "Angel." Dalal lost her hand in an explosion.
"I hope no one in the world will go through our horror and suffering," Dalal said. "We have suffered a lot. We all have lost people but I hope there will be no more suffering."
The girls said ISIS fighters also used their home as a hideout. They forced the family to make large holes in the walls throughout the home so they could move through rooms quickly to take cover from Iraqi forces. The girls' mother, Um Ahmed, explained that ISIS would have blown up their house or killed the entire family if they had refused.
For those who have reached safety, their struggles aren't over. Nearly a million Iraqi people are displaced.
Ghaith Ahmed stood next to his brother's bedside as he waited for word from his wife. The two were separated when they escaped so he was asking family members if anyone had seen her. She eventually appeared, injured, but safe and alive.
Another man named Samir was watching over his baby girl Rama and said her mother wasn't able to breastfeed her because they didn't have enough food or any clean water.
"They [ISIS] haven't fed us anything," he said. "All [of the food] material is for them only, medicine [is] for them, milk [is] for them, [we have] nothing, they don't give [us anything]."
Many children bear the wounds of war, carrying both physical and mental scars, but miraculously, their hopes and dreams are still alive.
Both Malak and Dalal are trying to reclaim pieces of the life they once had, and refuse to be held hostage ever again. Dalal wants to become a teacher to use education as a weapon against ISIS.
"This will not affect my future at all," Dalal said. "I will do it all. I will resume and complete my studies and hopefully find a job."
ABC News' Conor Finnegan and Lauren Effron contributed to this report