It was during the middle of the summer that production of Santa hats, tinsel and LED-lit Christmas trees reached their peak in the city that has come to be known as China's "Christmas Village."
Interested in
ABC News Originals?
Add ABC News Originals as an interest to stay up to date on the latest ABC News Originals news, video, and analysis from ABC News.
Located a little over an hour away on the bullet train south of Shanghai, Yiwu, an inland city of 1.2 million people, reportedly produces nearly two-thirds of the Christmas decorations consumed worldwide. Between September 2016 and this past August, the 600 workshops and factories surrounding the city churned out $3 billion worth of Christmas products, according to monthly tallies from Hangzhou Customs.
Some Christmas factories told ABC News that at least 30 percent of their orders are from the United States, while most of the rest of the goods are shipped from the city to adorn houses in Russia, Latin America, and China itself.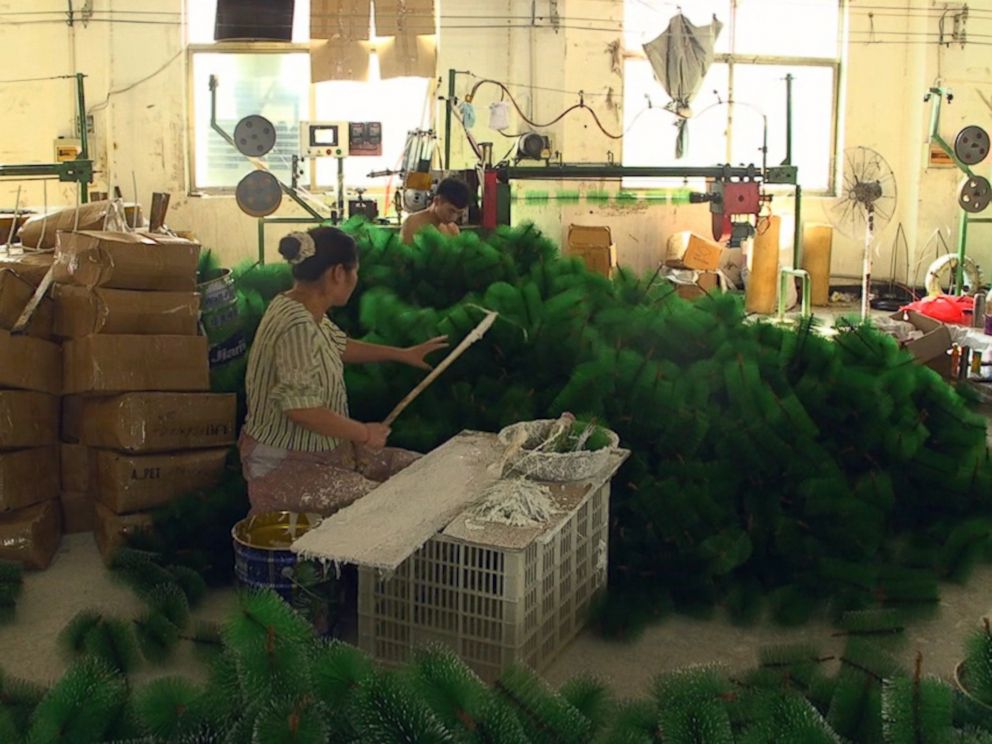 Christmas is not an official holiday in China, but more and more people have gotten into the holiday spirit. And that means more and more decorations shipped from Yiwu, which is located in Zhejiang province.
"My children really like Christmas; it's just like spending the Chinese New Year," Huang Aijuan, the owner of a factory that produces artificial Christmas trees, told ABC News.
In order to receive all the goods in time for holiday sales back home, Christmas traders from all around the world make yearly pilgrimages to the city months in advance. Their first stop is often the Yiwu International Trade Market.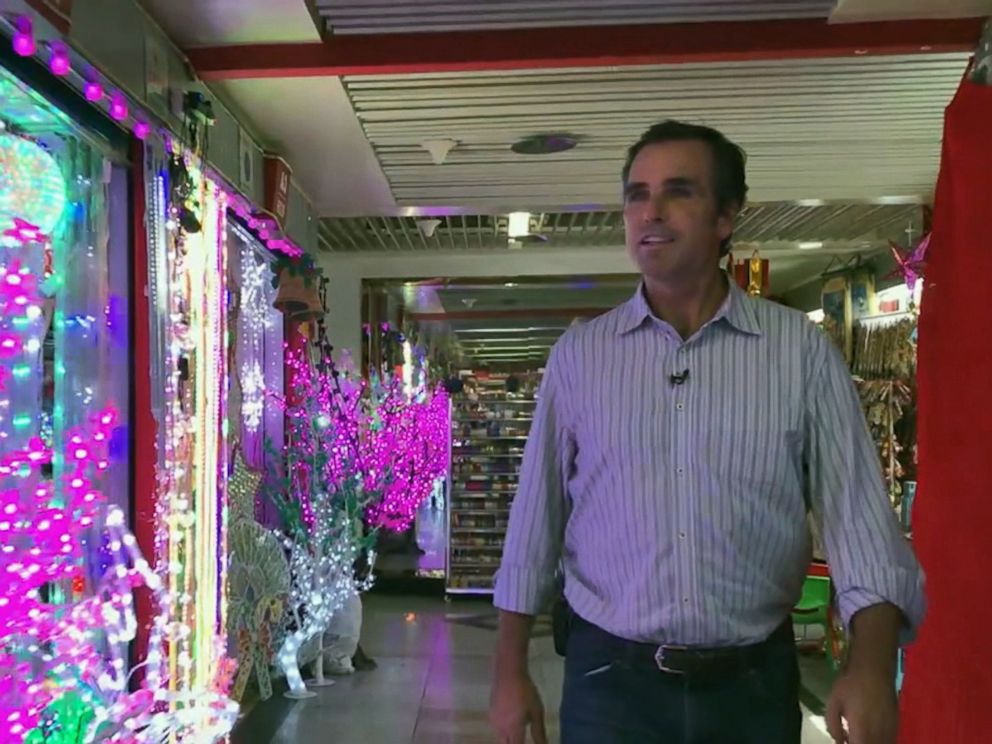 Located in the center of the city, the wholesale-only market is a multistoried shopping labyrinth divided into five sections. The market covers a sprawling 2 square miles, roughly the same size as 26 of Macy's Herald Square flagship store in New York City. The Christmas subdivision in Section One makes up only a small portion of the 75,000 mini-showrooms that sell virtually everything and anything at relatively low prices.
Yiwu is really where the whole "Made in China" phenomenon started. Just years into China's "reform and opening" era in the early 1980s, the Yiwu Market had already taken shape. It was then that the city started to supply the world with all sorts of toys, ornaments, small home appliances, underwear, umbrellas and auto accessories.
More recently, under President Xi Jinping's Belt and Road initiative, which seeks to reinvigorate trade along the Ancient Silk Road, freight trains now run directly between Yiwu and Madrid, London and Prague, as well as Tehran.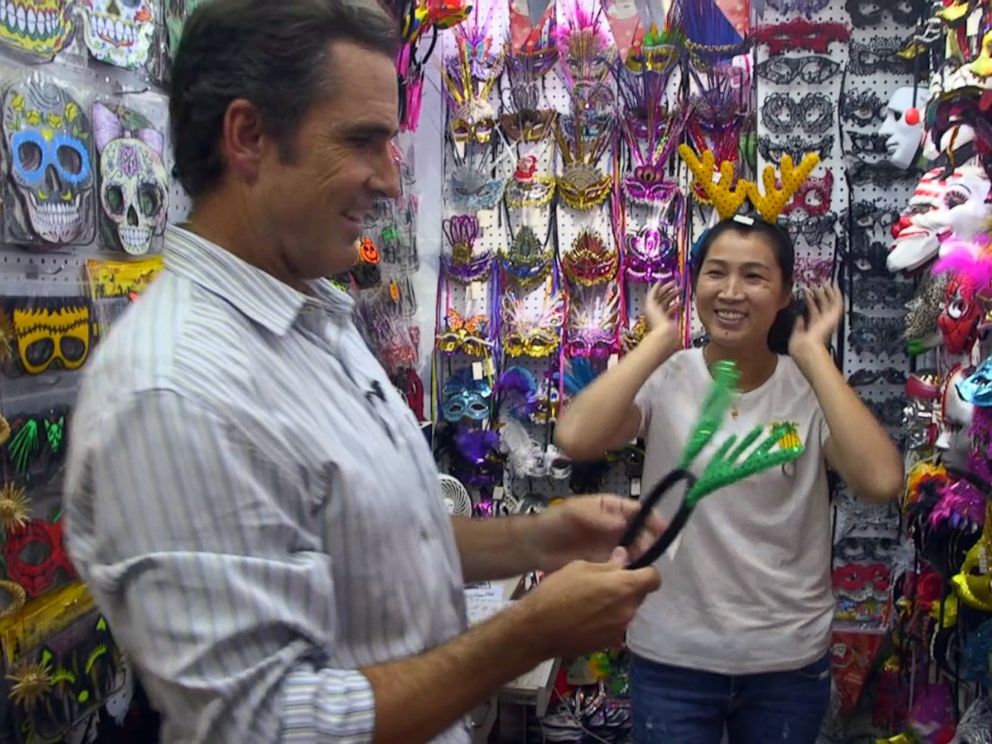 With 13,000 permanent foreign residents, according to the local government website, and numerous traders who travel back and forth between Yiwu and destinations mainly in Africa, the Middle East and Southeast Asia, the city is arguably becoming one of the most diverse places in China, thanks to the cultures the traders bring with them.
To maintain its reputation as the world's factory, suppliers in Yiwu face pressure to keep costs low to be able to compete with other emerging countries with cheaper labor.
Workers in the factories that ABC News visited at the end of August were mostly migrant laborers from different parts of China. They said they worked as long as 13 hours per day, seven days a week. One worker earned the equivalent of about $30 per day, he said.
One factory owner told ABC News that the local government had asked her to improve working conditions, so she planned to move into a bigger space.
But as the world's demand for Christmas decorations continues, Yiwu seems poised to be the real-world Santa's workshop for the foreseeable future.