ISIS claims responsibility for Sri Lanka Easter bombings that killed over 350
At least 359 people were killed and 500 others were wounded.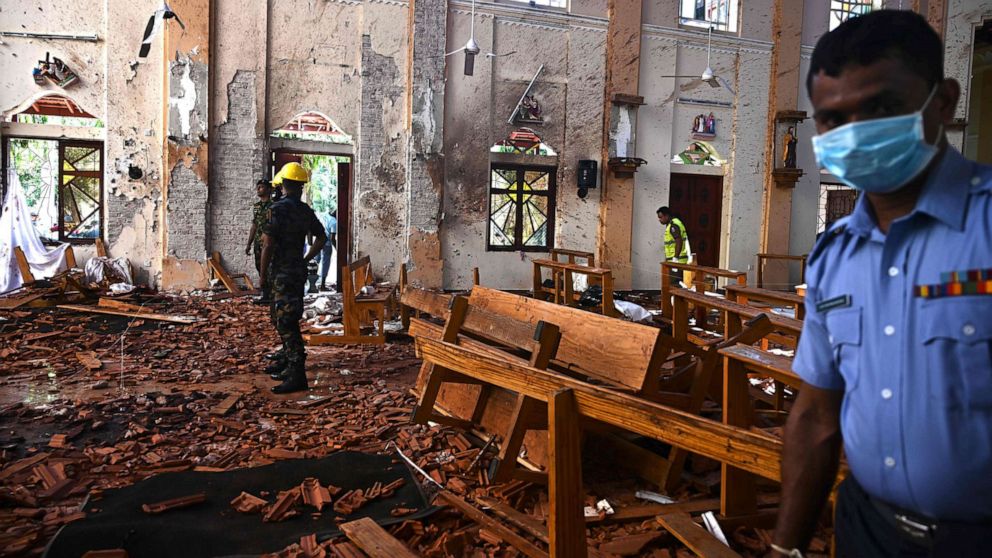 The Islamic State group claimed responsibility for a wave of coordinated bombings at churches and high-end hotels across Sri Lanka.
The terrorist organization offered no evidence to support that assertion, which was initially announced in a statement in Arabic published by its Amaq news agency on Tuesday, saying the attackers were "among the fighters of the Islamic State," according to a translation by SITE Intelligence Group, a company that tracks extremist groups.
ISIS later issued a longer, formal statement identifying the seven suicide bombers who detonated explosive-laden vests at the churches and hotels and a housing complex on Sunday.
Sri Lankan Prime Minister Ranil Wickremesinghe acknowledged the claim during a press conference in the capital, Colombo.
"All that we knew earlier is that there were foreign links and that this could not have been done just locally," Wickremesinghe said. "There has been training done and a coordination which we [have] not seen earlier."
According to multiple U.S. sources briefed on the investigation, ISIS is believed to have been involved in the Sri Lanka attacks in a supportive capacity, but it's not clear to what degree.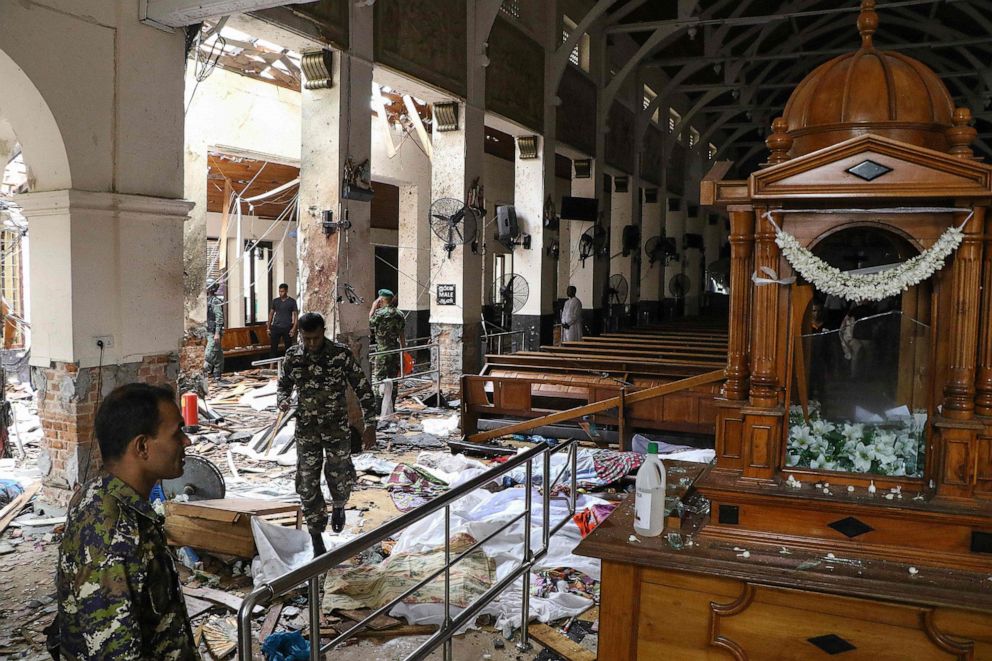 At least 359 people were killed and another 500 were injured Sunday when near-simultaneous explosions took place at eight locations across the island nation, which is located off the southern tip of India.
Most of the explosions were detonated by suicide bombers, according to the Sri Lankan defense ministry.
Explosions erupted at three churches holding Easter services in Colombo, Batticaloa and Negombo. Blasts also tore through three luxury hotels in Colombo that are popular among Western tourists, according to Sri Lankan police.
Hours after the initial bombings, another explosion rang out at a housing complex in Dematagoda, a suburb on the outskirts of Colombo, police said.
Later that night, the Sri Lankan Air Force initiated a controlled explosion of a 6-foot-long pipe bomb that was detected on a road near Colombo International Airport, according to Sri Lanka Air Force spokesman Gihan Seneviratne.
A fourth hotel was targeted in a failed attack that day, according to Sri Lanka's prime minister.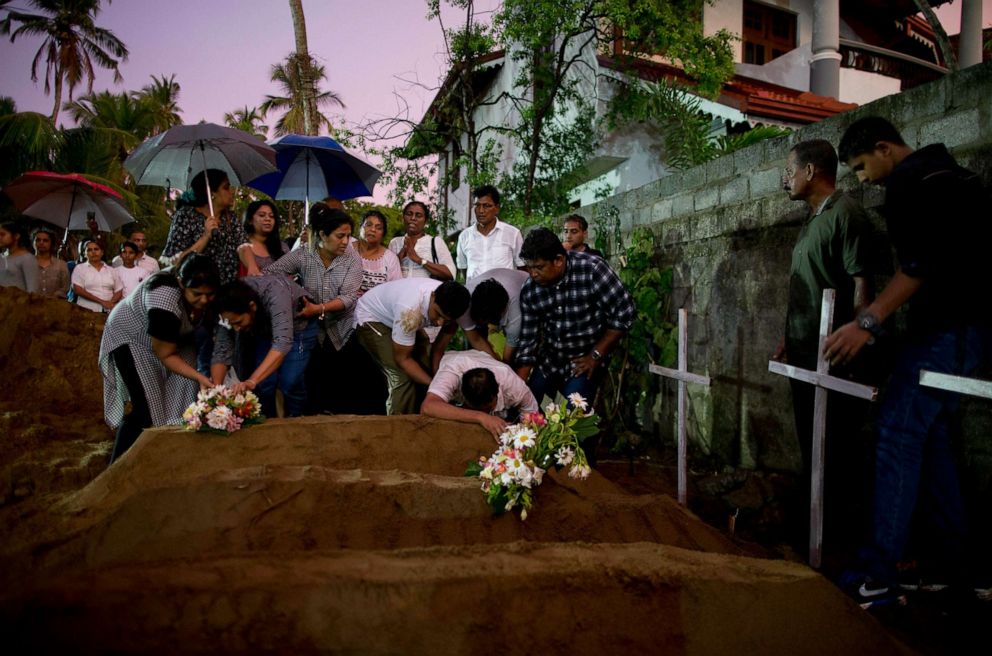 At least 45 children were among the dead, including at least five who were not Sri Lankan, according to the United Nations Children's Fund. Scores more were wounded and are fighting for their lives in intensive care units. Many children who survived the blasts have lost one or both parents.
At least four Americans were also among those killed, according to a U.S. official briefed on the investigation. One of the Americans was identified Monday as Dieter Kowalski, 40, of Denver, according to his mother and Pearson, the London-based global education company that employed him.
United States Secretary of State Pompeo said the U.S. Embassy in Sri Lanka is working to provide assistance to American citizens affected by the attacks, including their families.
"These vile attacks are a stark reminder of why the United States remains resolved in our fight to defeat terrorism," Pompeo said in a statement Sunday. "We stand with the Sri Lankan government and people as they confront violent extremism and have offered our assistance as they work to bring the perpetrators to justice."
The first funerals for victims were held Tuesday.
At one ceremony in Colombo, mourners paid their respects to a slain mother and her three children, ages 13, 11 and 7. The four bodies, each wrapped in white cotton with the faces exposed, were laid out on tables, and their clasped hands held rosaries and flowers.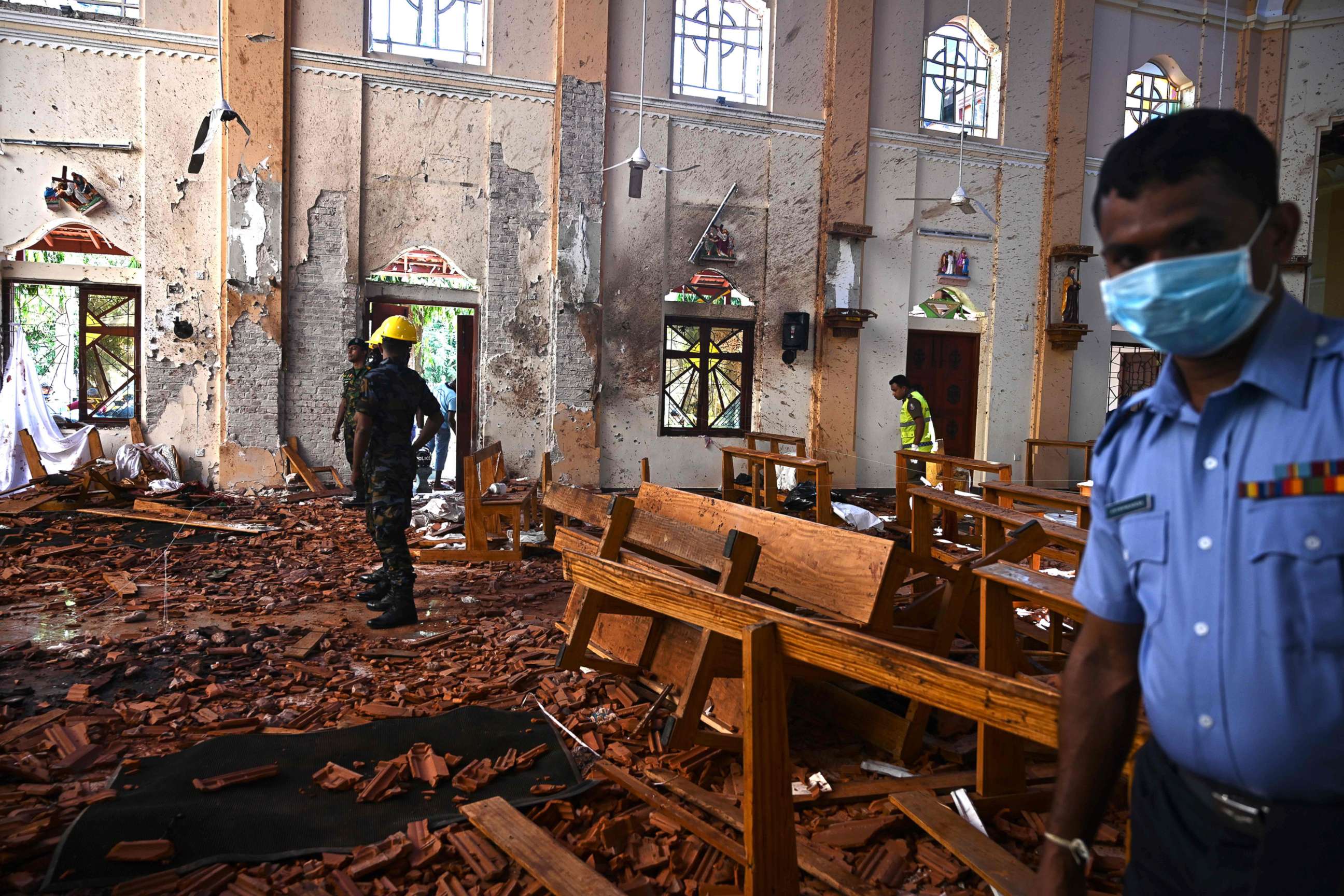 Ruwan Wijewardene, the state minister of defense, told the Sri Lankan parliament Tuesday that authorities have information showing Sunday's blasts were carried out "in retaliation" for last month's attacks at two mosques in New Zealand that killed 50 people.
Sri Lanka's health minister, Rajitha Senaratne, on Monday blamed the deadly blasts on a little-known domestic Muslim militant group called National Thowfeek Jamaath.
Sri Lankan police are searching for a mini van, three cars and six motorcycles carrying explosives in Colombo and believed to have been used for terrorist activities, police spokesman Ruwan Gunasekara told ABC News Tuesday.
At least 40 suspects have been arrested around the country in connection to the Easter explosions. Twenty-six of them were being questioned by the criminal investigations department Tuesday, while three were being held by the terrorist investigations unit, according to Gunasekara.
The identities of the suspects haven't been released, but Sri Lanka's prime minister told reporters Tuesday that all those arrested so far are Sri Lankan and "a few people" were still on the run "with the explosives."
According to a U.S. official briefed on the investigation, Sri Lanka has asked the United States for more help due to the "exigent" circumstances, prompting the FBI to continue sending additional resources to the country.
Two U.S. officials told ABC News that the United States has identified an individual believed to have previous ties to ISIS who may have been involved in the Sri Lanka attacks.
ABC News' Ben Gittleson, James Longman, Josh Margolin, Elizabeth McLaughlin, James Meek, Kirit Radia, Nadine Shubailat and Alex Stone contributed to this report.