Millions in Haiti starve as food, blocked by gangs, rots on the ground
Nearly 5 million Haitians do not get enough food to eat on a daily basis.
PORT-AU-PRINCE, Haiti -- Haiti is in the grips of a ravaging hunger crisis, where nearly 5 million Haitians -- half of the country -- do not get enough to eat on a daily basis.
Nearly 2 million people are in what the World Food Programme calls IPC 4 – Emergency. This is its second-worst hunger classification, marked by acute malnutrition and excess mortality, just one step shy of famine and starvation.
Tens of thousands of people in a sprawling slum called Cité Soleil were formally classified as in famine last year, the first time WFP has recorded that in Haiti.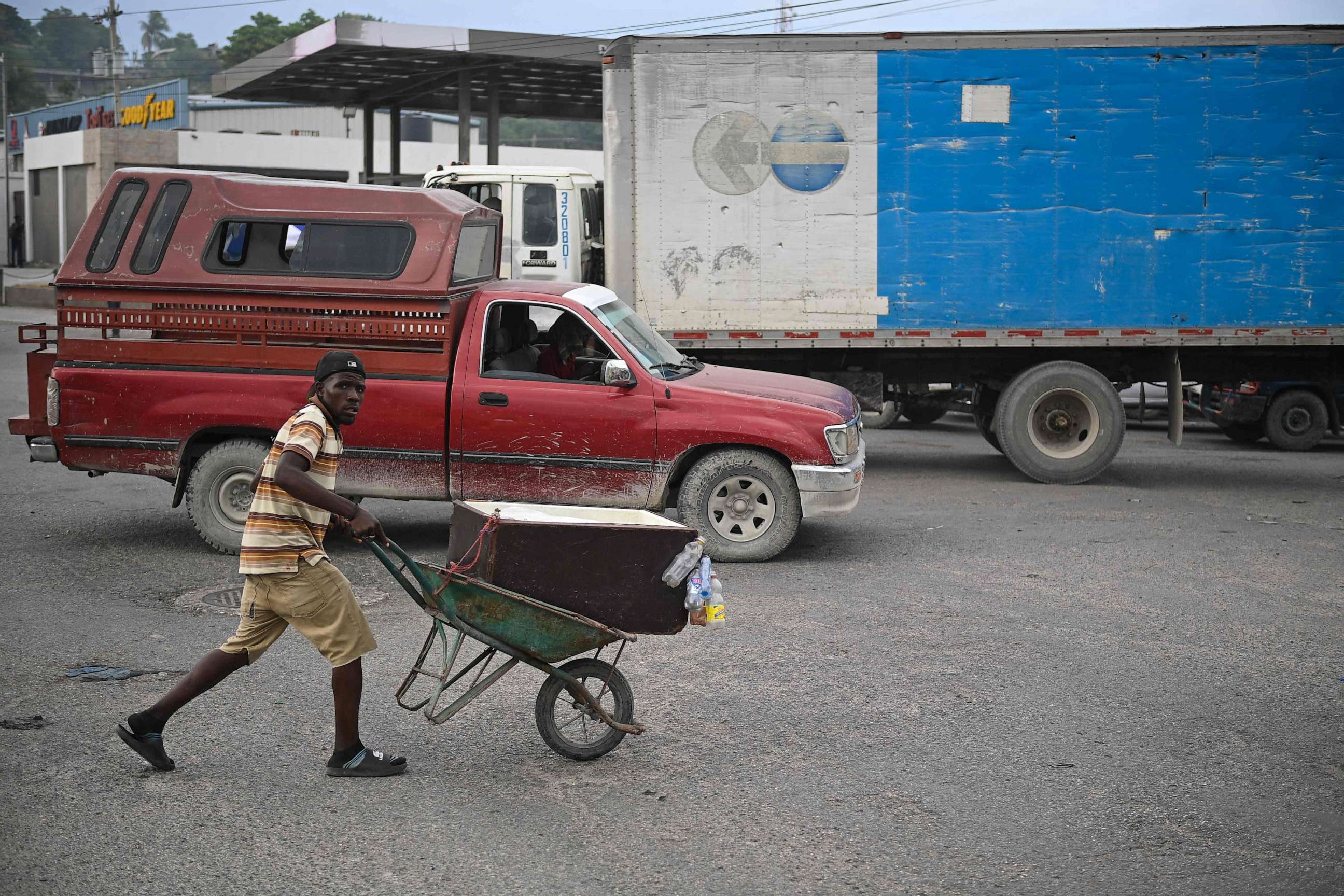 This story is part of a series, "Haiti: The Forgotten Crisis." Please click here for more.
The crisis comes against the backdrop of the assassination of Haitian President Jovenel Moïse in July 2021 and gang violence is the worst it has ever been in the country.
The crisis is further pronounced in the pediatric section of the Hospital Universitarie de la Paix. Like nearly every other hospital in the city, it is overwhelmed, under-funded and barely staffed.
Once vibrant colors are fading on the walls, as paintings of animals and stars and numbers flake onto the ground. Every bed is full but it doesn't take a doctor to identify the kids who aren't getting enough to eat.
Gaunt, wide awake but supremely still, there are at least a half dozen children in this small ward being treated for severe acute malnutrition. Four-year-old Marvens Marachelle is one of them.
His mother, Paulette, gently peels off his clothes as a nurse pulls his legs through two holes in a blue canvas bag, like the kind you might put groceries in.
They lift him up and hang the bag on a hook, his weight pulling it down. The scale above reads 9 kilos, about 20 pounds, the same as a healthy 10-month-old infant.
"He's had a fever and vomiting and he's been losing weight," said his mom, who said she knows he is hungry but can't find food consistently. She said she's now considering putting him up for adoption.
"I'm sad, sometimes my head gets heavy and I cry. I cry when I see what the country has become," she said.
As many as 115,000 Haitian children younger than five are expected to suffer from life threatening malnutrition this year, according to the latest U.N. figures, a 30% percent spike from last year. The United Nations World Food Programme recently announced a 25% cut of aid to Haiti due to a lack of funding.
There are myriad reasons for this hunger crisis that go back generations.
Haiti has long been undercut by foreign exploitation that has led to the decimation of local food production. Corruption prevents local economies from ever realizing their potential. Natural disasters have destroyed huge swaths of farmland. And given the gang control over Port-au-Prince, bad actors control the flow of food to and from different communities.
But today it is gang violence that keeps Haitian-grown food from reaching Haitian stomachs.
Artibonite, the Haitian department --equivalent to a state or province-- is known as Haiti's breadbasket, where the country's deep connection to the earth and its bounties was born.
Gonaïves, the city at the department's heart, is about 90 miles or so from Port-au-Prince, roughly the same distance from New York to Philadelphia.
Traditionally, the only way to get there was driving on Highway 1, a twisting road that follows the coastline and crystalline waters of Port-au-Prince Bay.
These days, though, there's hardly anyone driving the road. It is entirely controlled by gangs, with a series of checkpoints manned often by drunk gang members still in their teens, the AK-47s slung over their shoulders significantly older than they are.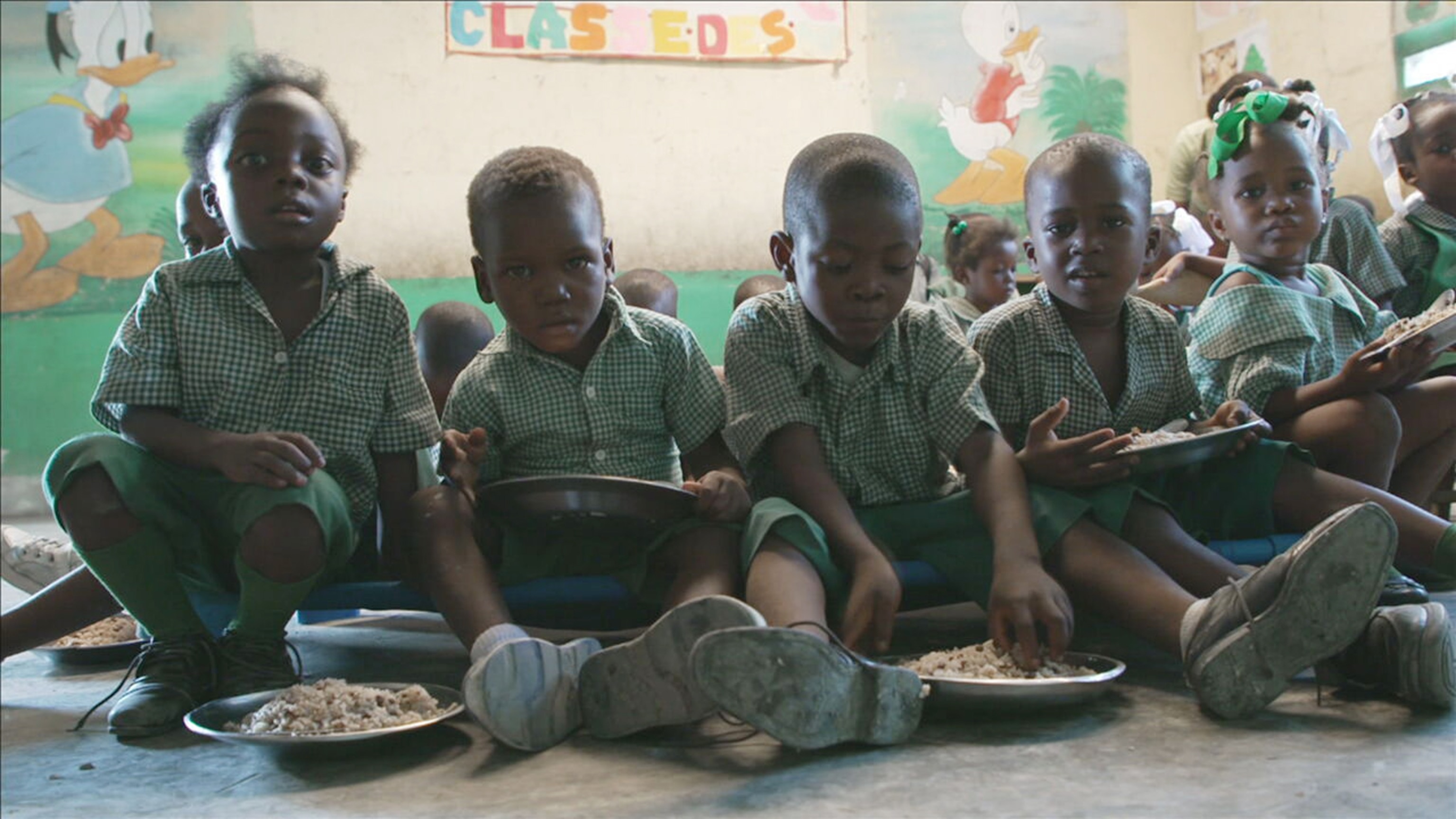 Now, the only way to get to Gonaïves safely is by air.
For that, ABC News employed the services of an Mi-8 helicopter, an old Soviet twin-engine workhorse currently in the employ of the U.N.'s Humanitarian Air Services.
Haiti's beauty is staggering from above. Its rolling mountains cascade down into deep valleys, exploding in every shade of green and brown imaginable. The clear blue waters easing onto white sand beaches rival the best in the world. No wonder one of Haiti's most beloved songs is "Ayiti Cheri," Haiti My Beloved, based on a 100-year-old poem written as an ode to the country.
ABC News touched down in an old field next to an abandoned concrete building. It used to belong to the Ministry of Defense but now serves both as a home for feral goats and as a pointed symbol of the decline of the country's security forces.
From there, it was a long, bumpy drive over painfully potholed roads to a rural farming community. The scent in the air gave away the area's main crop.
The distinct smell of mangoes filled the car, both a source of income in these parts but also of deep national pride.
These days, thousands of mangoes litter on the ground, spilled across field after field, rotting in the blazing Haitian heat--- nurturing the ants and the maggots and the flies instead of the people.
"We used to make a lot of money from selling mangoes," said Justin Dhene, a lifelong resident and farmer. "Nowadays, we can't sell one. They're all going to waste."
Just a few years ago, mangoes like these were a cash crop. Farmers would grow them, wholesalers would buy them and then resell them in Gonaives. From there it was onward to the capital or to the U.S., selling for $5 each at Whole Foods.
But the explosion in gang violence in Port-au-Prince has not spared Gonaïves. Many of the markets so key to this network of distribution have closed. Roads controlled by gangs are now impassable and those that dare risk their lives.
"We were kidnapped for three days," said Decimis Modeline. "They took our money and then they let us go."
She is one of the people known as Madan Sara, women who buy and sell food and are key parts of how food makes its way around the country.
She said she and her colleagues were kidnapped recently as they took their goods to sell in the market, freed only after her family took on debt to pay a ransom of more than 1 million Haitian Gourdes, about $7,200 in U.S. dollars, she said. They're still paying it off.
Beaten and threatened alongside the three other Madan Sara kidnapped that day, the group wasn't sure if they'd make it out alive.
"The kidnapping brought me a lot of sadness," said 21-year-old Lovely Acéus. "They took the ransom money, the money I had to buy stuff and they raped me."
The trauma remains, she said.
"You get suicidal thoughts, you want to do bad things to yourself," said Pierre St. Annia, also kidnapped, her voice clear and direct. "If I die today, I won't have any regrets."
They say they will not go to the markets anymore, prisoners without a prison, held in place by a palpable fear about what happens if they leave the confines of the farm.
The dirt roads and threatening skies forced ABC News to leave shortly after the interview. Around here, it's the gangs or the rain that makes the roads impassable.
Back in town, there are those that are trying to help. The WFP has set up a small, temporary market in a relatively safe part of Gonaives, where it buys food directly from farmers.
Country Director Jean-Martin Bauer, an American whose mother is from Haiti, acknowledged it's just a drop in a gigantic bucket of need but said they have to try.
It's brave to even attempt it, given the violence WFP itself has faced here. Last year, its storehouse, a massive space filled with grains and rice, was ransacked. Hundreds of people stormed the complex, breaking through a concrete wall, completely emptying the warehouse before setting it on fire.
It remains empty to this day.
There is deep-seated resentment among many Haitians about the role international aid groups have played in the country.
Bauer understands the frustration but his commitment, he says, is to help and that requires showing up. So, he and his team keep fighting, not only to help on a day-to-day basis but to sound the alarm internationally.
More than $700 million has been requested by the U.N. to address the humanitarian crisis in Haiti. Only 23% of that appeal has been funded at the time of publication.
"Haiti is in deep trouble," said Bauer. "Haiti is not at risk of becoming a forgotten crisis. Haiti is a forgotten crisis."
-ABC News' Etant Dupain, Brandon Baur and Aicha El Hammar Castano contributed to this report.