Nigeria's largest military arm on Friday appeared to use the words of U.S. President Donald Trump to defend its shooting of protesters over the past week.
The official Twitter account of the Nigerian Army, one of three service branches within the Nigerian Armed Forces, posted a video showing a clip of Trump's speech at the White House on Thursday regarding illegal immigration and border security, in which the U.S. president said that throwing stones and rocks at American troops would be considered as firearms.
"We're not going to put up with that. If they want to throw rocks at our military, our military fights back," Trump says in the video. "I told them, consider it a rifle."
The White House did not immediately respond to ABC News' request for comment Saturday.
The tweet was posted just days after clashes between Nigerian soldiers and Shia Muslims once again turned deadly.
Since earlier this year, protesters have frequently flooded the streets of Nigeria's capital, Abuja, to demand the release of Ibrahim Zakzaky, the jailed leader of the Islamic Movement of Nigeria (IMN). The movement, which is headquartered in the northern city of Zaria, has become an outspoken advocate for Shiite Muslims in a country dominated by its Sunni counterparts.
Zakzaky has been in federal custody since December 2015, when Nigerian security forces killed hundreds of his followers. The Shiite cleric was held without charge until April and now remains detained as he's accused of murder relating to the 2015 violence, sparking an uproar among his followers.
Last weekend and on Monday, security forces sprayed bullets and tear gas at supporters of the Islamic Movement in Nigeria as the group marched on the outskirts of Abuja. Nigeria's defense spokesman, Brigade General John Agim, said in a statement that the demonstrators wounded soldiers with rocks, damaged military vehicles, blocked traffic and tried to overrun a military checkpoint that leads into the federal capital territory.
Six protesters were killed, according to Agim, who said troops came under "unprovoked attacks" that were "planned and premeditated" by demonstrators.
"In all these attacks, the IMN was the aggressor while the military only acted in self-defense," Agim said in the statement Thursday.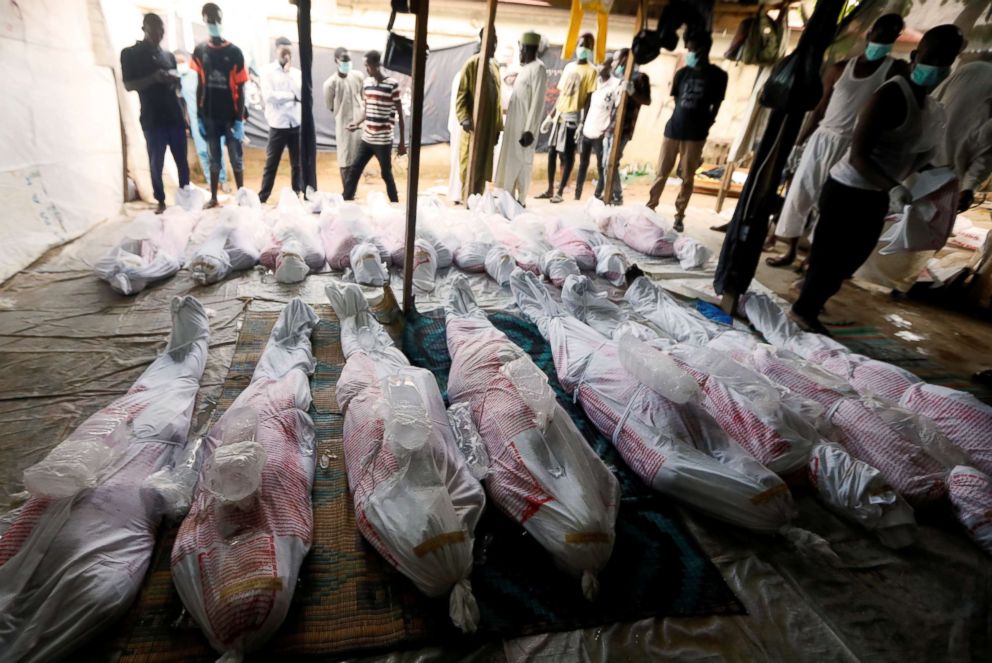 However, an investigation by Amnesty International found the body count to have been much higher.
At least 45 supporters of the Islamic Movement in Nigeria were killed by security forces on Saturday and Monday, as the group held two days of "peaceful gatherings" around Abuja, according to the London-based international human rights watchdog.
"We have seen a shocking and unconscionable use of deadly force by soldiers and police against IMN members. Video footage and eyewitness testimonies consistently show that the Nigerian military dispersed peaceful gatherings by firing live ammunition without warning, in clear violation of Nigerian and international law," Osai Ojigho, executive director of Amnesty International Nigeria, said in a statement Wednesday. "Those injured were shot in different parts of the body – head, neck, back, chest, shoulder, legs, arms – and some of them had multiple gunshot wounds. This pattern clearly shows soldiers and police approached IMN processions not to restore public order, but to kill."
Amnesty International lambasted the Nigerian military's "horrific use of excessive force" and said researchers have "strong evidence" that security forces wielded automatic firearms during Monday's protest.
"It seems the Nigerian military are deliberately using tactics designed to kill when dealing with IMN gatherings. Many of these shootings clearly amount to extrajudicial executions," Osai Ojigho said. "This violent crackdown on IMN protesters is unjustified and unacceptable. They were perfectly within their rights to hold a religious procession and protest and there was no evidence they posed an imminent threat to life."
The U.S. Embassy and Consulate in Nigeria issued a statement Thursday expressing concern about the "deaths resulting from clashes between Nigerian security forces and members of the Islamic Movement of Nigeria."
"We urge Government of Nigeria authorities to conduct a thorough investigation of the events and to take appropriate action to hold accountable those responsible for violations of Nigerian law," the embassy said. "We urge restraint on all sides."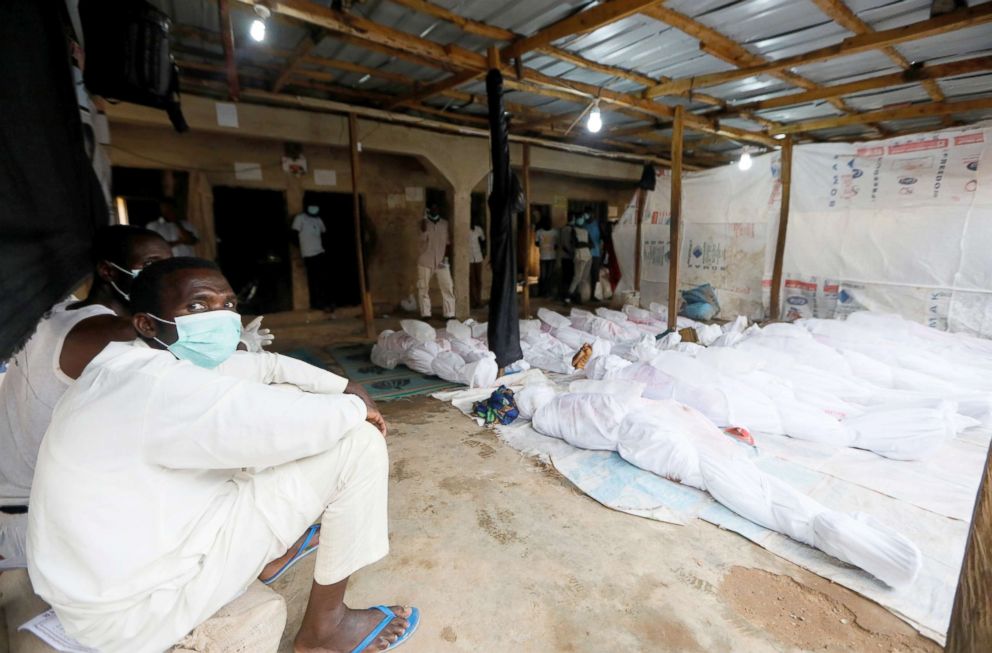 On Friday morning, the Nigerian Army appeared to react to Amnesty International's allegations by tweeting the video of Trump's remarks, along with the caption, "Please Watch and Make Your Deductions."
The Nigerian Army later deleted the tweet, but not before various news outlets and U.S. officials had seen it.
U.S. Ambassador to the United Nations Samantha Power tweeted an image of the Nigerian Army's tweet with the video of Trump, and called the tweet "sickening."
Trump later walked back his comments, saying troops "don't have to fire."
"I didn't say shoot," the president told reporters on Friday, when pressed on his remarks the previous day. "But they do that with us, they're going to be arrested for a long time."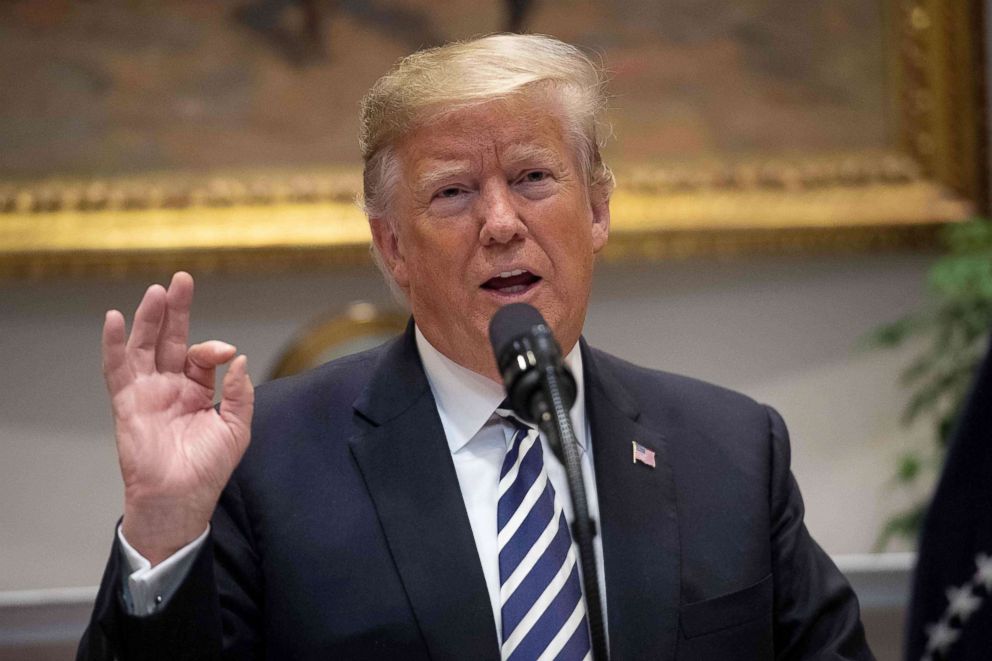 Nigerian Army spokesman Brigadier General Texas Chukwu did not respond to ABC News' requests Friday for comment on the tweet and why it was taken down.
Nigeria's defense spokesman, Agim, told ABC News he believes the army was responding to Amnesty International's criticism by "using Mr. Trump's video to justify the shooting."
"What did the biblical David use to kill Goliath? I believe you know that he uses stone," Agim said. "I don't think you expect soldiers to fold their hands and watch the protesters run over them."
In response to the Nigerian Army's since-deleted tweet, Osai Ojigho of Amnesty International Nigeria said the West African nation's government "must hold its security forces accountable" rather than engage in "preposterous competition over who does a better job of violating human rights."
"Basic human rights are not subject to whims of the world's leaders," Osai Ojigho said in a statement Saturday.
ABC News' Meridith McGraw contributed to this report.