— -- North Korea said that the intercontinental ballistic missile it launched earlier today is a new, nuclear-capable weapon that could reach the entire continental U.S.
State television said Wednesday the new ICBM -- which it called a Hwasong 15 -- was "significantly more" powerful than the previous long-range ICBM the North tested.
The Hwasong 15 reached an altitude of 2,800 miles, making it the highest North Korean missile test to date, two U.S. officials confirmed.
It traveled for an estimated 50 minutes, the longest of the country's missile flights, an official said.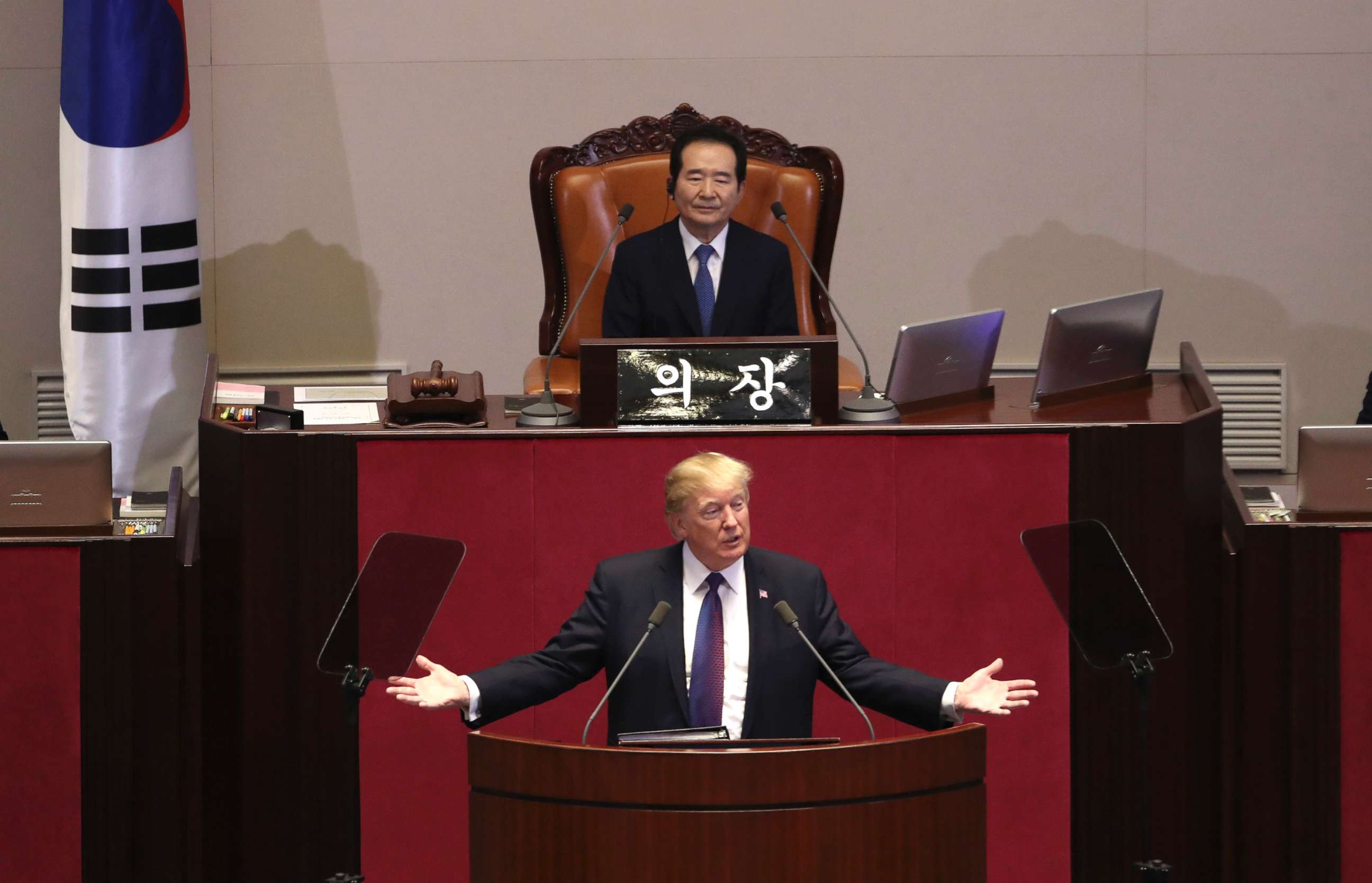 The launch was North Korea's third intercontinental ballistic missile test and its 15th ballistic missile launch of 2017. It is the latest provocation by the nation and its first test in over two months.
"The missile was launched from Sain Ni, North Korea, and traveled about 1,000 km before splashing down in the Sea of Japan, within Japan's Exclusive Economic Zone (EEZ)," Pentagon spokesman Col. Robert Manning said in a statement.
The missile did not pose a threat to North America, its territories or its allies, the Department of Defense said.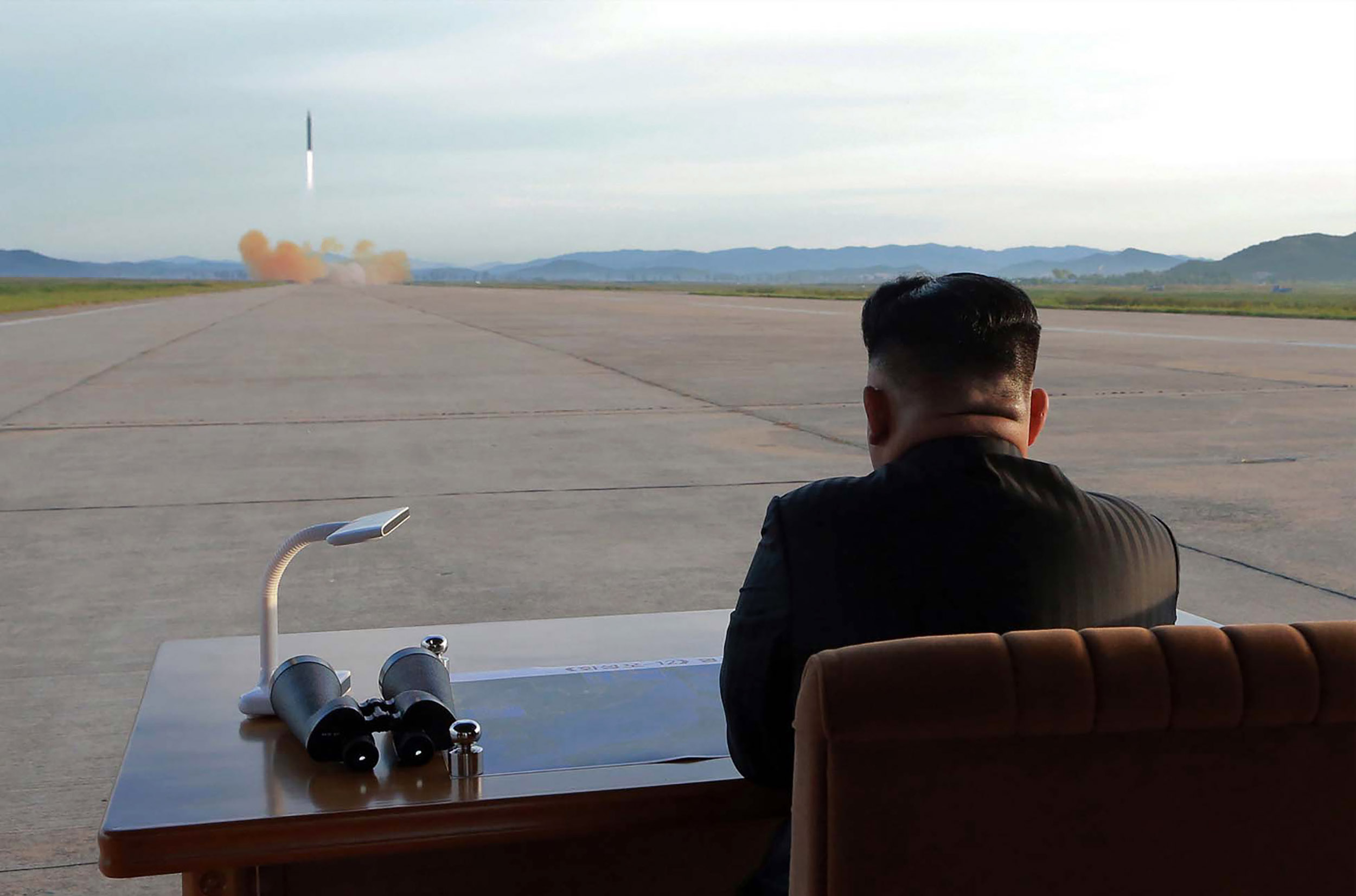 White House press secretary Sarah Sanders tweeted Tuesday afternoon that Trump was briefed on the situation "while missile was still in the air."
Trump later addressed the launch in an appearance before reporters at the White House, pledging, "We will take care of it ... It is a situation that we will handle."
And he took to Twitter Tuesday night, writing, "After North Korea missile launch, it's more important than ever to fund our gov't & military! Dems shouldn't hold troop funding hostage for amnesty & illegal immigration. I ran on stopping illegal immigration and won big. They can't now threaten a shutdown to get their demands."
China's foreign ministry said it was "strongly against" the missile launch, South Korea's Yonhap news agency reported.
"The U.N. Security Council has clearly regulated North Korea's missile test and technology," Geng Shuang, spokesperson for the Chinese Ministry of Foreign Affairs, said at a Foreign Ministry briefing Wednesday, according to The Associated Press. "China is gravely concerned about and strongly opposed to North Korea's missile test. China urges North Korea to implement the U.N. Security Council resolution, to stop any actions that would worsen the situation on the Korea Peninsula. In the meantime, we hope all relevant parties act cautiously and work together to keep regional stability."
French president Emmanuel Macron tweeted in French, "I condemn the new irresponsible ballistic test of North Korea. It reinforces our determination to increase the pressure on Pyongyang and our solidarity with our partners."
U.S. Ambassador to the United Nations Nikki Haley and her counterparts from Japan and South Korea requested an emergency meeting of the U.N. Security Council for Wednesday afternoon in response to the test.
Yonhap news agency was the first to report the launch, which occurred early Wednesday local time, citing South Korea's Joint Chiefs of Staff.
"North Korea launched an unidentified ballistic missile eastward from the vicinity of Pyongsong, South Pyongan province, at dawn today," the Joint Chiefs of Staff said, according to Yonhap.
Earlier in the day, Manning said there was "a probable missile launch from North Korea" at "approximately 1:30 p.m. EST," or 3 a.m. Wednesday in North Korea's capital, Pyongyang.
The launch ended the longest stretch of time without a North Korean missile test since U.S. President Donald Trump took office in January. North Korea tested its first missile of the year on Feb. 11, 22 days after his inauguration. From March to May, the country conducted tests every one to two weeks.
Its most recent previous launch was on Sept. 15 local time, 75 days ago, of a KN-17 intermediate-range ballistic missile, which flew over the Japanese island of Hokkaido.
On Aug. 8, Trump threatened Pyongyang with "fire and fury like the world has never seen," prompting North Korean leader Kim Jong Un to say he would consider sending missiles into the waters off Guam in mid-August.
Several weeks later, North Korea fired three short-range ballistic missiles not toward Guam but into the Sea of Japan.
The Trump administration has said all military options remain on the table to deal with the North Korean threat, but top U.S. officials have consistently emphasized the U.S. is pursuing a diplomatically led effort, including additional economic pressure.
Secretary of Defense James Mattis said this month, during the pause in testing, that "there would be an opportunity for talks ... so long as they stop testing, stop developing" and "don't export their weapons," according to a Reuters report.