— -- Her wild, curly hair was unmistakeable, piled on top of her head, as she approached the two Israeli soldiers outside her house.
"Come on, get out," the teenage girl yelled last Friday afternoon at the soldiers. "Get out of here, don't stay here."
Standing in her driveway, 17-year-old Ahed Tamimi can be seen in a now-viral video pushing one of the Israeli soldiers, then kicking him in the shins. She went in again, this time with her right fist, hitting his shoulder. He deflected her.
"Don't touch me," she screamed in his face and reached up to slap the soldier. Five days after the incident, Ahed was led into an Israeli military court today.
The dramatic video, shot and distributed by the Tamimi family, has gone viral in the past few days. Ahed is a well-known teenage activist, from a family of well-known activists in the Palestinian village of Nabi Saleh, in the occupied West Bank.
Palestinians hail her as a brave young fighter and some pro-Israel blogs have dubbed her "Shirley Temper." Right-wing Israelis accuse her of using social media to distribute propaganda and discredit Israel. After the video garnered widespread media coverage in Israeli media Monday, overnight, the Israeli military arrested Ahed.
The morning after the arrest, Israeli Defense Minister Avigdor Lieberman threatened the family, saying, "Everyone involved, not only the girl but also her parents and those around them, will not escape from what they deserve."
Lieberman continued, "whoever goes wild during the day will be arrested at night. This is also an important message."
Ahed was suspected of "assaulting an IDF soldier and officer" and participating "in a violent riot last Friday," the Israeli army told ABC News in a statement.
Army officials said the only reason they were there was because "rioters" had been throwing stones from the Tamimi house. The army stayed at the entrance to make sure no one else entered and that's when "several Palestinians exited the house and began to violently provoke the soldiers."
The soldier slapped by Ahed "acted in a professional and restrained manner by not using force," the army statement said. "He could have arrested the Palestinians," the statement said, and he didn't.
That was Friday afternoon. In the middle of the night Monday, her father described being woken up by the Israeli army.
"They came at 3 a.m. in the morning," her father, Bassem Tamimi, told ABC News. "They were so aggressive. They arrested her and confiscated all the mobile phones and computers in the house," including those belonging to her siblings, he says.
"Ahed was not scared."
Ahed has been a constant feature at protests in the village for years but it's the first time she has been detained by the Israeli military. Her detention has just been extended through Monday, according to her father. Even though she is a minor, she still goes to military court because she's in the West Bank, not in Israel.
"Ahed is a symbol of her generation," Tamimi told ABC News. "She is a symbol of victory and not defeat."
Northwest of the West Bank city of Ramallah, Nabih Saleh sits right next to Israeli settlement, Halamish. Palestinian villagers have been holding regular protests since 2009 against the expansion of Halamish. Going through checkpoints, and around the settlement, Tamimi said, is "a very threatening environment" for his children.
Ramal Salah, a Palestinian psychologist who focuses on teenagers, said Palestinian teenagers, like in other conflict areas, "are not your average teenagers" and pay a high psychological price for the daily exposure.
"They see everything in the West Bank," Salah said. "They pass through the checkpoints, they see Israeli settlements, their land being confiscated and they see how Israeli soldiers humiliate their parents."
They grow up angry, she added. Palestinians now see Ahed as a hero but that, Salah noted, puts any teenager under tremendous pressure.
Ahed's parents have both encouraged youth activism, and it's not the first time Ahed has gone viral.
In 2015, Ahed can be seen biting a soldier as he pins down her younger brother, then accused of throwing stones.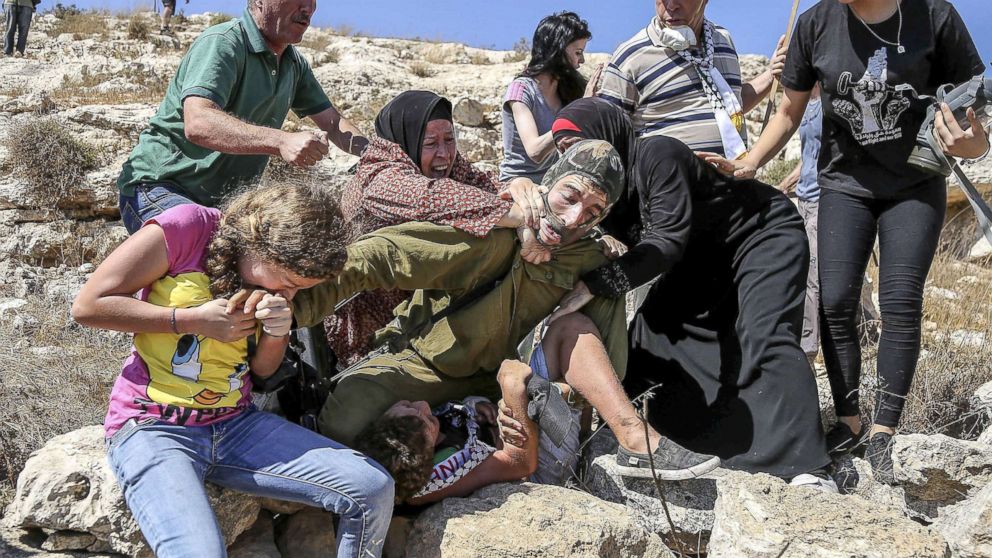 And in 2012, she can be seen raising her fist toward an Isreali soldier.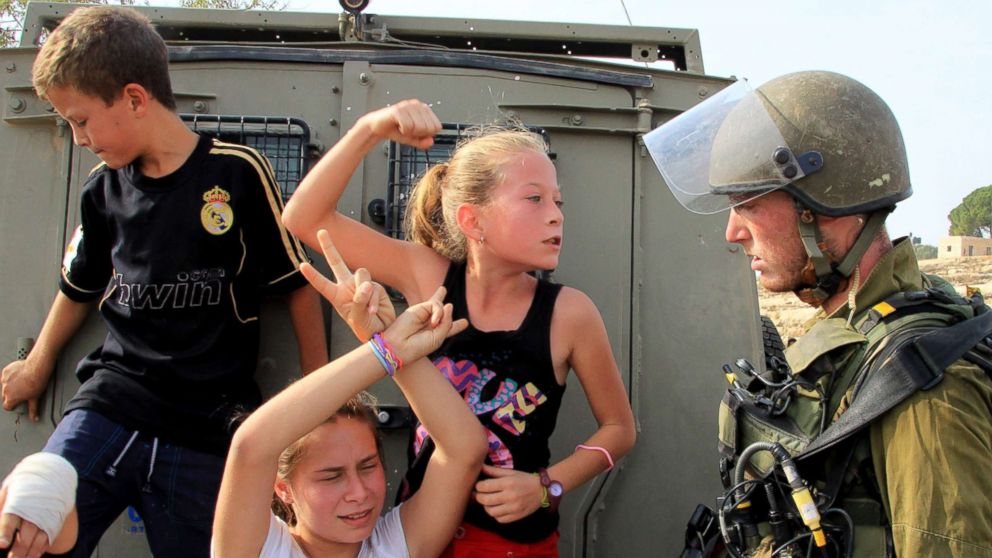 Speaking to Army Radio Tuesday, Israel Education Minister Naftali Bennett, leader of the extreme right-wing Jewish Home party, said Ahed and her cousin, the other girl seen in the video last Friday, "should finish their lives in prison."
"The pictures are harsh," Bennett said. "I trust that the incident will be investigated, the lessons will be learned, and those activists who attacked will be tried."
Ahed could face seven years in prison, Bennett added.
Her father, however, has different plans: "I hope one day she will be able to be a leader of the Palestinian people."
ABC News Nasser Atta reported from Jerusalem and Molly Hunter from London.