Moscow -- The death toll from a college shooting and bomb attack in Crimea has grown to 20, as a top Crimean official said authorities are searching for possible accomplices who may have helped a student carry out the massacre.
At least 42 who were injured remain hospitalized, six in a critical condition, according to authorities in the Black Sea city of Kerch, where the attack happened on Wednesday.
An 18 year-old student, Vladislav Rosylakov, has been identified by police as the attacker. Russian authorities had said Roslyakov acted alone at the school, but on Thursday, Crimea's leader Sergey Aksyonov said he believed the student must have received help preparing for the attack.
"In the college he acted alone, but the task is to establish who prepared him for this crime," Aksyonov told reporters at the scene of the attack. "He could not, in my view, have carried out such prepared events alone."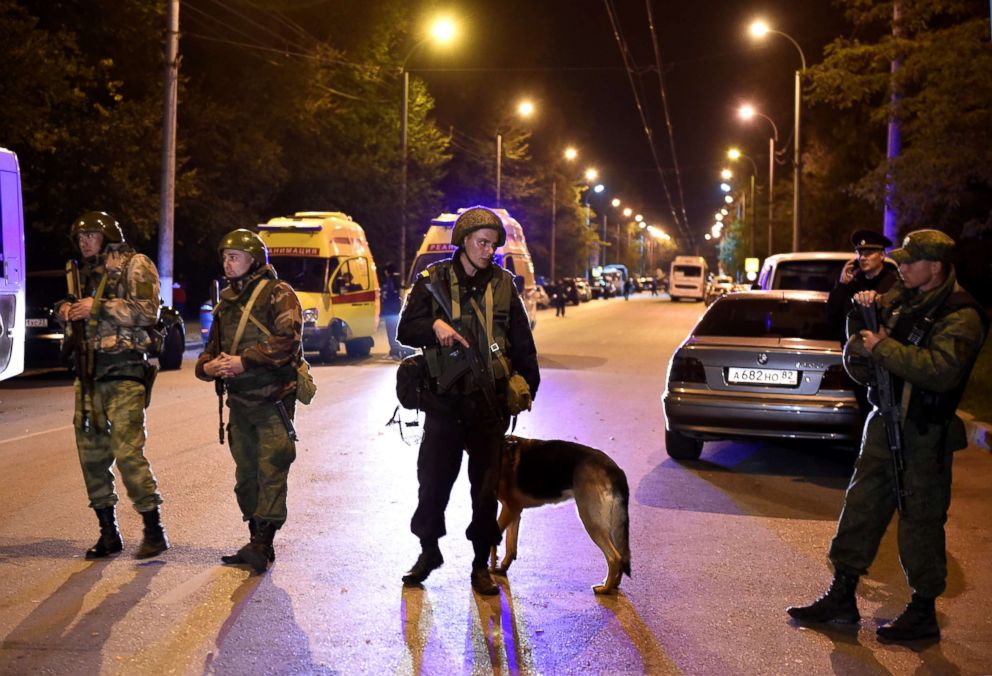 Investigators are still trying to establish Roslyakov's motive and suggested they are treating it as a school shooting similar to those that have plagued the United States. It was unclear to what extent Russian law enforcement shared Aksyonov's assessment.
Russian authorities initially thought the school shooting was a terrorist attack, before they reclassified it as "mass murder" after Roslyakov was identified. Security footage showed him entering the Kerch Polytechnic College, where he was a fourth-year student armed with a 12-gauge pump action shotgun and bags police said were filled with homemade grenades.
According to witnesses, Roslyakov began tossing the explosives into classrooms and opened fire. Police said a bomb packed with metal objects that was planted in the school also detonated. Roslyakov killed himself at the school after police arrived about 10 to 15 minutes later, police said.
The precise details of the attack remain unclear. Some accounts described a large bomb exploding, while others described only gunfire and grenades. Pictures from the scene published in Russian media showed a bag found at the school filled with what appear to be improvised explosives. Russia's National Anti-Terrorism Committee said it had defused a second bomb at the school on Wednesday.
Russia's health minster, Veronika Skvortsova, said that most of the people killed were hit by gunfire, but that doctors had also been removing metal objects from people injured by what she said was a powerful bomb.
"The children's muscles are all 'minced', basically, with small pieces of metal," Skvortsova told reporters in Kerch, "We have found nuts and metal balls in the liver, guts, and blood vessels of those whose internal organs were ruptured. This is how powerful the explosion was," she said, saying others had lost lower limbs.
Friends and relatives of Rolyakov, speaking to Russian and foreign media, have described him as a quiet, isolated young man from a troubled background, fascinated by guns.
Russia's main state newspaper, Izvestia quoted a source close to the investigation who said Roslyakov's father had told police during questioning that his son had broken off contact recently with one of his few close friends and that he had been aware of his son's interest in weapons.
Gun laws are strict in Russia and civilians are permitted only to own hunting rifles and smoothbore shotguns, and have to undergo background checks. Roslyakov had obtained his gun license only around two months ago, local officials said. Security camera footage aired by the Russian channel Ren-TV, showed him buying shotgun shells in store four days before the shooting.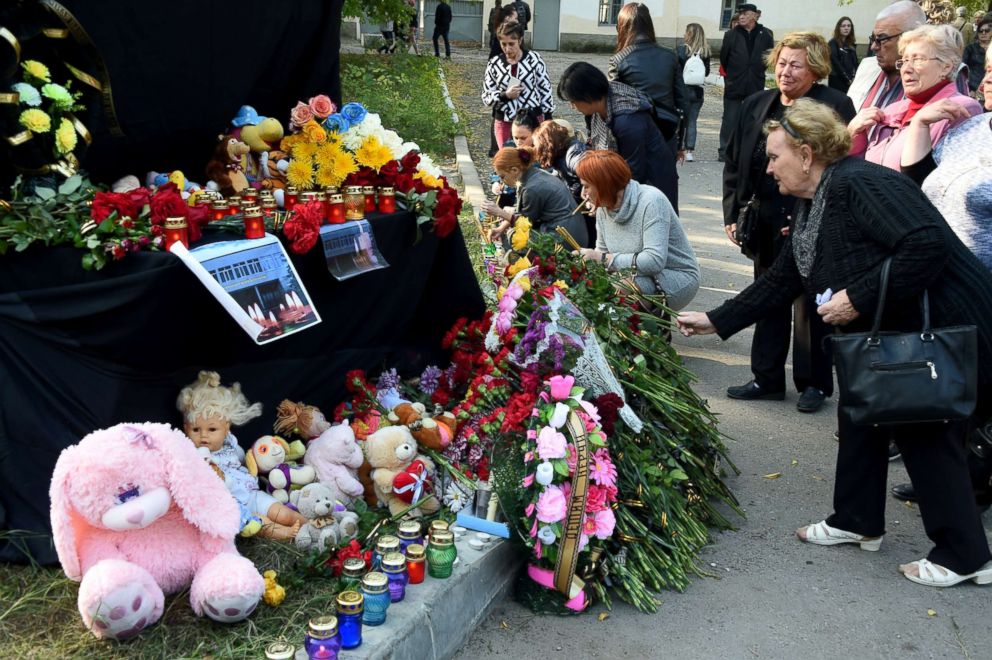 Ordinary Russians and authorities are struggling to come to terms with the attack in a part of the world where school shootings are practically unheard of. People in Crimea and at a war memorial dedicated to Kerch near the Kremlin in Moscow have laid red mourning flowers and soft toys at makeshift shrines.
The aftermath of the shooting, however, is also unfolding against Crimea's unusual political backdrop. Russia seized control of Crimea in 2014 using unmarked troops and has since periodically accused Ukraine of dispatching saboteurs to blow up infrastructure on the peninsula.
Some in Russia suggested that the Kerch attack may have ties to Ukraine, though there is no evidence so far.
In one of Russia's leading newspaper, Kommersant, anonymous security officials said investigators were examining whether Roslyakov had links to nationalist groups in Ukraine, referring to another case in which Russian prosecutors alleged a young Ukrainian man, Pavel Grib, tried to persuade a Russian teenage girl in Sochi to place a bomb at her school.
Officials though appear to be mostly grappling with a phenomenon grimly familiar in the U.S. but all but unknown in Russia -- mass school shootings.
Wednesday's attack was the deadliest act of violence at a Russian school since the Beslan terrorist attack in 2004, when 333 people, many children, died after Chechen fighters seized a school.
In Crimea, officials said they would review security measures at schools. On Thursday, armed riot police were temporarily deployed to guard all schools on the peninsula.
At a forum in Sochi, President Vladimir Putin told an audience that the Kerch shooting was the "result of globalization."
"It all started with those tragic events in American schools," Putin said. "Young people with unstable minds create false heroes for themselves. It means we are not creating the necessary interesting and healthy content for young people. They have only this surrogate heroism and it leads to these sorts of tragedies."