— -- Spanish police are reportedly searching for a man who appeared to slow down to snap a "selfie" during the Running of the Bulls in Pamplona.
Video shows the unnamed man sprinting ahead of the beasts while holding his phone inches above his head on Friday. Taking photos inside the run is prohibited. The narcissistic daredevil faces fines up to around $4,000, according to the Guardian.
Cyclists Fuming Over Dangerous Tour De France Selfies
The Definitive Guide to Selfie Etiquette
His photo circulated on social media over the weekend with the hashtag #eltontolmóvil, and many users criticized the man's "stupidity" and lack of respect for other runners' safety. It is not clear if he actually managed to snap a photo.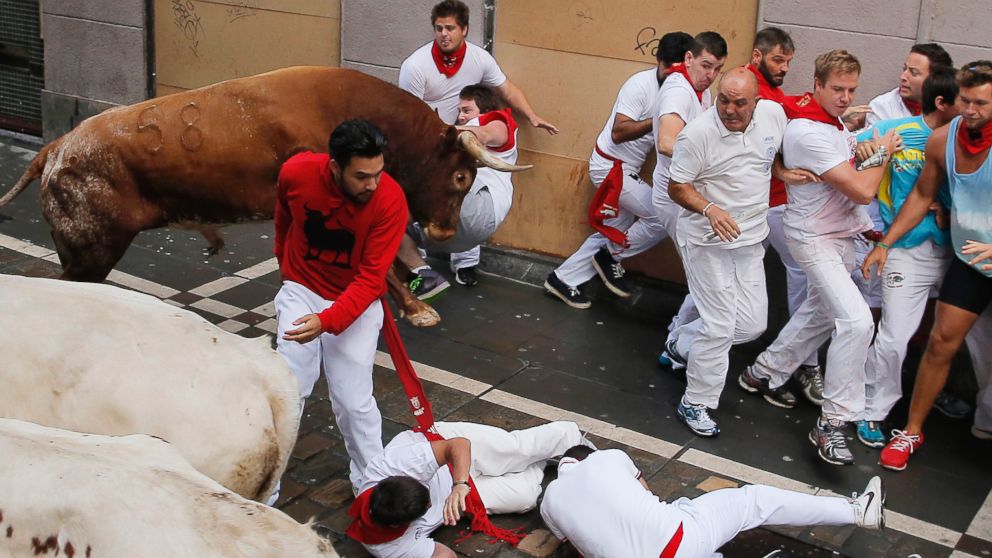 The Running of the Bulls happens every morning during the annual San Fermin festival in Pamplona. Dozens of people are injured each year, and eight people were gored in this year's festival.
It's not the first time selfies have led to dangerous situations.
Tour de France spectators were recently urged to stop the snapshots to avoid collisions with passing cyclists.
American Tejay van Gerderen, a cyclist for the BMC racing team, sounded off on Twitter about getting injured when a fan got too close to take a selfie.
"Standing [in] the middle of the road with [your] back turned while 200 cyclists come at you, just to take a selfie," he wrote on July 6. "That being said, I love the crowds and thank you for your support. But please give us room. Gonna ice my knee now."