SEOUL, South Korea -- A video of an incredible taekwondo performance in South Korea has gone viral in recent days, with athletes flying through the air, smashing panels and twisting through mind-boggling new moves.
The video — versions of which have racked up tens of millions of views — shows a South Korean team wowing a crowd with numerous large-scale kicks as the athletes are thrown into the air at the 2018 World Taekwondo Hanmadang Festival, which took place last month on South Korea's Jeju Island.
What makes the July 28 opening-ceremony performance particularly exceptional is the fact that the group — the Kukkiwon Taekwondo Demonstration Team — showcased several previously unseen taekwondo techniques.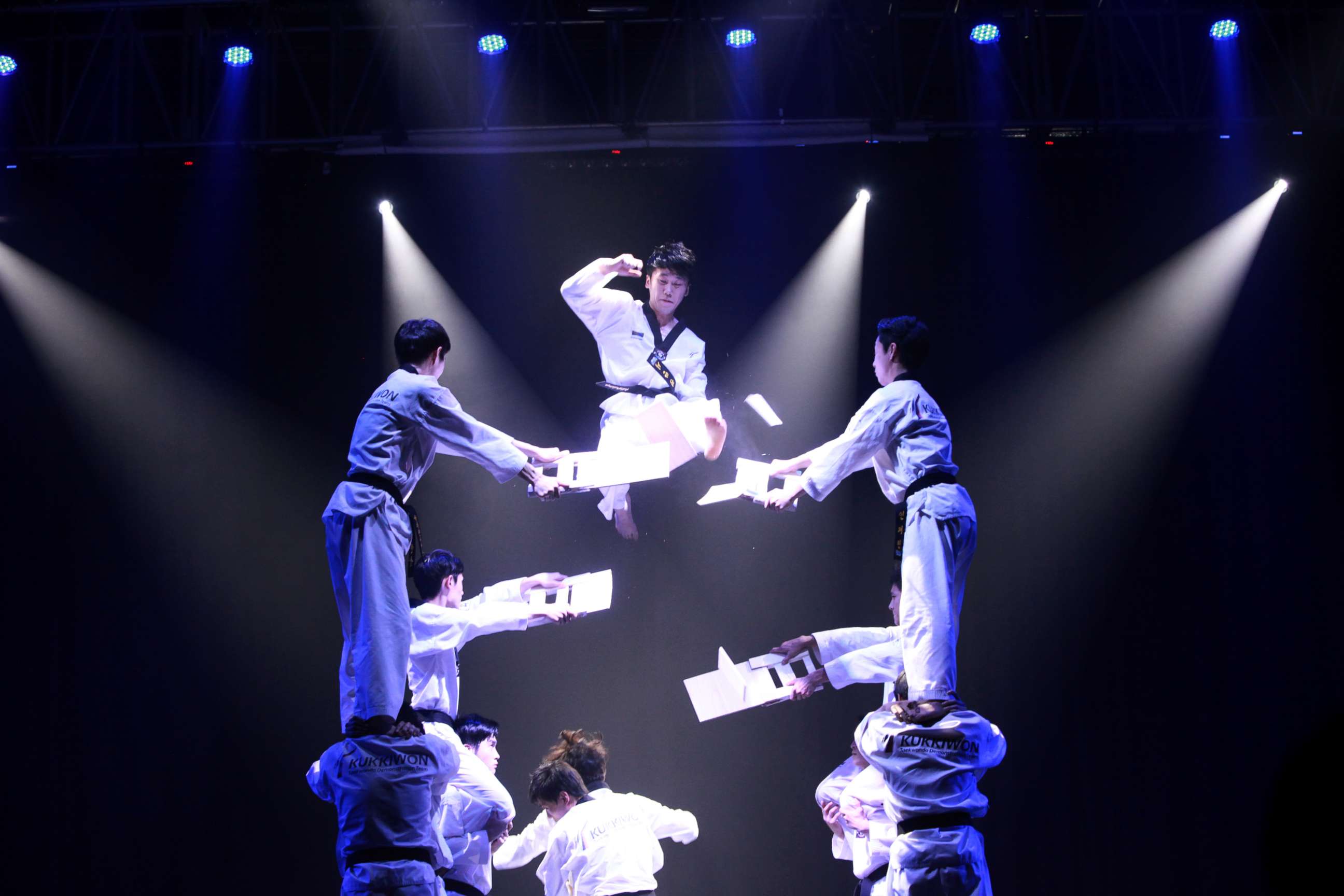 "The moves in the performance do not just end with smashing boards in the air, but twist-and-spin techniques are also added that make the actions extra difficult," Kim Cheol Won, a taekwondo master who runs South Korea's MTA Taekwondo studio, told ABC News.
At one point, two partners showed off the team's prowess by breaking 10 boards in a row — spinning and alternating kicks, completely in unison. Chuck Park, who is in charge of Kukkiwon's international strategy division, told ABC News that "it is certainly a world-class skill to fully master 720 degrees spinning and kicking 10 times in a row."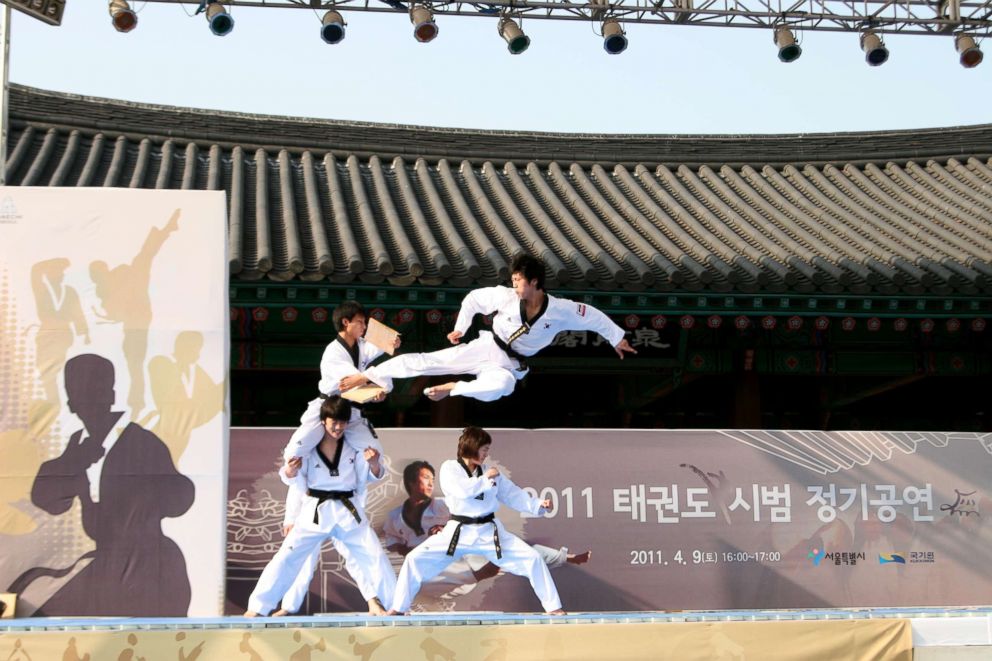 "It definitely is a historic performance," No Rae, a taekwondo master from the NRG Taekwondo Institute in Hong Kong, told ABC News. "The moves overwhelmed the world audience in awe as they incorporated double two-story-high jumps on the practitioners, smashing boards as high as 42 feet up in the air."
The team's abilities and precision impressed viewers across media worldwide. "That's just insane, the precision of the South Korean taekwondo team and their epic martial arts skills," tweeted entrepreneur Jack Phan, from Portland, Oregon. "AMAZING!"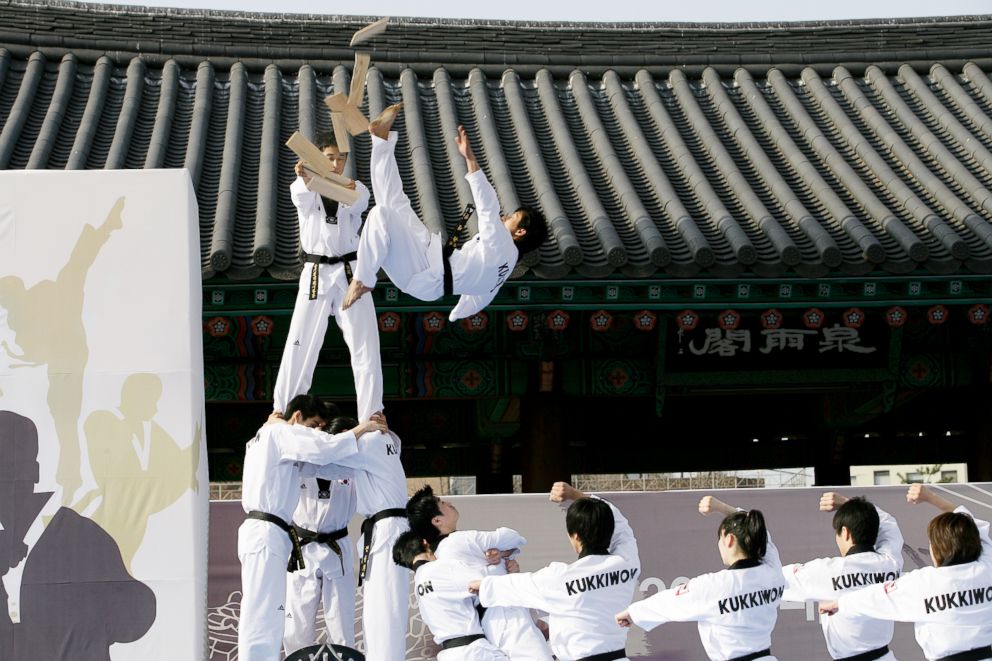 The Kukkiwon team has been a pioneer in globalizing taekwondo as a leading martial art since the organization, which is also known as the World Taekwondo Headquarters, was founded in 1972. It organized the Kukkiwon Taekwondo Demonstration Team in 1974; the group has toured over a dozen countries each year since then.
Composed of South Korea's top 70 taekwondo practitioners, the team takes pride in spreading taekwondo and Korean culture as civilian diplomats.
They are now immersed in training for an upcoming open-run show in Seoul called the "Great Taekwondo," in which they will perform a variety of powerful high kicks and stunts, starting Sept. 1.