— -- American aid worker Kayla Mueller, 26, was kidnapped by the terror group ISIS in Syria in 2013 and held until she was killed 18 months later. A new investigation by ABC News' "20/20" reveals for the first time the behind-the-scenes struggle to get Kayla back and how Kayla's parents say they felt abandoned by the people who could have helped save their daughter, including the U.S. government.
Read below for a timeline of major events in Kayla's ordeal, including some details never before disclosed, and tune in to ABC News "20/20" Friday, Aug. 26 at 10 p.m. ET for the full Brian Ross report, "The Girl Left Behind". The following timeline is based on interviews conducted with Kayla's parents, witnesses to her captivity and law enforcement and military officials, as well as an ABC News review of some U.S. government documents related to the case.
Spring 2011: Popular uprisings against the regime of Syrian President Bashar al-Assad steadily spread nationwide, eventually prompting a brutal backlash from the government. In the ensuing months and years, sporadic violence devolves into a gruesome, fractured civil war that claims the lives of countless civilians and forces many more from their homes. Thousands of refugees seek shelter in Syria's neighbor to the north, Turkey. At some point in 2011, the terror group formerly known as al Qaeda in Iraq slips into Syria, where it expands amid the chaos and in 2013 changes its name to the Islamic State of Iraq and Syria, or ISIS.
December 2012: Kayla Mueller of Prescott, Arizona, who had already dedicated much of her life to humanitarian work around the world, travels to Turkey to help Syrian refugees. A few months later, in the spring of 2013, she tells an Arizona newspaper, "For as long as I live, I will not let this suffering be normal." She goes to work in Antakya, a half-hour drive from the Syrian border.
Aug. 3, 2013: Kayla and Omar Alkhani, a Syrian friend and contractor for Doctors Without Borders, take what they thought would be a quick trip across the border to Aleppo, Syria, to help install communications equipment at a hospital. The task takes longer than planned and the pair stay at the hospital overnight.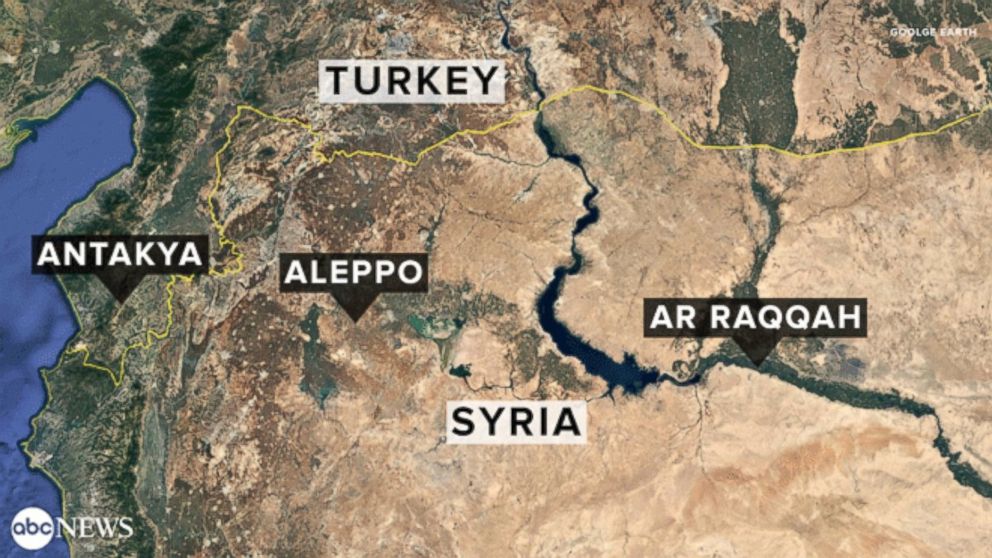 Aug. 4, 2013: Kayla and Alkhani, along with a Syrian driver and another Doctors Without Borders worker, travel in a Doctors Without Borders vehicle toward the Aleppo bus station for their return trip to Turkey, but are stopped on the road by armed fighters with the terror group ISIS. The four are taken captive. The hired driver is released within hours, but Kayla and the Doctors Without Borders worker are held. The Doctors Without Borders worker is released a few weeks later, followed by Alkari, but over the next four months, Kayla is believed to have been kept in a series of ad hoc ISIS detention centers, where she is accused of being a spy and abused.
Aug. 30, 2013: Kayla's parents, Carl and Marsha Mueller, receive a 10-second proof-of-life video showing Kayla in captivity. In the video, Kayla says she has been "very sick" and, "It's terrifying here."
Dec. 2, 2013: Kayla's friend Alkhani attempts to free Kayla by going to her detention center and saying he's her husband. But Kayla denies it, out of fear she'll be killed for previously saying that she was unmarried, and the ploy falls apart. Alkhani is held for 50 days for lying and then released again.
Late December 2013 - June 2014: Kayla is moved several times between temporary holding locations in Syria, eventually being taken to an abandoned oil refinery south of Raqqa, ISIS's de facto "capital" in Syria. She was joined by a group of other Western hostages facing ransom demands and death threats.
May 11, 2014: The Muellers, along with the families of other American hostages who had been captured by ISIS at that point, request a meeting with President Obama. The White House denies the request.
May 23, 2014: ISIS makes contact with the Muellers via email, offering to provide more proof of life by allowing Kayla to answer any three questions her parents choose.
May 25, 2014: The Muellers ask three personal questions, the answers to which only Kayla would know, including "What did you teach your niece to say? Music is _____?" The Muellers had just received from Doctors Without Borders a letter written by Kayla and delivered by three female hostages from the medical aid group who had been released. It articulates ISIS's demands: They want freedom for Pakistani woman Aafia Siddique, who is currently serving time in an American prison for the attempted murder of American soldiers and investigators in Afghanistan; in lieu of the release, they want 5 million Euros.
May 29, 2014: ISIS responds to the emailed questions for Kayla with all the right answers. "Music is EVERYWHERE." An audio file is also sent in which Kayla tells her parents she is healthy and then repeats ISIS's demands, this time saying they'll take the 5 million Euros if Siddique cannot be freed.
Mid-May or Early June 2014: The U.S. military's elite Joint Special Operations Command submits a concept of operations to the Obama administration for a daring clandestine raid into Syria to rescue all the Western hostages held by ISIS. The intelligence on where the hostages are was provided by a foreign intelligence partner and the White House doesn't give the green light, hoping to confirm and bolster the foreign intelligence before sending in troops, according to a counterterrorism official.
June 29, 2014: In an audio message widely circulated online, a spokesperson for ISIS declares the establishment of their Islamic "caliphate" in Iraq and Syria and says the group has now taken on the name the Islamic State.
July - August 2014: Kayla's location is unknown, but likely in the Raqqa area.
Approximately July 4, 2014: The White House gives the go-ahead for the special operations forces rescue operation, though a counterterrorism official told ABC News the foreign intelligence on the hostages' location never got any better. The special operations team is able to sneak to the target deep inside Syria, but finds a "dry hole" -- no hostages are there. DNA evidence shows Kayla had been there, and later President Obama said the raid missed the hostages by one or two days since they had all been moved elsewhere.
July 5, 2014: A video surfaces online showing ISIS leader Abu Bakr al-Baghdadi as he makes his first and only major public appearance. Speaking at a mosque in Mosul, Iraq, al-Baghdadi declares himself the leader of all Muslims.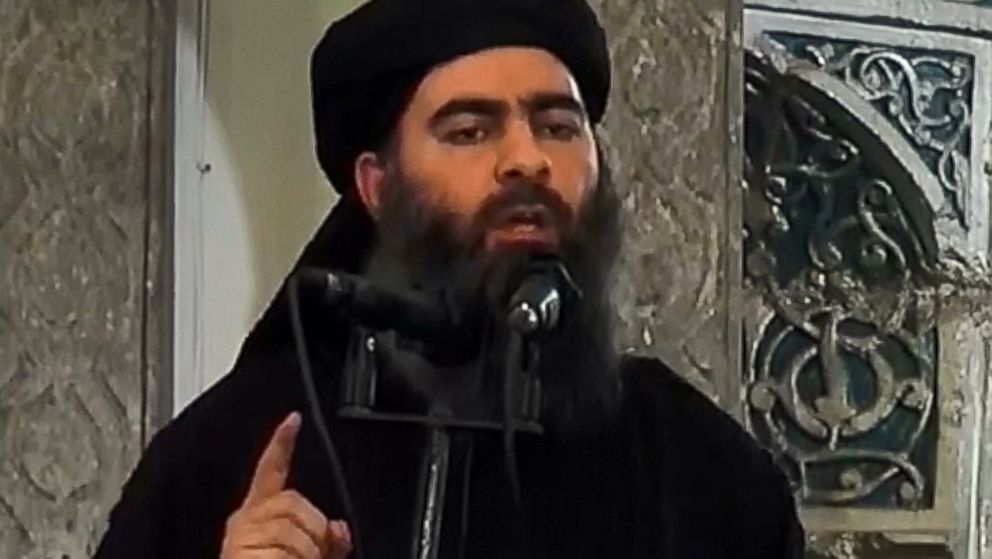 July 12, 2014: ISIS taunts the Muellers about the failed rescue operation in an email and announces a 30-day deadline for the ransom payment -- ending just two days before Kayla's 26th birthday.
August - Late September 2014: Kayla is believed to be held at a specific prison in Raqqa.
Aug. 8, 2014: The U.S.-led coalition begins aerial bombing of ISIS targets inside Iraq.
Aug. 10, 2014: With the deadline approaching, Kayla's father, Carl Mueller, records a video in which he pleads for Kayla's life. "Kayla is not your enemy," Carl says. "I ask that you give me more time to secure our daughter's safe release."
Aug. 12, 2014: The deadline for the ransom payment passes with no news.
Aug. 14, 2014: Kayla turns 26 years old.
Aug. 19, 2014: A video appears online showing another American hostage, journalist James Foley, who is believed to have been held at same locations as Kayla, as he is beheaded by a black-clad ISIS fighter later dubbed "Jihadi John." The killer demands the U.S. stop airstrikes against ISIS targets and threatens the life of another American journalist, Steven Sotloff.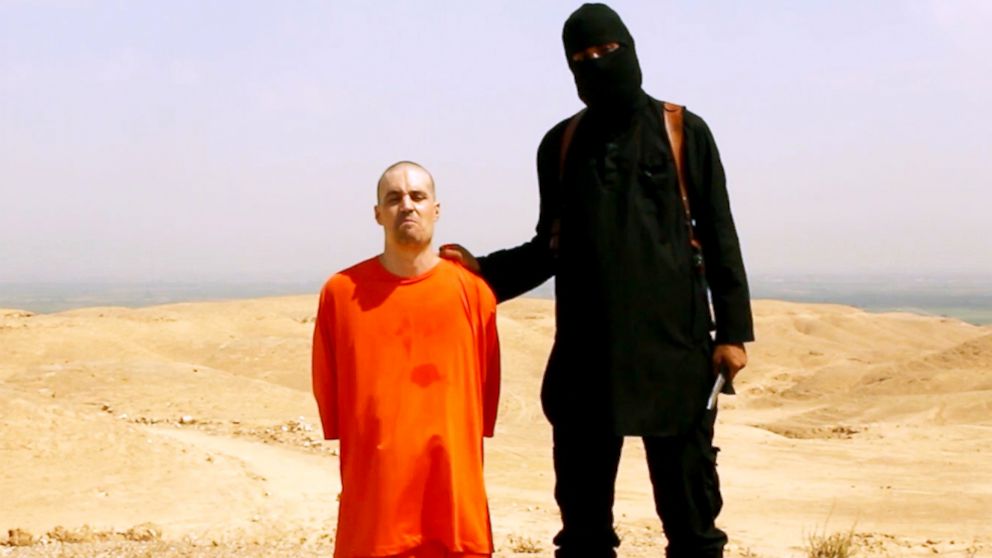 Aug. 20, 2014: President Obama addresses the nation, saying, "No just God would stand for what they [ISIS] did yesterday, and for what they do every single day." Obama says the U.S. does "everything that we can to protect our people and the timeless values that we stand for." In the days ahead, similar videos from ISIS show the murder of other American and British hostages, including Sotloff, but Kayla is not among them.
Late September - Early November 2014: Kayla is believed to be moved between holding locations in what's called the Shadaddi region, possibly referring to an area in eastern Syria, closer to the Iraqi border.
Sept. 16, 2014: Carl and Marsha Mueller make another video plea for Kayla's life, this time directly addressing ISIS leader Abu Bakr al-Baghdadi. "Sir, I am coming to you with a mother's heart, for the love of her daughter," Marsha says. "Please, I ask for your mercy."
Sept. 19, 2014: After weeks of disconcerting unresponsiveness to the Muellers' pleas, ISIS sends an email about Kayla, telling her parents that she is alive and it is still possible to save her. But another demand is added: The U.S. must stop its "criminal bombardment" of ISIS.
Sept. 22, 2014: The U.S. expands its bombing campaign against ISIS, for the first time striking targets inside Syria. Many of the targets are around Raqqa, Syria, ISIS's de facto capital, according to a defense official.
October 2014: Two Yazidi women held by ISIS as sex slaves escape captivity and tell investigators they know Kayla.
Early November to February 2014: Kayla's location is unknown, and suspected to be anywhere from Raqqa, Syria, to Mosul, Iraq. Mosul is Iraq's second largest city and the most significant to be held by ISIS in that country.
Thanksgiving 2014: The Muellers say the FBI tells them they have no intelligence suggesting Kayla has been harmed in captivity. The Muellers say the FBI told them in June 2015 that they had known in fall 2014 that she had been tortured and raped while in captivity.
January - February 2015: A source tells ABC News that Kayla is being kept by a senior ISIS leader as a "forced wife" and won't come to harm by ISIS because she's no longer regarded as a hostage.
Jan. 25, 2015: Appearing on ABC News' "This Week," White House Chief of Staff Dennis McDonough accidentally reveals Kayla's first name publicly as being an ISIS hostage, which had until then been kept a strict secret.
Feb. 2, 2015: President Obama appears on NBC's "Today Show" and is asked about a female American hostage being held by ISIS. The president says that the U.S. is "deploying all the assets that we can, working with all the coalition allies that we can to identify her location, and we are in very close contact with the family trying to keep them updated."
Feb. 3, 2015: A Jordanian fighter pilot who was captured by ISIS is shown on video being burned alive inside a cage. His execution was apparently in response to the Jordanian government's refusal to release a convicted female would-be suicide bomber.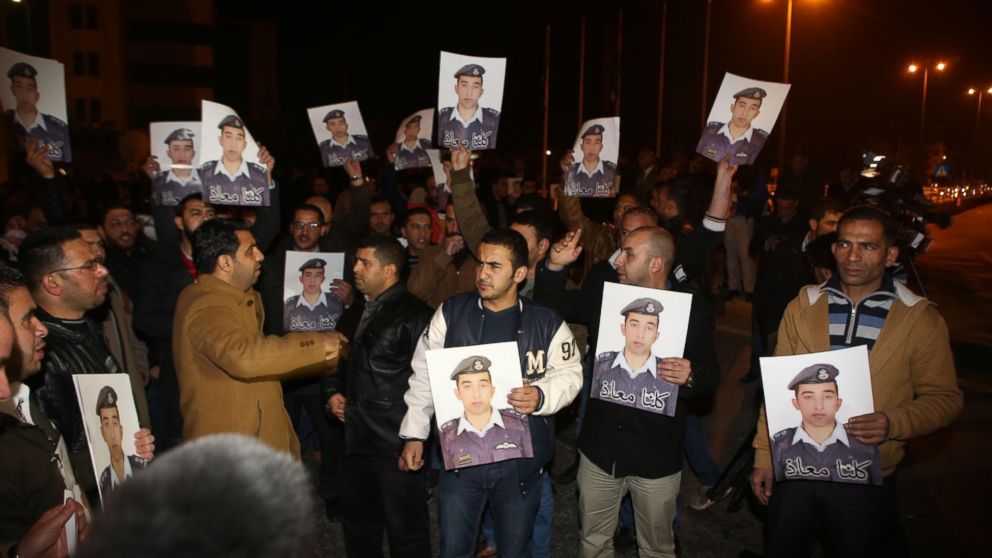 Feb. 4, 2015: A day later, King Abdullah II orders the hanging execution of the would-be suicide bomber.
Feb. 6, 2015: ISIS-linked Twitter accounts report that Kayla has been killed in alleged Jordanian airstrikes in Syria, saying she was "buried beneath the rubble" of the building where she was being held.
Feb. 10, 2015: President Obama confirms Kayla's death in a written statement and conveys his "deepest condolences" to the Mueller family. "At this time of unimaginable suffering, the country shares in their grief... No matter how long it takes, the United States will find and bring to justice the terrorists who are responsible for Kayla's captivity and death," he says.
May 15, 2015: American special operations forces kill Abu Sayyaf, ISIS's oil and gas emir and the man who kept Kayla prisoner. The military raid also captures Sayyaf's wife, who confirms Kayla was repeatedly raped by ISIS's leader Abu Bakr al-Baghdadi.
June 24, 2015: President Obama announces a change to the U.S. government hostage policy, which will no longer threaten the families of those held abroad with prosecution for raising ransom payments.