— -- The White House was insistent Thursday that President Obama acted "promptly" to try to rescue American hostage Luke Somers from al Qaeda in Yemen, approving the risky special operations mission two days after receiving a military plan – but possibly well after Somers had already been moved.
"It's difficult for me to get into details because the details of this mission are classified. But I can tell you that once there was concrete information and a plan in place, the President promptly authorized this mission because of concern of U.S. men in uniform and the safety of Mr. Somers," White House Press Secretary Josh Earnest told reporters today.
"Regrettably, when the operation was executed, Luke was not present, though hostages of other nationalities were present and they were rescued… The President authorized this mission both because of his concern for the safety of our U.S. men and women in uniform, but also for the safety of Somers," he added.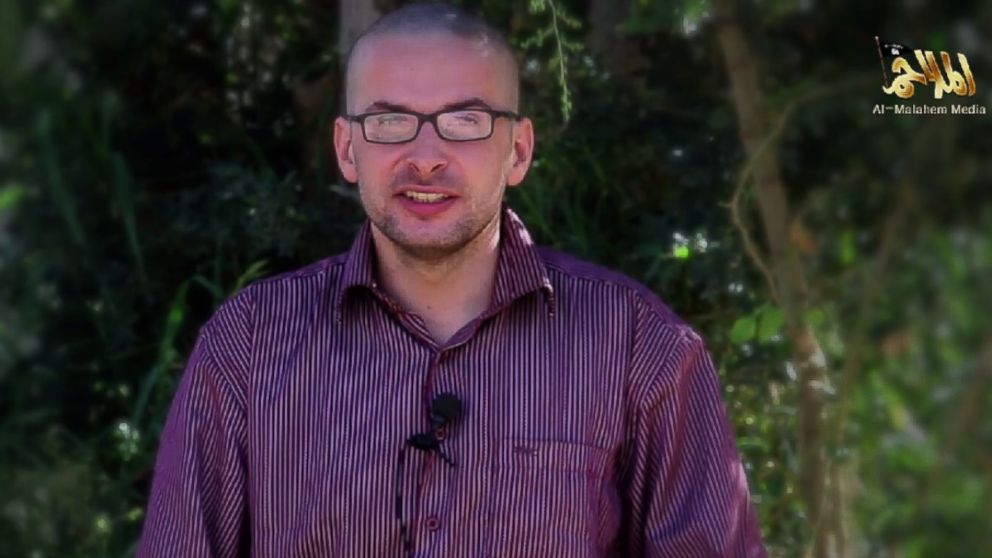 Somers, 33, was a freelance journalist abducted in Sana'a 14 months ago. On Wednesday night, a video by Al Qaeda in the Arabia Peninsula was released which threatened to kill Somers if unspecified "demands" aren't met by this Saturday by the Obama administration.
Officials denied rumors of dithering over the operation, with one telling ABC News the elite U.S. Joint Special Operations Command unexpectedly sent the Pentagon a concept of operations -- a detailed mission plan -- to rescue Somers from a remote, lawless area of Yemen at midday Friday, Nov. 21.
"The White House requested it and received it that evening," the senior administration said.
The "conop" was hastily reviewed by senior Obama advisers and given to the President on Sunday "and he approved it," the official said.
The earliest opportunity to launch the raid by the Navy's SEAL Team Six, also called DEVGRU, was late Monday, Nov. 24, officials said.
Overhead intelligence and surveillance showed a couple of people were moved from the hostage site on Friday -- where nine total hostages were believed being held -- but it wasn't known if Somers was among them, a defense official told ABC News.
The night the mission was finally launched, in which the SEALs flew inland to the objective aboard tilt-rotor V-22 Ospreys, commanders believed that Somers was still with the other hostages.
"They thought he was there. They would not have launched unless they were reasonably sure he was at the objective," said a third official.
Unfortunately, Somers had been moved before the special operators arrived – perhaps on that previous Friday just as the Pentagon was presenting the plan to the White House, a defense official said.
As far as getting the mission off the ground, such operations are incredibly complex and involve not just intelligence gathering but rehearsals and support for special operators, said a former top counter-terrorism official.
"This is one of the hardest military operations you can do, this is not the movies, in real life only the United States can do this kind of thing -- drop a commando force in on the other side of the world in a place where no other Americans have ever been and conduct a raid," said Richard Clarke, an ABC News consultant and former National Security Council official. "Rushing it, doing it very quickly, doing it before everything is there and all of the intelligence is there and all of the rehearsals have been done, and all the coordination has been done, that's almost guaranteed to create a disaster."
Al Qaeda has called repeatedly for followers to abduct Westerners for ransom or political leverage, and AQAP, al Qaeda's Yemen affiliate, has targeted both the U.S. homeland and the U.S. ambassador in Sana'a.
In April, two U.S. military officers were the victims of an attempted abduction by AQAP operatives in a Sana'a barber shop. The Americans shot and killed the perpetrators, who apparently were unaware they were confronting operators from the Joint Special Operations Command, U.S. and Yemeni officials told ABC News.
The Naval Special Warfare unit and the Army's secretive counter-terrorism unit, Delta Force, have staged many other successful hostage rescue missions in recent years, including in Somalia and Afghanistan.