As wildfires sweep through Greece, resident returns home to find it 'all gone, totally gone'
A firefighting plane crashed on Tuesday, killing two pilots, the Air Force said.
LONDON -- As wildfire flames crept toward Zena Katsaros' home in Kiotari, a village in Rhodes, on Friday, she fled with her bathing suit and few other items.
She slept on the beach that first night, surrounded by about 200 other people who had also left their houses, she said.
"It was all like a nightmare, like a war zone," Katsaros told ABC News.
On Monday, as she stood looking at the rubble of what was once her beach house, she could no longer step inside. The roof was too hot to get close and all that was left standing was the bathroom.
"It's all gone, totally gone," she said.
Katsaros is one of thousands of people in Rhodes -- and others throughout Greece -- who've fled their homes as wildfires have spread around the country since early last week.
The most serious fires in the county on Tuesday were burning on Rhodes and Corfu, the Greek Fire Service said in a statement. The rest of the country remained on "high alert" for Wednesday, when high temperatures were again expected, the service said. Southern Europe has been in the grip of a searing heat wave.
"For tomorrow, Wednesday, an extreme risk of fire is predicted in many areas of mainland Greece and a very high risk in the rest of the country," the service said in a Tuesday statement. "We are going through perhaps the toughest days of the summer with the temperatures showing a further increase."
Greece battles heat-fueled wildfires
Flames and smoke rise as a wildfire burns near the village of Gennadi, on the island of Rhodes, Greece, July 25, 2023.
Greek officials last week requested the activation of the European Union Civil Protection Mechanism, a coordinated rescue and humanitarian assistance, to fight wildfires. Firefighters and equipment arrived last week from several European countries and Israel.
"In the battle to deal with the fires, firefighters and water vehicles from 10 countries are working alongside the Greek forces and late tonight we expect the arrival of 38 firefighters with 14 vehicles from Serbia," fire officials said Tuesday.
Temperatures throughout Greece were expected to climb on Wednesday before cooling on Thursday, the Hellenic National Meteorological Center said in a warning.
Winds in the northwest, where at least one fire was burning, were expected to be "very strong" on Wednesday, the alert said, adding, "These intense phenomena will extend before the evening in central Macedonia and Thessaly and at night in the Sporades."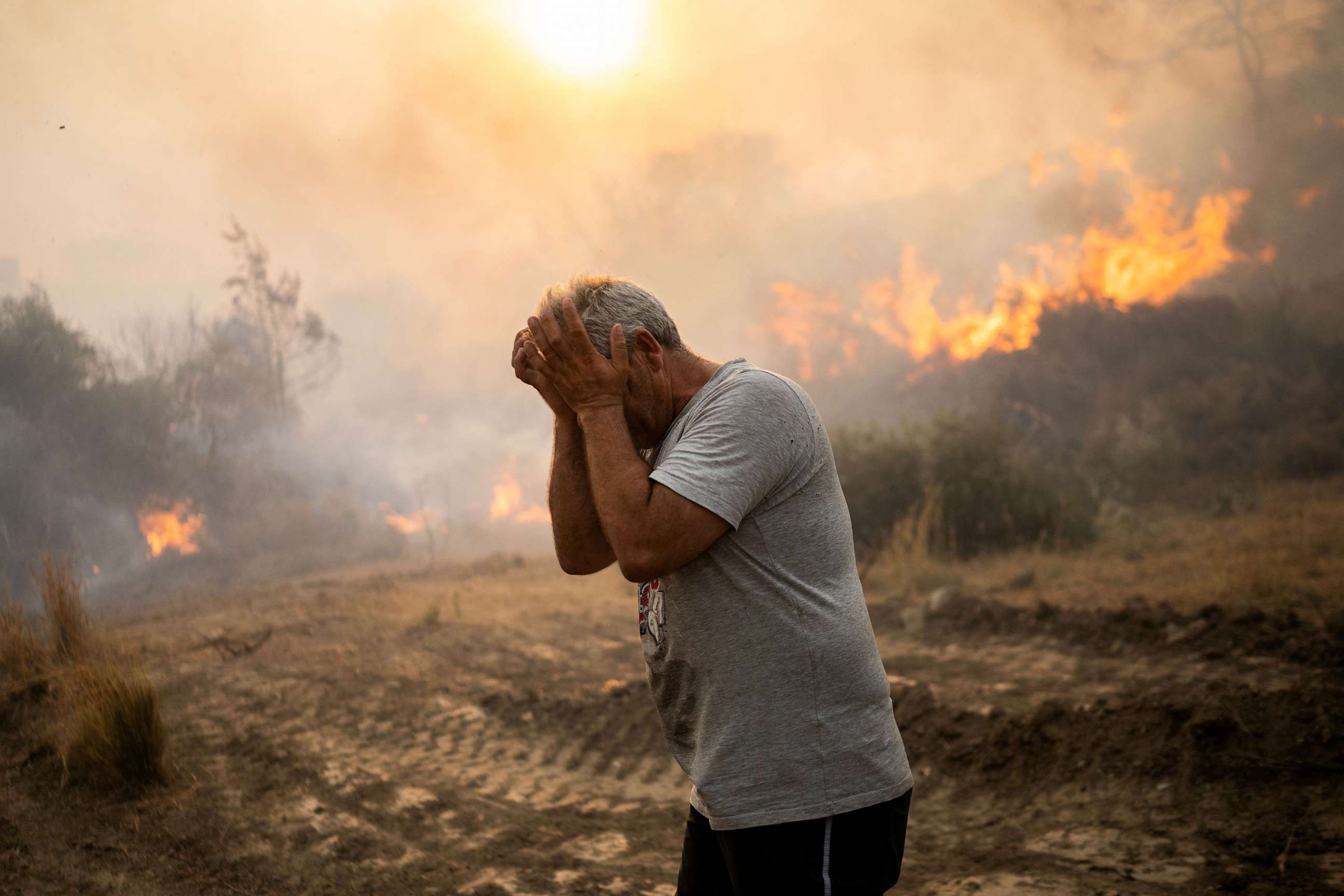 Two pilots died in a crash of a Canadair CL-215 firefighting plane on Tuesday, the Air Force said in a statement. They had been dropping water on a blaze on the mountainous region near Platanistos, Evia.
As their plane made a turn, it disappeared behind the hills, according to a video of the plane taken moments before the crash. A moment later, a ball of smoke and fire rose from the area.
The pilots, aged 34 and 27, were later found dead, Minister of National Defence Nikos Dendias said in a statement. He declared a 3-day mourning period for the Armed Forces "for the loss of life, in the line of duty."
As Katsaros walked around Kiotari on Tuesday she saw buildings that had been completely destroyed by the blazes. A friend's restaurant was destroyed, she said. The town "is gone" and will have to be rebuilt, she said.
When asked if all of her friends and family were safe, Katsaros said, "I don't know, many are volunteers and we can barely speak to them."
ABC News' William Gretsky and Victoria Beaule contributed to this story.