App Helps Nursing Moms Find Clean, Safe Spaces to Pump and Breastfeed
The Moms Pump Here app debuted in May 2015 as a way to help nursing mothers.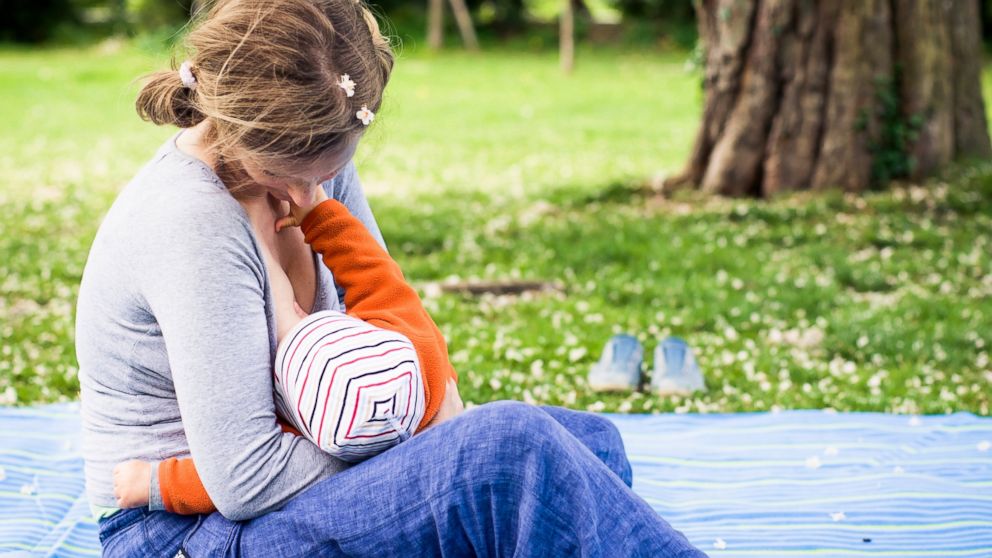 — -- From dirty bathrooms to ogling strangers, the path nursing moms tread to feed their babies is often paved with indignities.
But a new app hopes to change that.
Moms Pump Here, which launched in May 2015 for iOS, bills itself as the first online GPS tool to help nursing moms find, rate and share nursing room locations. For those who find themselves needing to pump or breastfeed outside the home, it could be a game changer.
"I find it far more comfortable and less stressful when I can nurse somewhere private, like a dressing room, rather than somewhere public, like a restaurant," said Joanna Campbell, 35, who is currently tending to a 3-month-old baby girl in the Big Apple. "It can be kind of tricky when you're starting out to get them latched properly and get them at a good angle, especially when the fabric of your shirt/bra/cape is in the way. So being able to breastfeed "openly" without juggling all that under a nursing cape is just easier."
Until now, Campbell has mainly relied upon recommendations from friends and colleagues.
"[It's been] trial and error, and talking to other moms," said Campbell, who works as a social media strategy consultant at Show + Tell Social. "One day, I ducked into an Old Navy and was so pleased that they had giant dressing rooms where I could kick back. Now, when I stroll around town I think, 'Could I nurse here? Can I get my stroller in?' -- criteria I never considered before I had a baby."
A similar experience three years ago is what inspired Moms Pump Here co-founders Kim Harrison and Priya Nembhard to launch their new venture.
"With my third son, I was fortunate to nurse on-demand most of the time but I had customers and projects that needed me, so I went back to work when he was only 4 weeks old," Harrison wrote on the app's website. "I pumped extra milk whenever I could, at a client's facility ... in offices, bathrooms, hotel and department store lounges, train stations, airports -- anywhere I needed to."
Frustrated with the challenge of finding appropriate spaces, Harrison and Nembhard created the app so that other moms could find and share the best nearby options.
The app uses GPS technology to pair a user's location with a list of spaces in the area and notes whether there is a designated nursing station, bathroom or other spot to rest.
This way, a mom visiting New York City can choose whether she would prefer to walk to the Toys 'R Us store located at 44th Street and Broadway, which features a designated nursing room on the top floor, or to set up inside the less-private lounge area at Radio City Music Hall.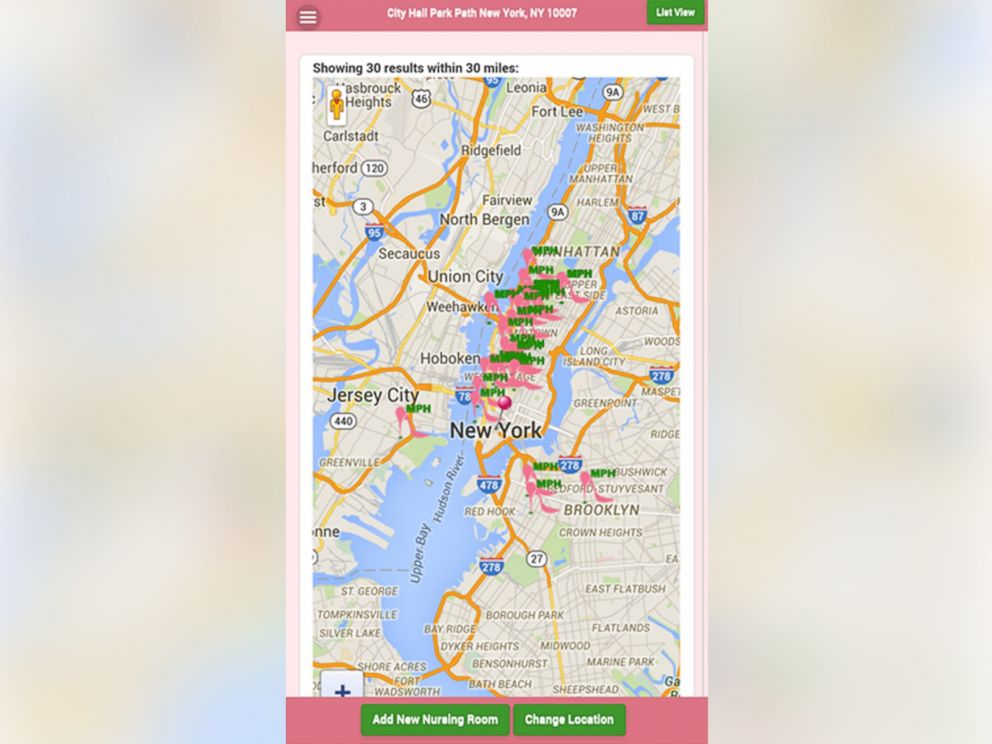 Users can submit spaces and personal reviews, which are, in turn, vetted by Moms Pump Here staff.
The hope is that as more dedicated nursing spaces become available at businesses, better options will populate the lists.
"I work in a hospital, so all of my at-work pumping was able to be in a 'lactation room' on the mother-baby floor with a hospital-grade pump and a glider chair," said Katherine Fisher, 36, of Philadelphia, who has a 20-month-old son. "I have been very fortunate."
But even with the resources available to her at work, Fisher has encountered occasional obstacles, as when she attended a friend's wedding.
"The only place to pump was the bathroom, and it was the only bathroom for the venue so there were people literally banging on the door," Fisher said. "Needless to say, I didn't get much pumping done!
"I think it should be required," added Fisher. "For every x number of employees there should be one room dedicated for pumping/nursing moms, and more overall awareness of people's rights. I love when I see a shop or restaurant that says something like, 'nursing moms welcome here,' on a sticker or sign out front. Definitely makes me want to give them business!"