Bullseye Placed on Target for 'Obsessive Christmas Disorder' Sweater
The Minnesota-based retailer says it has no plans to remove the sweater.
November 11, 2015, 3:58 PM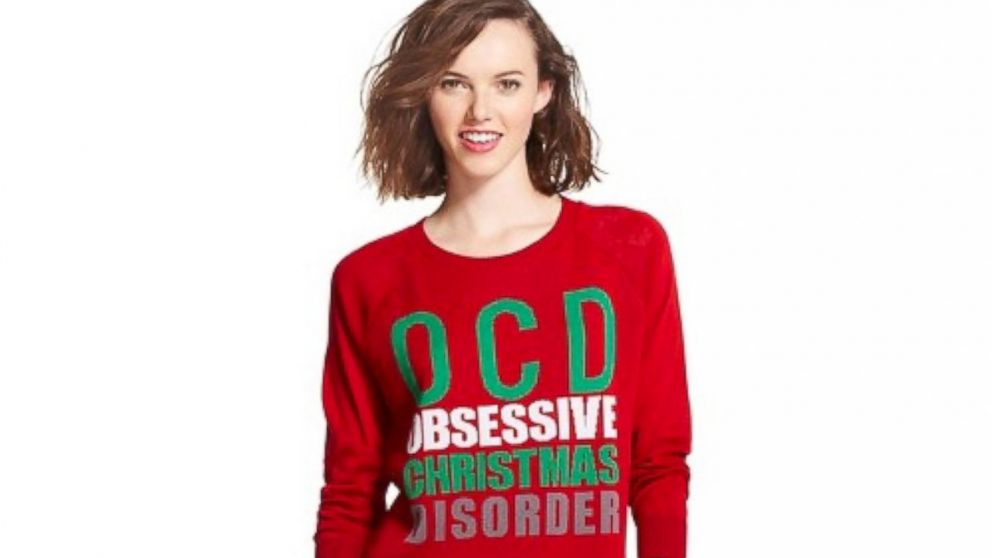 — -- Target says it has no plans to remove from its stock an "Obsessive Christmas Disorder" sweater that social media users have accused of trivializing mental illness.
The sweater has been available for sale in stores and online since mid-October, a Target spokeswoman told ABC News. The $27.99 sweater, now on sale for $22.40, is listed on Target's website as an "ugly Christmas sweater."
The sweater features the letters "OCD" in large font on the front of the red sweater, followed below by the words "Obsessive Christmas Disorder."
Social media users have complained that the sweater mocks individuals with obsessive compulsive disorder, a disorder characterized by obsessive thoughts and rituals, according to the National Institutes of Health.
Bipolar Plus, a group that identifies itself online as a "global support group" for people with bipolar disorder, is also calling for a boycott of Target.
Jessica Carlson, a spokeswoman for the Minnesota-based chain, told ABC News that Target did not intend to offend anyone and has no plans to discontinue the sweater.
"We never want to disappoint our guests and we do apologize for any discomfort," Carlson said. "At this time we don't have any plans to remove the sweater from our assortment."
Target is not the only retailer to carry the sweater. A Google search for "Obsessive Christmas Disorder" shows t-shirts and sweatshirts of similar design available on other websites.
Carlson told ABC News she was not sure of the sweater's manufacturer. She was also not able to confirm whether Target has sold the sweater in past holiday seasons.
Some consumers who say they have obsessive compulsive disorder have responded to the backlash by voicing their support for Target on social media.