— -- Regina Runge had no idea she was even missing a VHS tape containing the memories of the first year of life of her only child, Taylor, who is now 21.
"We'd gone through several moves in the last few years and kept giving away things to Goodwill because our house kept getting smaller," Runge, 50, of Ponte Vedra Beach, Florida, told ABC News.
One of Runge's donations to Goodwill included an old VCR she and her family no longer used.
Over the summer, the VCR was purchased at a Goodwill store in nearby Jacksonville by Franklin Ritch.
Ritch, 23, said he paid less than $10 for the VCR and gave it to his grandmother, who wanted a way to watch their family's old VHS tapes. The VCR stayed in his grandmother's garage until last week when Ritch pulled it out at her request.
"I plugged it in and turned it on and the tape popped out," Ritch said. "It had on it a label that said 'Taylor's first birthday, first steps, first Christmas and first Halloween.'"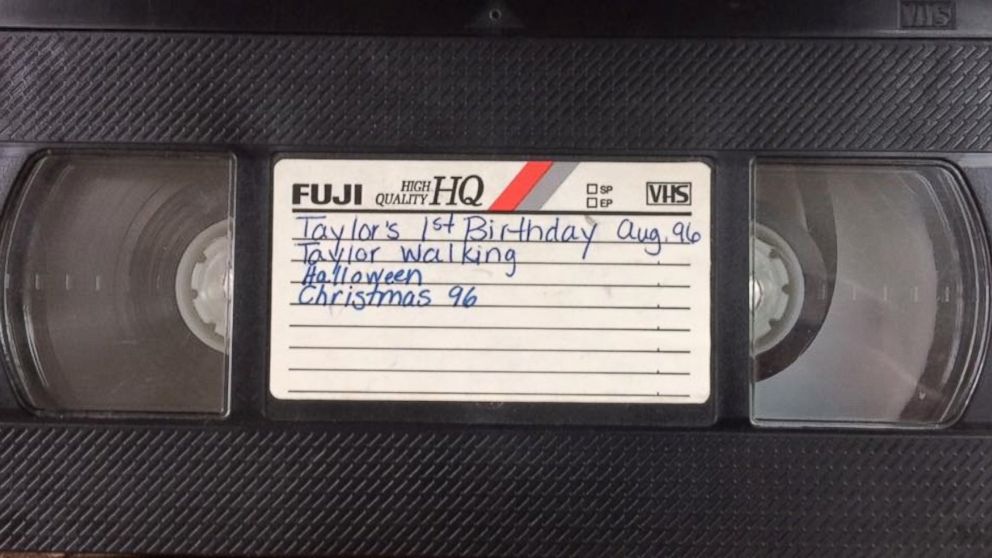 Ritch played the VHS tape to see whether he could hear a last name or recognize anything in the tape to help find its owner.
"I saw on the tape that her first birthday was in 1996 so I had a realization that Taylor was probably about my age," Ritch said. "And I had this thought that if my mother had lost a tape like that she'd definitely miss it and want it back."
Ritch posted a screen grab from the video on Facebook. One of his friends, a news producer for Jacksonville TV station WJAX/WFOX, saw Ritch's Facebook post and offered to help spread the word about the lost tape on-air and on the station's Facebook page.
Meanwhile, Runge, without knowing that a search was underway to reunite her with her family's home video, commented to a friend that she wanted to do something with the 10 or so VHS tapes the family had stored.
"I'd just been telling my friend last week that I needed to convert the VHS tapes of Taylor into DVDs and that we needed to get it professionally done," Runge said. "Had I gone to that box and known it was missing I would have been so upset."
It was the same friend to whom Runge had spoken about converting the VHS tapes who days later saw the news station's Facebook post with a screen grab of a young Taylor.
"She tagged me [on Facebook] and said, 'Is that Taylor?' and I wrote her back and said, 'How do you know?'" Runge recalled. "It was really a shock."
Runge continued, "She recognized the age and had seen a photo of Taylor on my Facebook page and said she just thought she'd ask. She had no idea."
Ritch went to Runge's home Monday to return the tape. He said he was welcomed by Runge with a huge dose of appreciation and a plate of homemade cookies.
"It all turned out pretty exceptionally," he said. "I'm an independent filmmaker so I have a very strong appreciation for anything caught on camera and old VHS tapes … as soon as that tape popped out of the VTR I knew I had to find these people and I wasn't going to stop until I did."
Runge, who now plans to get the VHS tapes converted "as quickly as I can," said she is "so thankful" to Ritch for reuniting her with priceless memories.
"I remember everything on that tape," Runge said. "It wasn't just such a special video for Taylor but my parents are in there and they're in the their late 80s now.
"My father is a musician and for Christmas she's sitting on the bandstand with him while he was playing," she said of one clip on the tape. "When I remembered that was on there I broke out in tears."