— -- Thanks to some heartbreaking photos, March, a pit bull mix, is receiving hundreds of adoption inquiries from families wanting to give him a forever home.
"I was hoping it would get him a little more exposure [but] I had no idea that it would go viral," said Doven Collins of ACCT Philly animal control agency in Philadelphia. "It was amazing to see the outpouring [and] to see that number of people that cared about March and other animals like him. With all the crazy things going on in the world, it gave me some hope in humanity."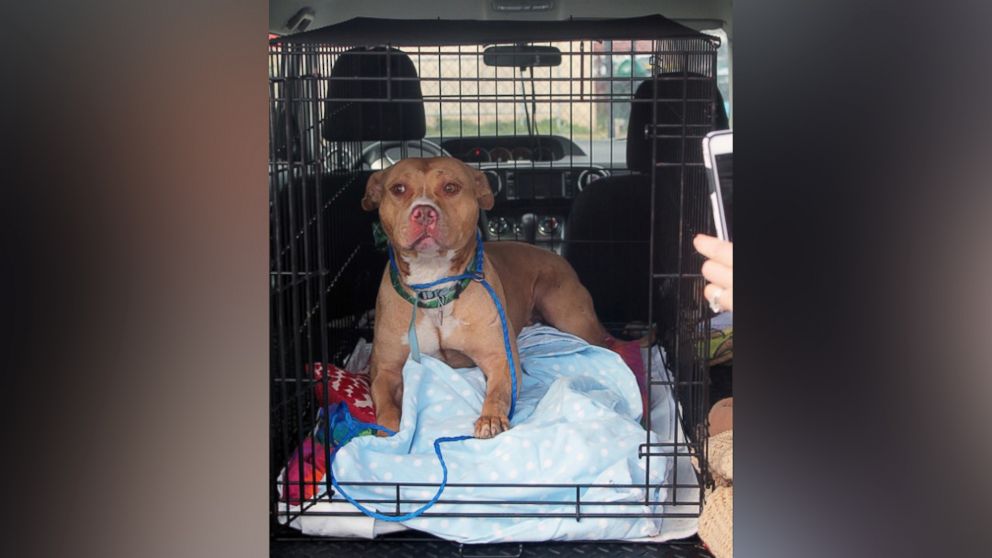 Ame Dorminy, a communications and development specialist at ACCT Philly, told ABC News that March came into their care on March 3 as a stray.
"He's actually very sweet," Dorminy said. "He's a happy guy...he loves to snuggle, he loves butt scratches, he loves toys. He's a good dog and he's going to make someone really happy."
Dorminy said that on March 17, Collins, who's a transport volunteer, was taking March to the local no-kill shelter. But when Collins arrived, the shelter informed her that it had no space for him and she had to transport March back to ACCT.
"The whole way there, I talked to him...I said, 'This is awesome, You're going to be safe,'" Collins said. "We [even] stopped for a burger, so I felt incredibly guilty having to take him back."
Two days later, Collins said she returned to ACCT Philly to find March huddled in the corner, suffering from a doggy cold.
"When I met him the first day, he was a happy dog," she said. "Between being sick and leaving the shelter, that's hard...so I felt I really had to help him. I felt I was connected to his story then."
In order to boost his chances of being adopted, Collins said she snapped photos of March sitting in the corner and shared them with a few local Philly sites.
On March 21, March was rescued by another no-kill shelter, where Dorminy and Collins said he'll have a greater chance of finding a home.
Soon after March's story went national and ACCT Philly was receiving hundreds of emails from families wanting to adopt him.
"I have no doubt that he'll get adopted," Collins said. "He grabbed my heart."
Both Dorminy and Collins said they hope March's story inspires the rescue of the 50 other animals who are currently in their care.