What to See and What to Skip in New Zealand's South Island
If New Zealand is on your bucket list, then head there in 2017!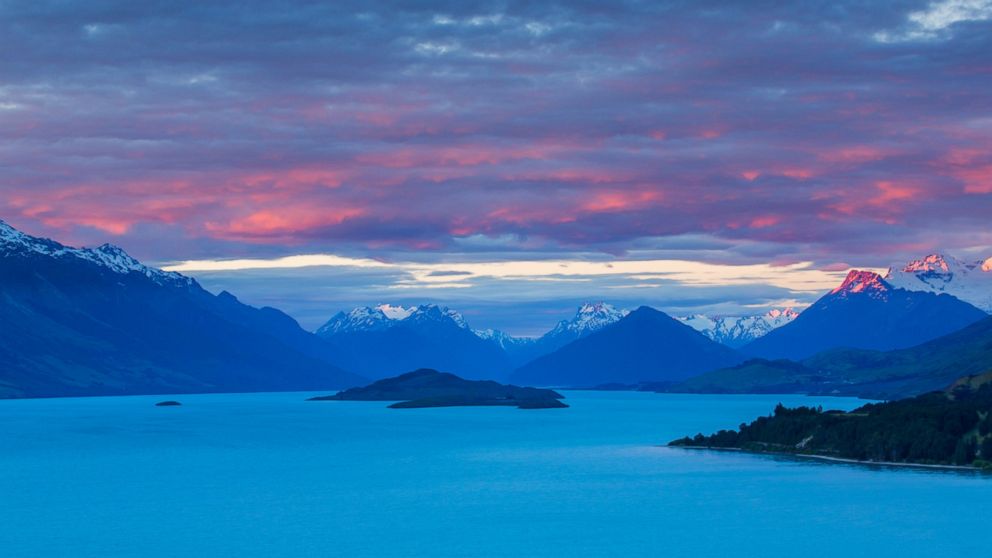 — -- If New Zealand is on your bucket list, then 2017 may be the year your travel dreams come true.
The new year is kicking off with twice as many flight options out of the U.S. as compared to 2016 thanks to added routes by United, American and Air New Zealand. The extra availability has brought airfare and vacation pricing down 30 percent to 40 percent, year-over-year, and the exchange rate continues to be favorable for Americans.
That's why this South Pacific nation made it on Travelzoo's annual Wow Deal Destinations list for 2017.
New Zealand's dramatic landscapes have long made it a favorite destination for outdoor enthusiasts. The country's South Island, in particular, is teeming with rugged coastlines, sweeping valleys and ancient mountains. In fact, most of the country's 14 national parks are located here.
Scott Eddy, a well-known social media influencer for the luxury travel industry, said it best: "Just when you think you've seen the most beautiful thing you've ever seen in your life, you turn the corner, and something else takes your breath away again!"
In addition to the beautiful sights, a rich culture, a burgeoning wine scene, and a growing list of favorite filming locations make the long-haul flight (14 hours from California) well worth it.
If you're a first timer to New Zealand's South Island, here are a few things you'll want to do.
Skip the Hotel Bar, Sip Wine
You've already fallen in love with New Zealand sauvignon blanc, so now visit the source. In the South Island's sunny north is Marlborough, home to 90 percent of the country's sauvignon blanc production. The industry here dates back more than 140 years and the area is dotted with wonderful restaurants, farmers' markets and plenty of cellar doors (that's what the Kiwis call tasting rooms). "Exceptional wine," says Eddy of his visit to Marlborough, "and the winemakers all have such interesting stories of their past, you will instantly become a New Zealand wine lover for life." Rent a bike in Renwick and visit any of the 30 wineries on a 15-mile circuit. Additionally, visit the world famous Cloudy Bay in Rapaura.
To the west of Marlborough is Nelson, also a haven for sauvignon blanc, as well as crisp renditions of chardonnay and pinot noir. New Zealand's pinot capital, though, is further south in Central Otago and sub-regions like Queenstown and Wanaka. Wineries worth a visit here include Rippon Vineyard, Chard Farm and Gibbston Valley. Mindy Joyce, a native Kiwi who's now a Napa-based wine consultant, likes Carrick Winery and Mount Difficulty near Cromwell for their restaurants. "Get a reservation, very worthwhile," she says.
To the east, the warm summers and cold winters in Canterbury and Waipara, near Christchurch, generate racy pinots and rieslings, and the surrounding seafood scene is not to be missed.
Skip the Gym, Jump
On the South Island, the best workouts are always had outdoors. Whether you bike, hike, ski, swim or dive, adrenaline-pumping ways of having fun and getting around abound. Queenstown, for one, is known as this country's adventure capital -- plenty of jet boating and skydiving, for starters. But if you leave here without bungee jumping, you'll regret it. Just ask my colleague, Gregg Gant, business development manager in Travelzoo's Los Angeles office, who visited the South Island several times in 2016. "My 43-meter bungee jump off the Kawarau Bridge in Queenstown was amazing -- gave me a great sense of accomplishment and made me face some fears," he says. "Probably my most liked post ever on social media!"
Skip the Beach, Seek the Waterfalls
Milford Sound, a sweeping fjord inside Fjordland National Park, may well be the number one daytrip from Queenstown, and for good reason. Mother Nature's show here is breathtaking. Eddy experienced the views "from a cruise ship, which is incredibly special," he says. "It was pouring down rain, almost like someone was emptying buckets on the ship, but what that did was intensify the waterfalls, and it was magic."
Gant's trek to Milford Sound was thwarted by bad weather. "So my tour company, Real Journeys, took us to Doubtful Sound, instead," he recalls. "It was so beautiful. It rained a lot that day and the spontaneous waterfalls erupted every which way you looked. It was one of the most beautiful things I've ever seen."
Skip the Slopes, Ski a Glacier
Three main world-class ski areas are a major ski buff draw to the South Island. But Aoraki Mount Cook, the highest point along the Southern Alps at an elevation of 12,000 feet creates a special alpine adventure. Mount Cook Ski Planes and Helicopters will not only fly you above and alongside stunning ice formations -– the snowy scenery is breathtaking -– but also drop you off atop a glacier. Land on Tasman, Fox or Franz Josef Glacier and experience the sweeping landscape and quiet solitude, or a very unique ski experience, first-hand. Mount Cook Ski Planes operate a fleet of Cessna 185 and Pilatus Porter PC6 aircraft.
Skip the Walking Tour, Fly High
Glacial landings are just the beginning. Touring from high above, or flightseeing, is actually extremely popular throughout New Zealand and the South Island, combining air adventures with on-the-ground explorations. Fly above the rugged town of Kaikoura, for example, for one-of-a-kind whale watching. Snap spectacular photos of the many lakes that line the range of the Southern Alps. Or nab a flight out of Queenstown and discover an idyllic spot for a romantic picnics, extreme sports experience or exclusive wine tasting.
Skip the Hotel, Stay on a Farm
Lodging options at all price levels abound here. Gant recently got to tour "some amazing luxury lodges like Matakauri, which sits on the banks of Lake Wakatipu near Queenstown," he recalls. "What an amazing place." There are rugged campsites and quaint B&Bs to choose from, too. Farmstays offer a special hands-on experience. Working farms allow you to enjoy homegrown hospitality along with plenty of opportunities to partake in the daily chores farm living brings. At Silver Peaks Lodge in Dunedin, guests experience sheep shearing and sheepdog demonstrations. Guests mingle with horses, cows and chickens at Hack Farm along Golden Bay. And for a coastal stay, check out Paua Bay Farm near Christchurch, a 900-acre sheep, deer and cattle estate. Farmstays can range in price from super affordable to deluxe, but a hearty homestead breakfast is almost always included.
Skip the Movie, Visit the Locales
New Zealand's growing appeal as a movie shoot location in the last 10 to 15 years has helped strengthen its tourism appeal. So why not visit in person the locales, or the natural "sets," where your favorite films were shot? Take Peter Jackson's "The Hobbit Trilogy," which was shot entirely on location throughout New Zealand, much of it on the South Island. You'll recognize Mount Cook and Wanaka in many of the aerial shots; and the scene in "The Hobbit: The Desolation of Smaug" where the dwarves are shown floating in giant barrels down the river was shot along the Pelorus River in Marlborough.
New Zealand became Middle Earth, of course, in the "Lord of the Rings Trilogy." Fanghorn Forest was filmed along Takaro Road, and the Fellowship paddled the Waiau River, both in Fjordland. Lothlorien, the forest on the road to paradise, is located near the village of Glenorchy in the Southern Lakes. And, Chetwood Forest comes to life along Takaka Hill, just west of Nelson.
Fans of the film adaptations of C.S. Lewis' "Chronicles of Narnia" books will recognize much of the South Island's sweeping terrain from rugged Flock Hill, the setting for the great battle for Narnia, to the ancient Elephant Rocks in the Waitaki District, which was transformed into Aslan's Camp.
Skip the Hotel Pool, Go Thermal
Come to Hanmer Springs in Canterbury for the small-town charm, stay for the springs. The natural thermal waters here are believed to have therapeutic properties. At Hanmer Springs Thermal Pools and Spa, you can choose from a variety of pool experiences. The water temp in the Hexagonal Hot Pools remains at a steady 104 degrees. The Sulphur Pools, whose silky waters are rich in boron, calcium and carbonate, can run even hotter. And the three new Aqua Therapy Pools employ different water therapy techniques, including water jet massage. There's a day spa and café here, too, as well as a kids' area complete with lazy river and slides.
Skip the City, Visit an Old Mining Town
Arrowtown was established in 1862, at the height of the gold rush in the Otago region. Set along the Arrow River and just 20 minutes from Queenstown, this living historic village, with its 60-plus pioneer-built structures that remain, makes for a memorable and family-friendly visit. Go gold panning, take advantage of the many walking and biking tracks, or enjoy unique shopping and dining (Joyce recommends Chop Shop Food Merchants). Seek out the Chinese settlement on the edge of the river, built by Chinese miners in the late 1860s. If you stay in Arrowtown, discover great golf courses and wineries nearby.
For another unique and historic stay, head to Akaroa, near Christchurch, an old British and French settlement that now draws visitors with its colonial architecture, art galleries and craft stores; this is also a hotspot for water activities and wildlife viewing.
Get Cultured
Among the South Island's many museums, the Sir Edmund Hillary Alpine Center is a standout. Located in Mt. Cook and named for one of the world's greatest explorers, the custom-designed theater here is unique -– it screens documentaries in 2-D and 3-D and can also be transformed into a digital dome planetarium.
There are also many other South Island cultural stops, including the Geraldine Vintage Car and Machinery Museum, home to found-nowhere-else-on-Earth vintage cars, tractors and planes, and Nicol's Balcksmith Shop in Duntroon, where anvil-wielding blacksmiths brings this relic skill to life. Joyce recommends visiting the Toitu Otago Settlers Museum in Dunedin. "Fascinating story of New Zealand's – and in particular Otago's –- early settlers, told through artifacts and technology," she says.
Skip the South Island, Visit Stewart
Adventure lovers may want to expand their South Island visit with a trek to Stewart, the third largest of the islands that make up New Zealand. Dubbed Rakiura by the native Maori people, this is a hiker's haven. The three-day trek along the Rakiura Track will open up a world of wild, unspoiled beauty; you can reserve huts for overnight pit stops along the way through the Department of Conservation. Take a water taxi to Paterson Inlet for a visit to Ulva, where dozens of rare birds (including the famous flightless kiwi) enjoy a sanctuary-like, predator-free existence. Only 400 people live on Stewart, most of them in Halfmoon Bay, which makes a memorable overnight visit, too. Stewart Island is less than 20 miles off the southern shores of South Island and it's accessible by ferry.
Did I miss your favorite New Zealand spot? Share your favorites with me on Twitter @GabeSaglie.
Gabe Saglie is Senior Editor for Travelzoo, which features exclusive deals on New Zealand hotels, flights, activities, restaurants, spas and shows at www.travelzoo.com.