Vova Galchenko likes to say he's "just a guy who throws things in the air," but few people on Earth can throw things, catch and throw them again like this 20-year-old juggler from Russia.
Aware of his talent but self-effacing to a fault, he says, "You're not, you know, you're not curing cancer or anything."
No, but he is a master of the mesmerizing skill of juggling. When he juggles the bowling pin-shaped objects known as "clubs" they appear to float over his head.
He can keep a half-dozen balls moving in constantly shifting patterns -- through his legs, over his shoulders, behind his back.
Vova became a juggling sensation on the Internet when he posted a video of himself juggling to the music of Fatboy Slim. He juggles his way through the rooms of the mansion where he lives outside Los Angeles, up the stairs and even on the roof, profiled against desert mountains.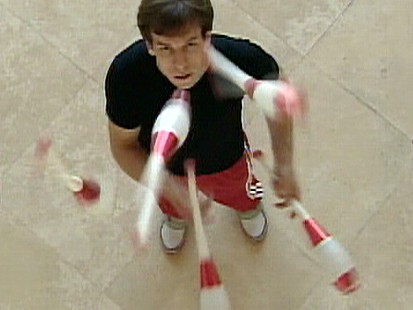 Now, after winning the championship of the International Juggling Association in July, Vova is poised to become possibly the greatest living juggler.
"I'd like to be remembered as someone who's done something different with juggling," he says.
Vladimir Vasilievich Galchenko -- Vova is a nickname -- was born and raised in the industrial city of Penza about 350 miles southeast of Moscow. And in one of his videos, he describes Penza as a place "where everyone's broke and angry. That really sums it up, you know there's a lot of, lot of crime going on." In one of his videos, Penza provides a bleak backdrop to his talent.
He says his parents taught him that "it's important to be good at something." They put him in circus school at age 7. Vova's mother brought him and his sister Olga to the United States five years ago, before returning to Russia.
While also attending college, Vova spends hours every day practicing the patterns of juggling, which have designations in a nomenclature called "siteswap." So for instance, there's the 5-up-360; five balls up with a 360-degree spin before catching them.
Performing the 9-7-5-3-1, Vova can throw three balls in the air at once and have each one peak at a different height simultaneously.
For someone who's pursued such a demanding performance art, Vova has one serious flaw -- he has stage fright. Those steady hands sometimes tremble before he goes on stage.
"I'm still freaked out when I'm juggling," he says.
He's freaked out, in part, because he is afraid of imperfection. The bane of every juggler's existence is dropping, and even the juggler sometimes known as "The Russian Robot" drops the objects he's juggling. Vova dropped several times during his IJA final performance, but he won.
"People seem surprised when a juggler drops and, you know, it's really natural for a juggler to drop. You know, you're at a basketball game, you don't expect all the players to always make, you know, 100 percent of the shots they take."
But even knowing that, he seeks perfection while juggling.
"What I'm thinking about is a way to make the pattern look as perfect as possible. You know it never actually reaches my idea of perfect, but it gets close."