After a dramatic and historic primary season came to a close two weeks ago, voters are now just six weeks away from taking to the polls to decide the winners in the first major election since the inauguration of President Donald Trump.
2018 is already a history-making year in numerous ways, but one inescapable takeaway from the 2018 primaries is the political power demonstrated by women, who won nominations for U.S. House, Senate and gubernatorial seats in numbers never before seen in the United States.
Four incumbents lost primaries for U.S. House seats, three African-Americans were nominated for gubernatorial seats (there have only been two elected African-American governors in American history), and 25 LGBTQ candidates advanced to November.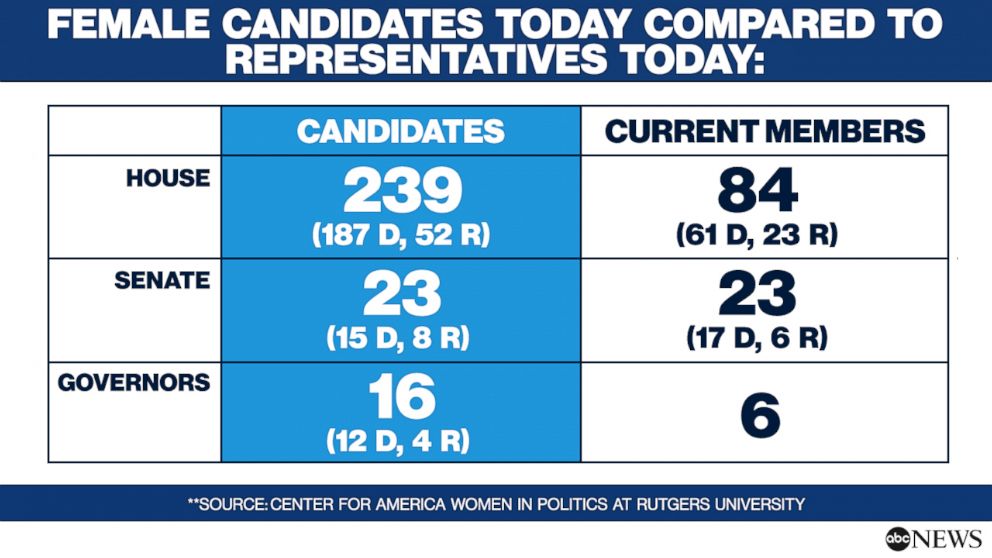 November is fast-approaching, and many of these potentially historic candidates face tough races that will capture the nation's attention this fall. But for now here's a look at some of the key numbers that show who won (and lost) the 2018 primaries.
Women shattered records in 2018
According to data from the Center for American Women and Politics at Rutgers University, more female candidates ran for the U.S. House (476), U.S. Senate (53) and gubernatorial seats (61) this cycle, all of those numbers broke previous records.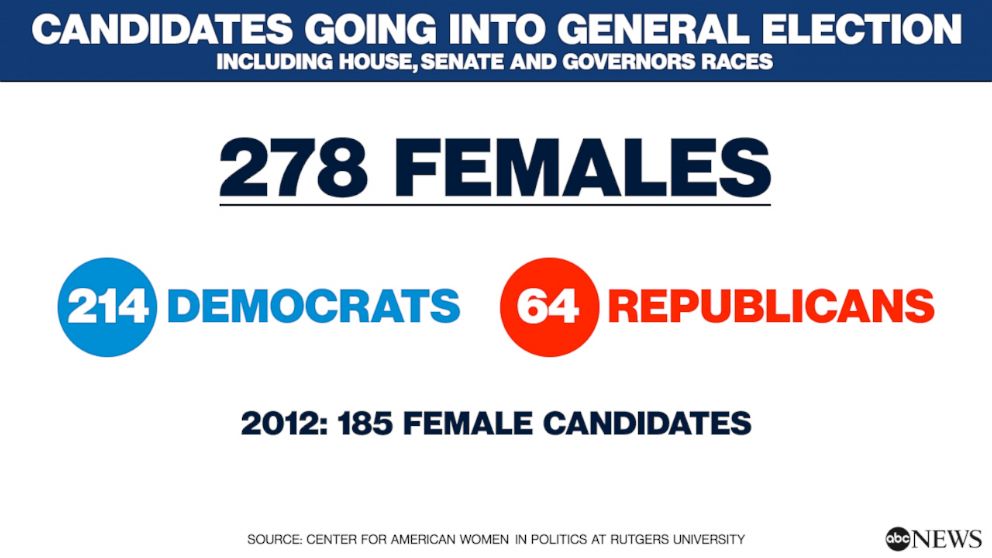 But women didn't only run at record rates this cycle, they also won at record rates. Of the 476 women that ran for a U.S. House seat this cycle, 239 won their primaries, breaking the previous record of 167 set in 2016. 22 women are now their party's nominee for U.S. Senate, breaking the previous record of 18 set in 2012. 16 women won nominations for gubernatorial seats in 2018, breaking the previous record of 10 set in 1994 and 2010.
Candidates of color, LGBTQ candidates are overwhelmingly Democrats
Of the 202 candidates of color running in Senate, House and gubernatorial elections this year, 148, or 73 percent, are members of the Democratic Party.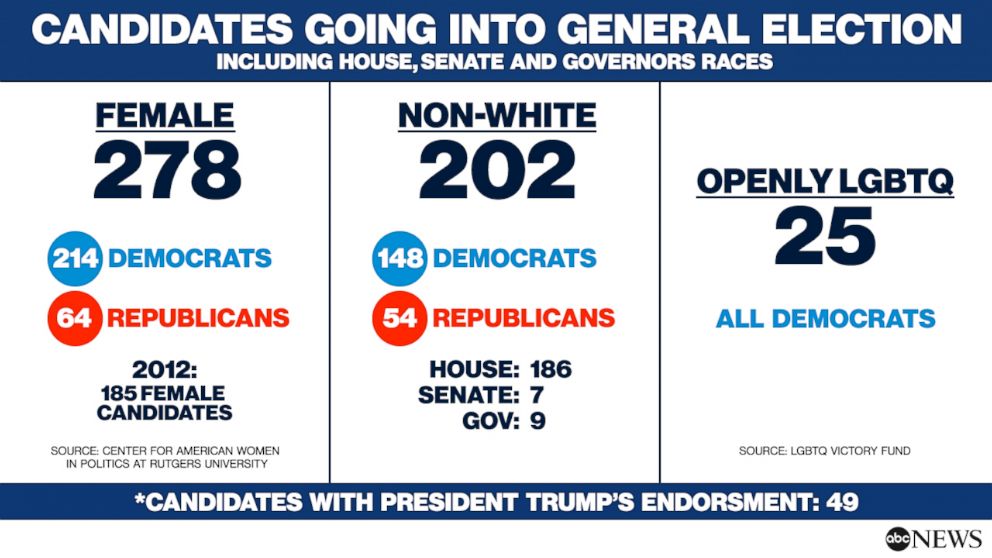 The vast majority of the candidates of color -- 186 -- are pursuing House seats, while seven are seeking Senate seats and nine are taking aim at governorships. Stacey Abrams, the Democratic gubernatorial candidate in Georgia, would be the first female African-American governor in U.S. history if elected in November, and Paulette Jordan of Idaho could be the first Native American governor if she is able to upset Republican Lt. Gov. Brad Little.
All 25 candidates that identify as members of the LGBTQ community in federal and gubernatorial races are also Democrats. Christine Hallquist of Vermont would become the first transgender governor in U.S. history if she defeats Gov. Phil Scott.
Trump endorsements a path to victory
Of the 51 candidates that President Trump endorsed in primary contests in 2018, 49 of them were successful and are now looking ahead to general elections in November, with the remaining two being something of outliers.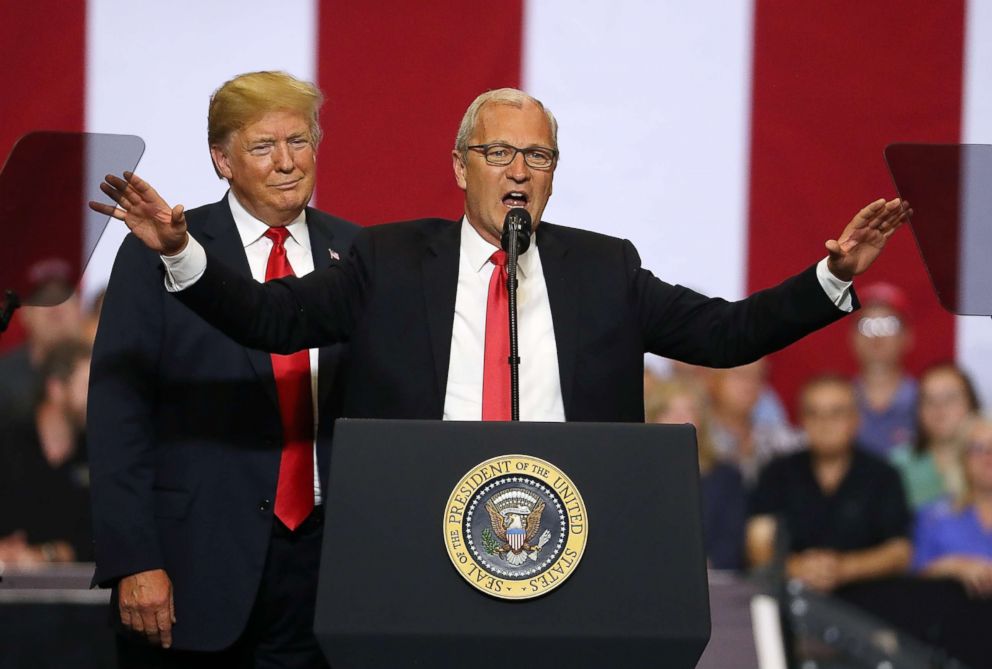 One of the failed candidates was Wyoming multi-millionaire Foster Friess, whom Trump only endorsed on the final day of the primary campaign. In West Virginia, Senate candidate Evan Jenkins fell short, though Trump's endorsement of Jenkins was a dual affirmation of both his and Patrick Morrisey's candidiacies. Morrissey won the election.
Trump's record has been somewhat less successful when his preferred candidate faces a Democrat however. Since becoming president, Trump is 6-3 in inter-party general and special elections.