Ramaswamy commemorates 9/11 after criticism for comments on the attacks
Vivek Ramaswamy honored the anniversary after being criticized for past remarks.
Republican presidential candidate and entrepreneur Vivek Ramaswamy on Monday commemorated the 22nd anniversary of the Sept. 11 terrorist attacks after he got criticized for past comments over them.
"I was in U.S. history class in 11th grade on 9/11. We didn't just learn history, we watched it unfold as we watched the aftermath of the catastrophe. I remember to this day watching the heroism of the firefighters, police officers, and first responders who ran not from Ground Zero, but toward it, to help their fellow Americans in need. We honor those brave Americans today -- and those who lost their lives as well as their families," he said in a statement.
"Now 22 years later, as we have a growing generation of young adults who weren't yet born on that infamous day, we have an opportunity to ask how we commemorate our national identity on this day. We should celebrate our ability to gradually heal even our deepest wounds. We will forever continue to pursue our more perfect Union," added Ramaswamy, who plans to attend the 9/11 FDNY Pipes and Drums Tribute at the World Trade Center later Monday.
Ramaswamy's statement comes after weeks of criticism over comments he made accusing the government of not being truthful over the terrorist attacks.
He had previously posted on X, the platform once known as Twitter, that he said he did not believe the government "has been completely forthright about 9/11."
"Al-Qaeda clearly planned and executed the attacks, but we have never fully addressed who knew what in the Saudi government about it. We *can* handle the TRUTH," he said.
He also previously speculated as to the federal government's involvement in 9/11 during a conversation about the Jan. 6, 2021, insurrection at the U.S. Capitol, though he said he wasn't trying to compare the two.
"I think it is legitimate to say, how many police, how many federal agents were on the planes that hit the Twin Towers? Like, I think we want -- maybe the answer is zero, probably is zero for all I know, right? I have no reason to think it was anything other than zero. But if we're doing a comprehensive assessment of what happened on 9/11, we have a 9/11 commission, absolutely that should be an answer the public knows the answer to," he told The Atlantic.
Former Vice President Mike Pence, another presidential contender, later hit Ramaswamy over the remarks.
"I understand he was probably in grade school on 9/11 and I was on Capitol Hill," Pence told the New Hampshire Union Leader in early August. "I think comments like that, conspiracy theories like that, dishonor the service and sacrifice of our armed forces who fought against our enemies determined to kill us."
On Monday night, Ramaswamy was met with warm welcome and enthusiasm at a New York City Fire Department event, shaking hands and taking photos with dozens of firefighters, survivors, families and supporters alike. He stood in silence in front of one of the 9/11 memorial pools afterwards
Asked by reporters after the ceremony about his past comment regarding 9/11, Ramaswamy deflected the question saying, "Today is not the day to talk about his comments." But he said he stands by the comment and emphasized the importance of a government that "people can trust."
Former President Donald Trump, the front-runner in the GOP primary who once falsely said his Trump Tower was the tallest building in New York City after the World Trade Center collapsed, also commemorated the anniversary.
"Today on this solemn anniversary of those monstrous attacks, we remember the 2,977 precious souls who were savagely taken from us on that morning 22 years ago, leaving a void that can never be filled," he said in a video. "We will say a prayer for each of the beautiful families they left behind."
Florida Gov. Ron DeSantis, who comes in second place in most GOP presidential primary polls, attended a ceremony in New York City Monday morning to commemorate the attacks and highlighted his military service, which he said was inspired by the events of 9/11, calling it a "wake-up call."
"I felt it was my obligation to serve. So I raised my hand," he told The Washington Examiner.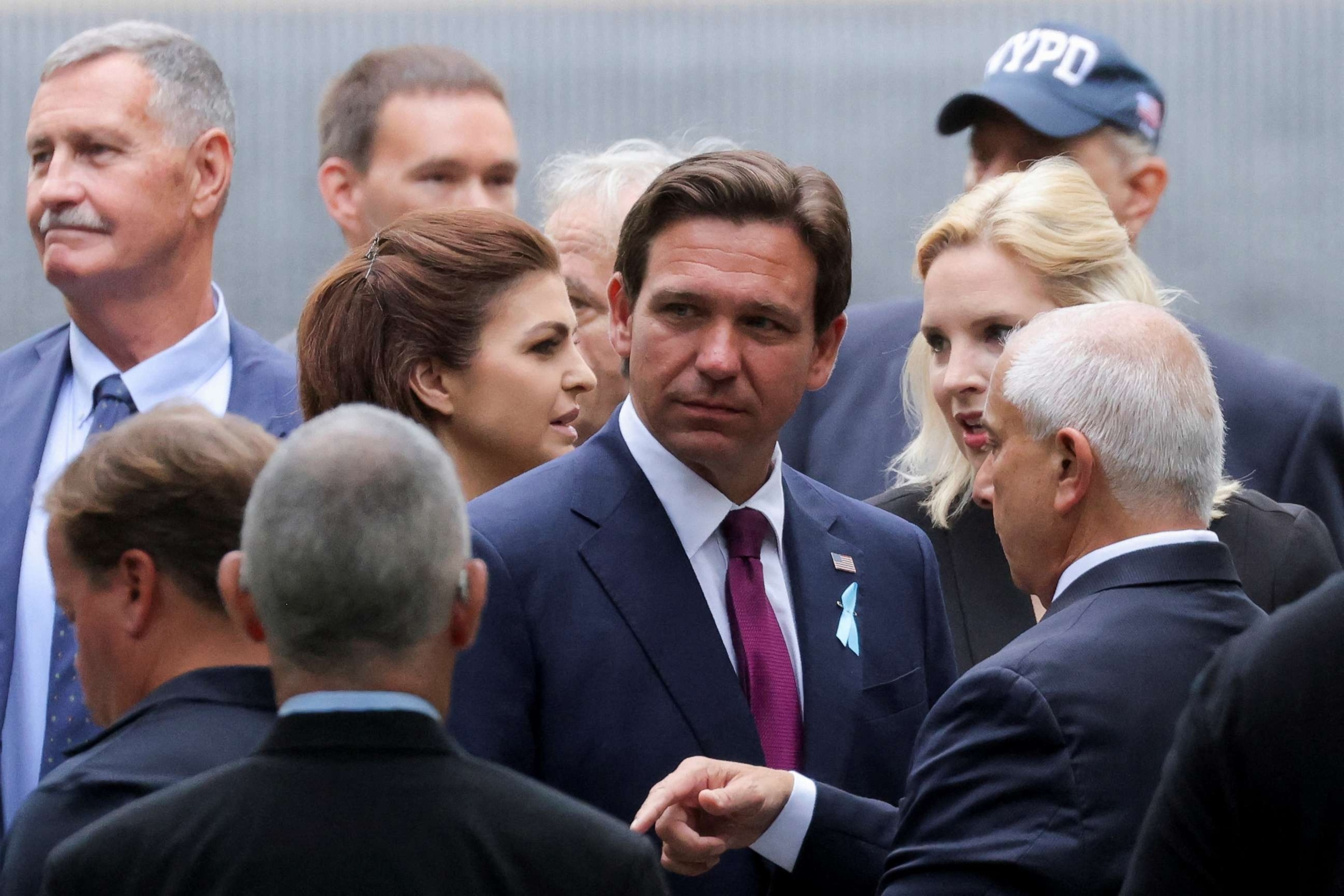 Pence also stopped in Iowa at a 9/11 remembrance ceremony in Ankeny alongside firefighters and a few dozen residents, also noting that his son, Michael was checking into Top Gun, the aviation program, Monday.
Former South Carolina Gov. Nikki Haley, currently enjoying a boost in the GOP presidential primary after a strong debate performance last month, issued a statement commemorating the attack and noted that her husband enlisted in the military after the attacks.
"Twenty-two years ago, the soul of America was shaken in a way we had never felt before. Terrorists came into America and murdered thousands of our citizens on our soil. We will never forget the precious lives lost and the heroes who emerged -- the firefighters who rushed into the towers, the airline passengers who gave their lives to save others, and so many who showed their courage on that terrible day," she said in a statement.
"In spite of the horrors of 9/11, what followed was the best of the American spirit. Americans rallied and united. Men and women, including my husband Michael, enlisted to defend our freedom and defeat evil. We saw a strong and proud America that refused to cower."
"22 years ago today, tragedy struck our nation and thousands of American lives were lost at the hands of evil terrorists. Today, I remember the heroes of 9/11 and pray for their families. God Bless the United States of America," South Carolina Sen. Tim Scott added on X.
President Joe Biden is facing some criticism for his decision to not participate in traditional ceremonies at the White House, Pentagon or in New York Monday. Instead he spoke to 1,000 service members, first responders and their families at Joint Base Elmendorf-Richardson in Anchorage, Alaska, on his way back from his overseas trip to India and Vietnam.
Vice President Kamala Harris represented the administration at the commemoration ceremony at ground zero in lower Manhattan on Monday morning.
ABC News' Lalee Ibssa, Soo Rin Kim and Kendall Ross contributed to this report.