— -- Protests continued throughout the U.S. on the sixth consecutive day following Donald Trump's surprise electoral victory, targeting both the president-elect's anti-immigration policies and factions of white supremacist support, as well as the leadership of Democratic Sen. Charles Schumer of New York, who is widely expected to be elected Senate minority leader to replace outgoing Sen. Harry Reid of Nevada.
Hundreds of high school students held a walkout in East Los Angeles, California, a diverse neighborhood with a large Hispanic population, demanding protection for the people they said were being targeted by Trump's supporters in the wake of his election. High school students from Portland, Oregon, and Silver Spring, Maryland, also staged walkouts today, protesting Trump's words and policies.
Meanwhile, in Washington, D.C., at least 40 protesters occupied Sen. Schumer's office, according to Waleed Shahid, a spokesperson for #AllofUs, the group that staged the sit-in.
Dramatic Scenes as Thousands March in Protest of Trump's Victory
Dax Crocker, a third year Yale Master of Divinity student, left, and community activist John Lugo of Unidad Latina en Accion of New Haven call on all Yale University students to join together and declare Yale as a "Sanctuary Campus" protecting undocumented immigrant college students during a rally at Yale's Cross Campus, Nov. 16, 2016, in New Haven, Connecticut.
Peter Hvizdak/New Haven Register via AP
Shahid said that #AllofUs is composed of young men and women who participated in the Occupy Wall Street protests in 2011, as well as Black Lives Matter, climate activists, and organizers from Sen. Bernie Sanders' campaign for president. He said the protesters were concerned about Democrats collaborating with Trump, citing Schumer's ties to Wall Street as evidence that he was part of the same party establishment that lost the election.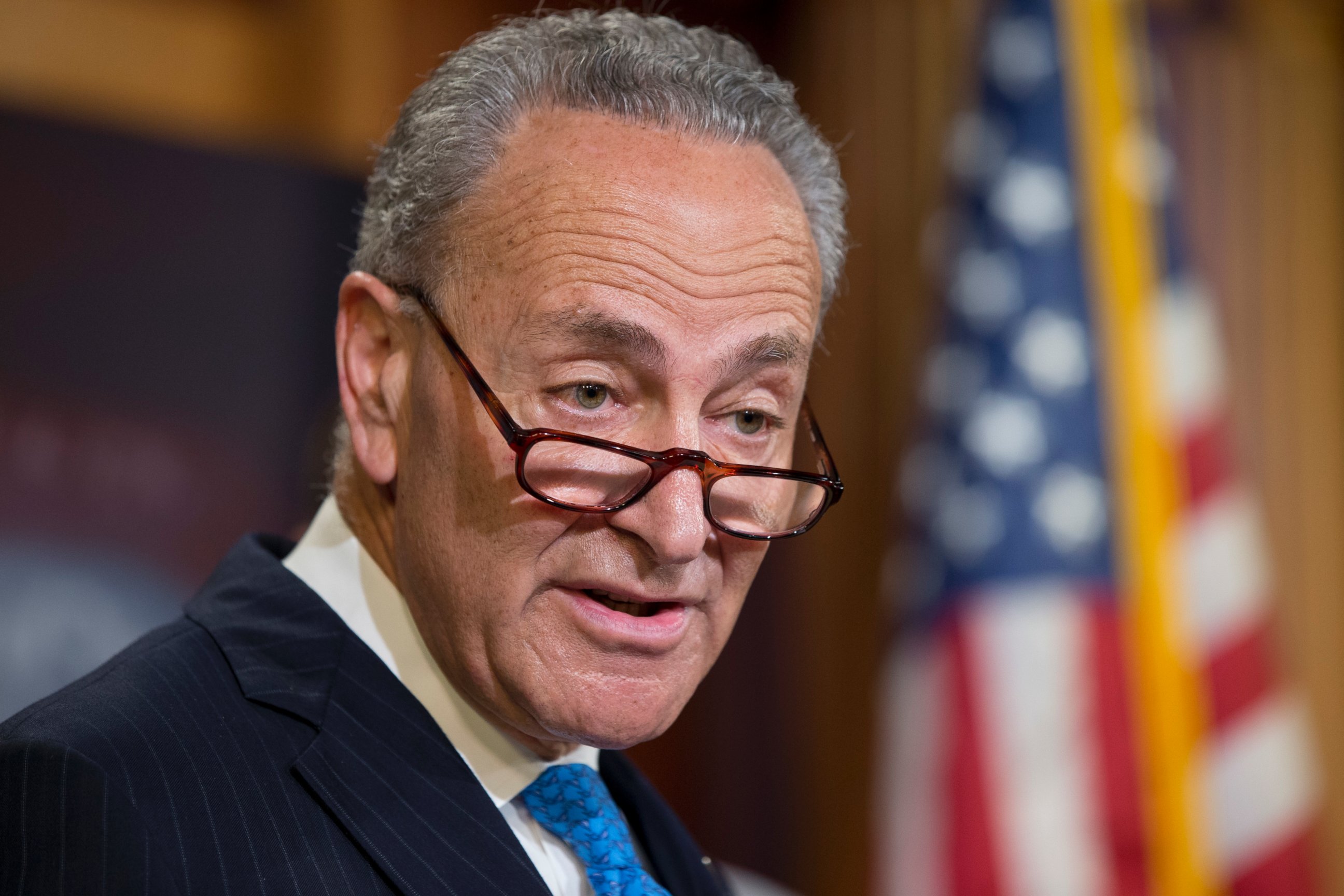 Seventeen protesters were arrested in the hallway to Schumer's office today, according to Eva Malecki, the communications director for the U.S. Capitol Police. They were charged with a misdemeanor offense of "crowding, obstructing and incommoding," Malecki said.
Today's protests are building off a wave of rallies over the weekend, including the #HeretoStay march that began at Columbus Circle in Manhattan yesterday and then moved to Trump Tower, speaking out against the president-elect's hard-line anti-immigration policies.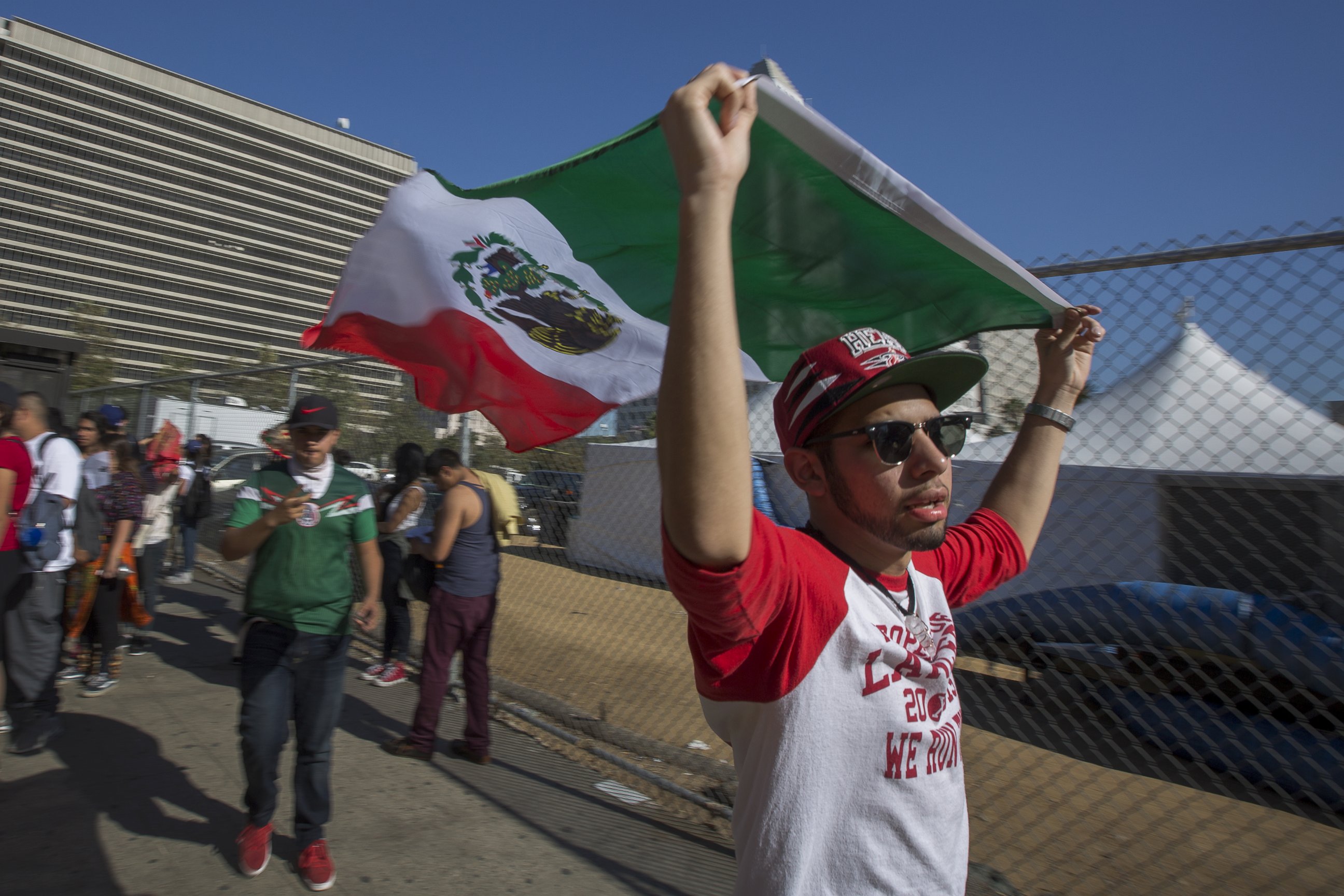 The #HeretoStay rally featured some participants whose families could be torn apart if Trump is able to enact widespread deportations once in office. Trump vowed to deport millions of undocumented immigrants from the U.S. in an interview with "60 Minutes" that aired on Sunday, saying that as many as 3 million people could be removed.
Shahid, who is a Muslim, told ABC News that he believed Trump won the election because of the "massive corporate influence" in the Democratic Party, which he said was "negotiating away the future of young people." He said that the protesters at the sit-in wanted a change in party leadership to ensure a strong opposition to Trump's policies, citing Sanders, Sen. Elizabeth Warren and Rep. Keith Ellison as examples.
Shahid added that his group was protesting both Trump and the establishment wing of the Democratic Party to help prevent any potential collusion between them.
"I'd rather go to jail than sign my name to a Muslim registry," he said, referring to a proposal Trump announced in November 2015 involving implementing a database of Muslim Americans to prevent terrorism.
Regarding his identity as a Muslim, Shahid said he feels frightened and he has been working on "adrenaline and no sleep" since Trump defeated Hillary Clinton.
"A lot of people in my family are really scared right now," he said.