President Joe Biden rolled out the red carpet Thursday for Prime Minister Narendra Modi of India for the third state visit of his presidency.
The visit will put on full display the "deep and close partnership" between the U.S. and India, the White House said, despite concerns India's democratic principles have eroded under Modi's leadership.
The relationship has been described by Biden as "one of the most important" of this century as the U.S. rebalances its foreign policy focus to the Indo-Pacific in the face of an increasingly aggressive China. Just ahead of Modi's visit, President Biden suggested Chinese President Xi Jinping was a "dictator."
"There's a strategic imperative in the region," Tanvi Madan, the director of The India Project at the Brookings Institution, told ABC News. "Multiple administrations have seen India as a geopolitical counterbalance, an economic alternative and a democratic contrast to China."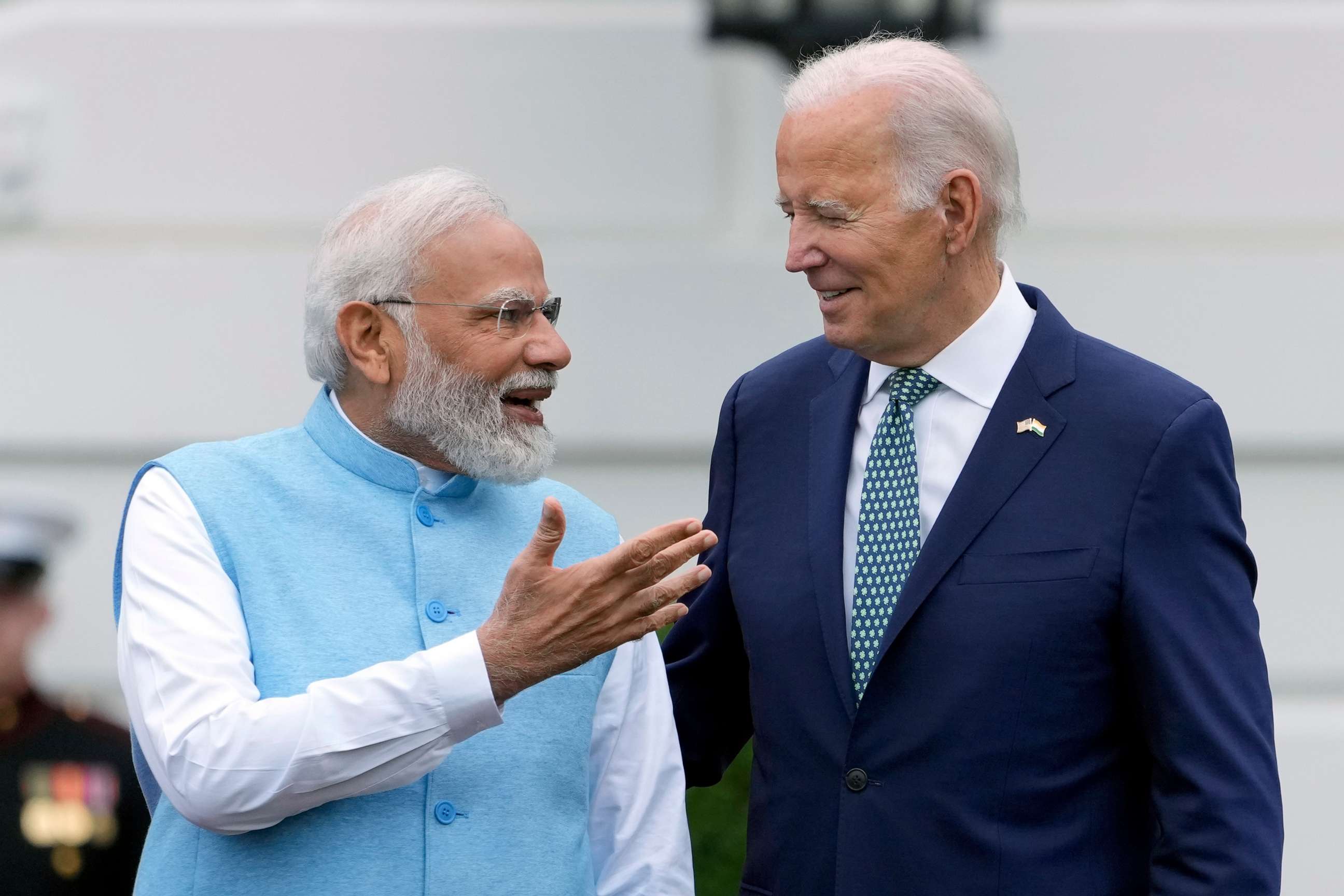 The two leaders greeted each other warmly on the South Lawn in a welcome featuring marching bands and honor guards, despite rainy weather. Vice President Kamala Harris, the first person of Indian descent in her role, and second gentleman Doug Emhoff were also there to greet the prime minister.
"The challenges and opportunities facing the world in this century require that India and the United States work and lead together, and we are," Biden said.
Modi said the partnership between the U.S. and India "will be instrumental in enhancing the strength of the whole world."
Biden and Modi met in the Oval Office and appeared side by side at a brief news conference in the East Room, a rarity for Modi who only held his first-ever press conference in India in 2019 after being in power for five years.
Modi also appeared on Capitol Hill to address a joint meeting of Congress before a state dinner at the White House Thursday night.
The prime minister received a standing ovation as he entered the chamber to chants of "Modi, Modi" from members, though a handful of progressive Democrats boycotted the speech, citing reports of human rights abuses.
Modi took a moment to note those in the chamber who have Indian roots, turning to point to Vice President Harris seated behind him whom he celebrated as having "made history."
"We come from different circumstances and history, but we are united by a common vision. And, by a common destiny," Modi told lawmakers in closing. "When our partnership progresses, economic resilience increases, innovation grows, science flourishes, knowledge advances, humanity benefits, our seas and skies are safer, democracy will shine brighter and the world will be a better place."
About 400 guests are expected to attend the dinner, the White House said, which will include a plant-based menu and a mixture of American and Indian decor. There will be performances from American violinist Joshua Bell and from Penn Masala, a South Asian a cappella group from the University of Pennsylvania.
Modi's trip to Washington, though, isn't without controversy as the prime minister's been criticized for a rise in violence against religious minorities as well as a crackdown on the press and dissenters.
Some democracy watchdogs have downgraded India's rating in recent years. The U.S.-based Freedom House rated India as "partly free" in its 2023 report, and the Sweden-based Varieties of Democracy called India an "electoral autocracy."
"He's got a mixed record," Richard Rossow, chair U.S.-India Policy Studies at the Center for Strategic and International Studies, said of Modi. "We do see at times he feels politically weak domestically, he's initiated steps that directly or indirectly seem to stoke the fears of religious intolerance by him and his party. And we've also seen crackdown on civil society to some extent."
Human rights advocates and at least 70 lawmakers called on Biden to directly address human rights violations during Modi's visit. Experts told ABC News any human rights or democratic issues will likely be taken up in private between the two leaders.
Biden was asked during the news conference about those who've criticized his administration as overlooking such human rights concerns in hosting Modi.
"Look, the prime minister and I had a good discussion about democratic values," Biden responded. That's the nature of our relationship, we're straightforward with each other and we respect each other."
"I believe that we believe in the dignity of every citizen and it is in America's and I believe in India's DNA that the whole world, the whole world has a stake in our success," the president continued. "Both of us, in maintaining our democracies, make us appealing partners and enables us to expand democratic institutions across, around the world."
Modi, meanwhile, sidestepped a question on recent allegations of human right abuses as he claimed in India "there's absolutely no discrimination, neither on basis of cast, creed, or age, or any kind of geographic location."
"I'm actually really surprised that people say so," the prime minister said as he defended his government. "Indeed, India is a democracy ... democracy is in our DNA. democracy is our spirit. democracy runs in our veins. We live democracy."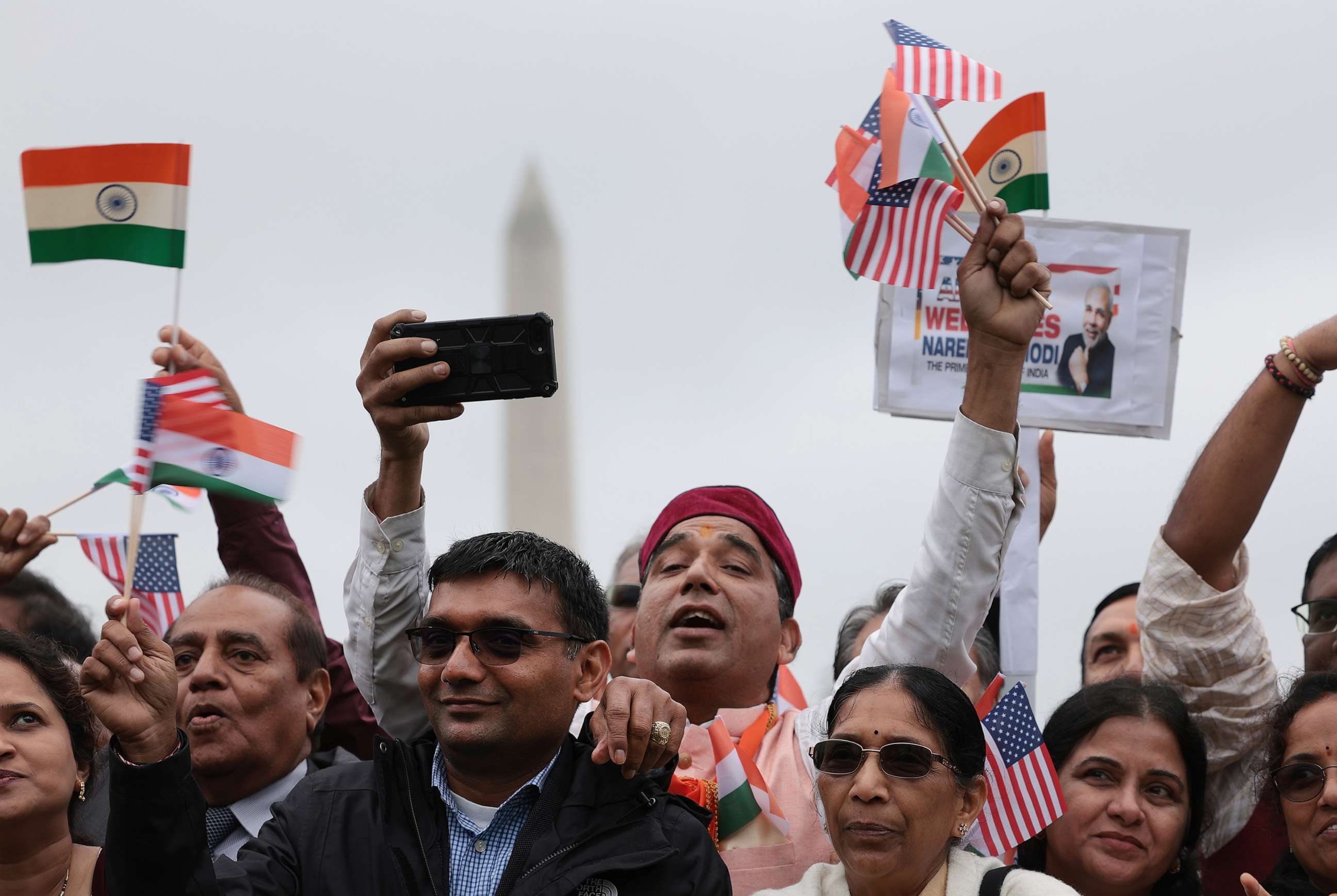 Also at issue during the trip was Russia. India, which has long relied on Russian oil and weapons, has avoided outrightly condemning the Russian invasion of Ukraine.
But experts noted Modi's slight change in tone when it comes to Russia's invasion, such as his recent statements on the importance of territorial integrity and sovereignty.
"Both Washington and New Delhi understand that they will not necessarily see eye to eye on Russia," Kenneth Juster, who served as the U.S. ambassador to India during the Trump administration, told ABC News. "But they can discuss that issue candidly with each other, and it is not going to have a negative impact on their broader strategic partnership."
A senior Biden official said the White House would "engage actively" with India on issues related to Russia and Ukraine, specifically India's efforts to diversify away from Russian military equipment.
Talks between Biden and Modi also included trade, climate and space.
The two leaders announced a number of new commitments, including a joint space mission as well as various investments in technology, defense and clean energy.
Secretary of State Antony Blinken, speaking to the U.S.-India Business Council last week, touted trade between the two nations reached a record $191 billion. Blinken noted the U.S. is India's largest trading partner, and Indian companies invested more than $40 billion in the U.S. in IT, pharmaceuticals and more.
Though Juster said be believed there is still more work to do to advance on the trade front ahead of the state visit.
"For the world's largest economy, the United States, and its fifth largest economy, India, I believe that their bilateral trade relationship does not fulfill all of its potential. I am hoping that the two countries can continue to advance their trade and investment relationship both bilaterally and regionally, because economic issues are so important in the Indo-Pacific and China has a robust economic strategy for the region," he said.
Prior to landing in Washington, Modi met with Tesla CEO Elon Musk as well as other business leaders and health care experts.
He also marked International Day of Yoga by participating in a group session on the lawn of the United Nations headquarters.
The last time Modi visited the U.S. was in 2019, when he appeared alongside former President Donald Trump at a "Howdy Modi" rally in Texas attended by tens of thousands of people.
-ABC News' Ben Gittleson and Sarah Kolinovsky contributed to this report.