Biden kicks off 1st reelection campaign rally after rolling out major union endorsements
The president is touting his ties to Philadelphia on the campaign trail.
President Joe Biden spoke before an audience of union members in Philadelphia Saturday in what was his first rally since he declared his bid for a second term and comes as his campaign engagements ramp up.
Biden begins his 2024 campaign in the same way he kicked off his run in 2020: in front of Pennsylvania laborers.
"I am a union man, period," Biden said at a union hall in Pittsburgh during his first rally in 2019.
And just as he did then, Biden is accompanying the rally with a roll out of union endorsements. The AFL-CIO, a federation of 60 national and international labor groups -- including the national teachers' and government workers' unions -- endorsed Biden on the eve of the rally. The federation, which represents 12.5 million workers, is hosting the rally.
"The President and Vice President are humbled to have earned this historic groundswell of support nearly 17 months before the 2024 election," Julia Chavez Rodriguez, Biden's campaign manager, said in a statement.
Upon arriving in Philadelphia on Saturday, Biden received a helicopter tour of the collapsed portion of I-95 in Philadelphia and said "there's no more important project right now in the country" than rebuilding the highway.
The president said he's directed his team to "literally move heaven and earth" to get the rebuilding done as soon as possible and pledged federal assistance.
"The federal government got committed, we're going to reimburse 100% this phase of the work, and well over the first 200 days, and then after that, 90% of the work," the president said. "We'll be here until the end. We won't leave until it's finished."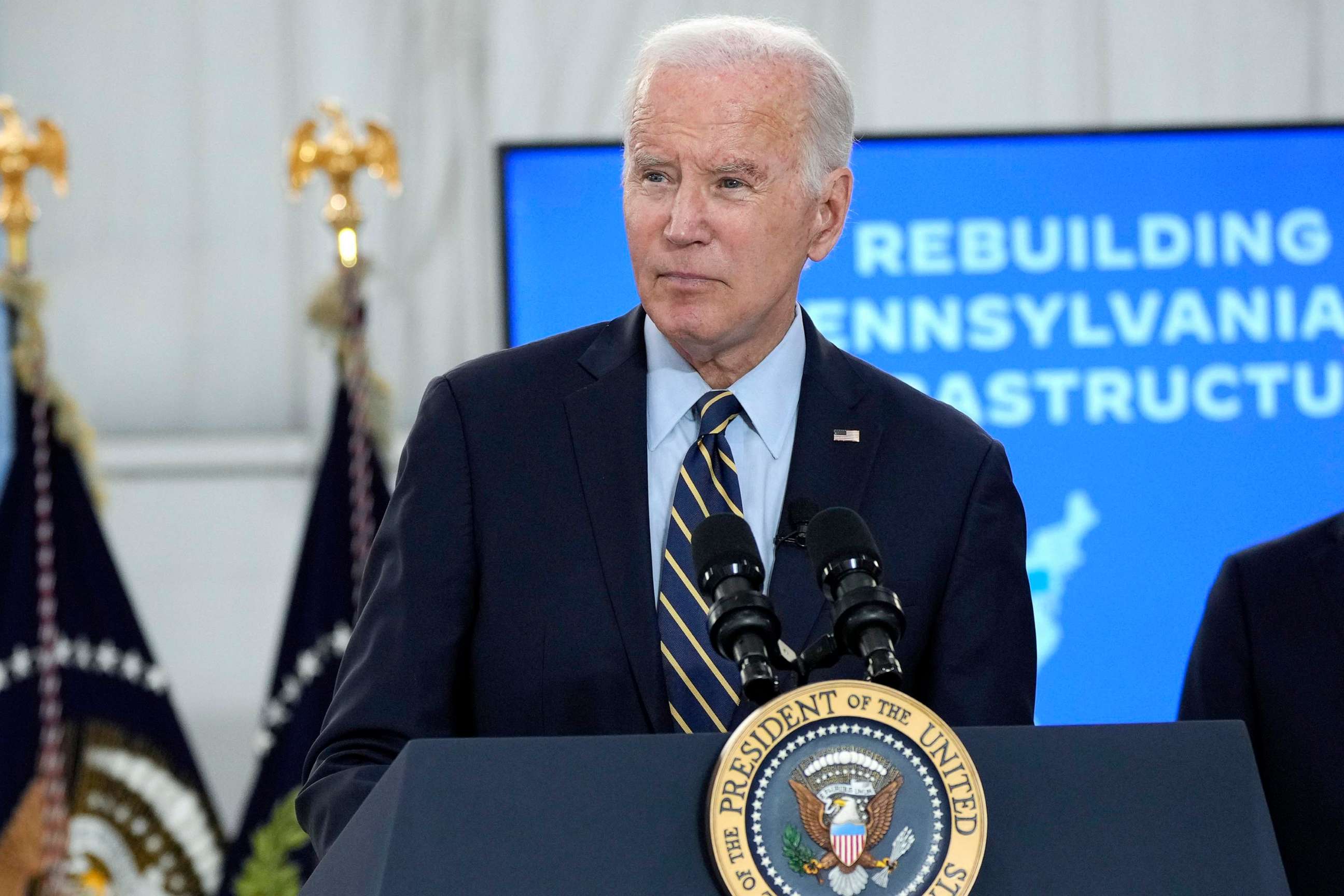 Biden leaned on labor groups in his run for the White House in 2020, earning back some Rust Belt blue-collar support Democrats lost in 2016 -- and these groups are prepared to use their vast political networks to turn out voters for the president once again.
Pennsylvania, the state Biden was born in, has not only played a significant role in the president's political career, but also in national politics. Since 1920, candidates who won Pennsylvania were elected president 81% of the time, according to a FiveThirtyEight analysis.
"If I'm gonna be able to beat Donald Trump in 2020, it's gonna happen here," Biden said, launching his last campaign. Pennsylvania would later carry Biden across the finish line.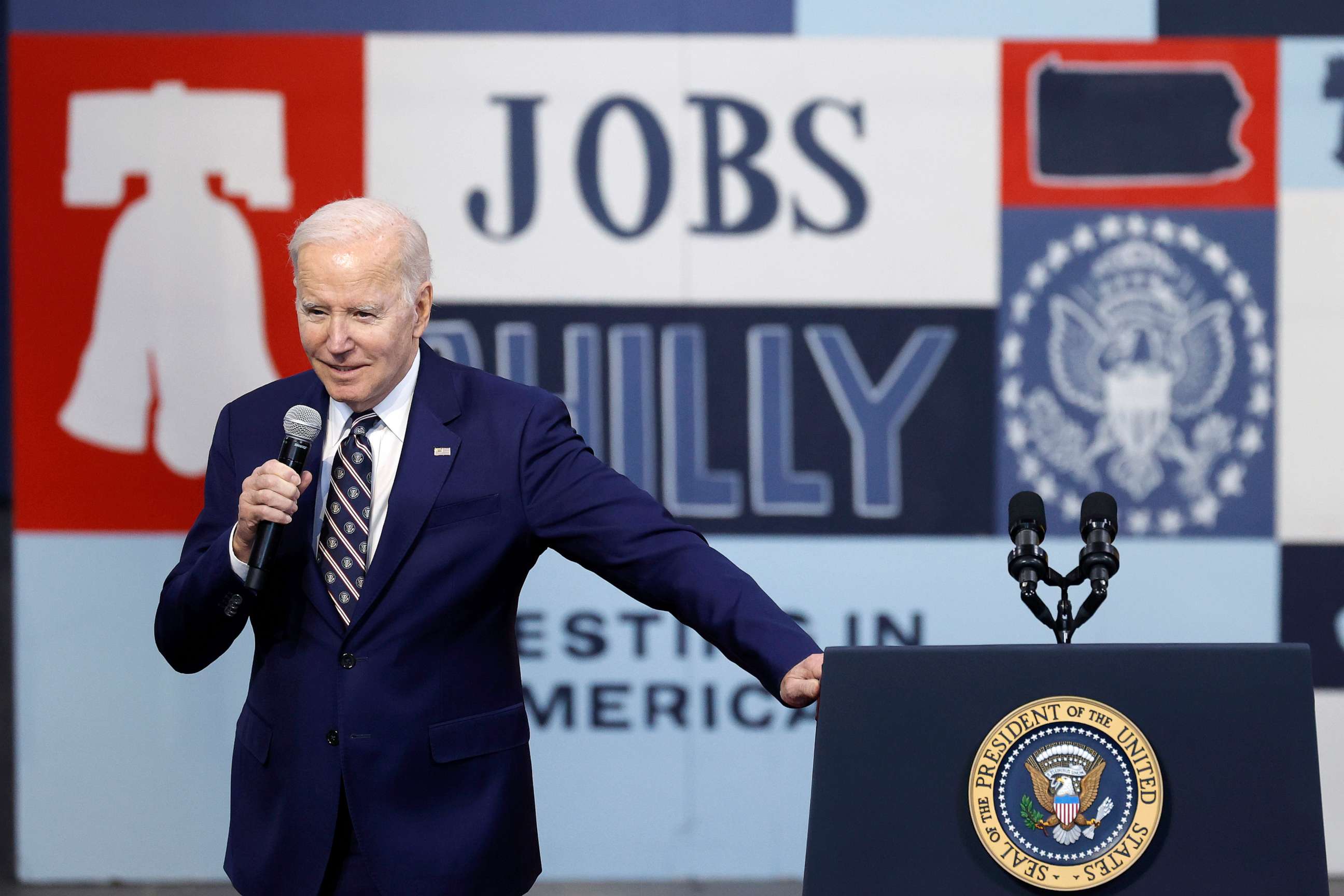 Biden's reelection campaign's activity has been slow since the president announced his decision nearly two months ago -- though the announcement's timing was on par with the reelection campaign announcements of former Presidents Barack Obama and George W. Bush.
But in recent days, the campaign has kicked into another gear. The president attended a fundraiser in Connecticut on Friday, with receptions in Maryland and California scheduled later in the month, while first lady Jill Biden had a fundraising swing through New York and California earlier this week. Biden also addressed environmental groups Wednesday and accepted their endorsement.
The campaign trail is bound to be more demanding than last time. The COVID-19 pandemic allowed the Biden campaign to go virtual for much of 2020, with socially-distanced events in the final weeks of the race.
Biden, who would be 86 years old at the end of a second term, acknowledged in a February interview with ABC News' David Muir that concerns about his age are "legitimate," though he said it was not a consideration for him. Two months later, on the day after his reelection campaign launched, however, the president said his age was a factor in his decision-making.
"I respect them taking a hard look at it," Biden said in April. "I'd take a hard look at it as well. I took a hard look at it before I decided to run."
Biden instead wants voters to focus on the work he's done, centering his campaign on what he sees as his accomplishments and behind a message that Americans should give him four more years to "finish the job."
ABC News' Amanda Maile contributed to this report.