President Joe Biden on Monday traveled to Baltimore, Maryland, to kick off a $6 billion rail tunnel reconstruction project primarily funded by his bipartisan infrastructure law -- an improvement he said would make a big difference to Amtrak commuters like himself.
The new tunnel will replace the aging Baltimore and Potomac Tunnel, and remove what the White House says is the largest bottleneck between New Jersey and Washington, D.C.
"This tunnel is nearly, as I said, 150-years-old. It's a Civil War era -- Ulysses S. Grant was president. The structure is deteriorating, the roof is leaking, the floor is sinking. This is the United States of America, for God's sake. We know better than that," Biden said, standing next to an Amtrak Acela train.
Recounting how, in his daily trips between Washington and Delaware as a senator, he'd "been through this tunnel a thousand times," he added, "when folks talk about how badly the Baltimore tunnel needs an upgrade, you don't need me to tell you. I've been there and you've been there, too."
Once completed, Biden said, tunnel capacity is expected to triple and trains traveling through it will be able to go up to 110 miles per hour instead of the current 30 miles per hour.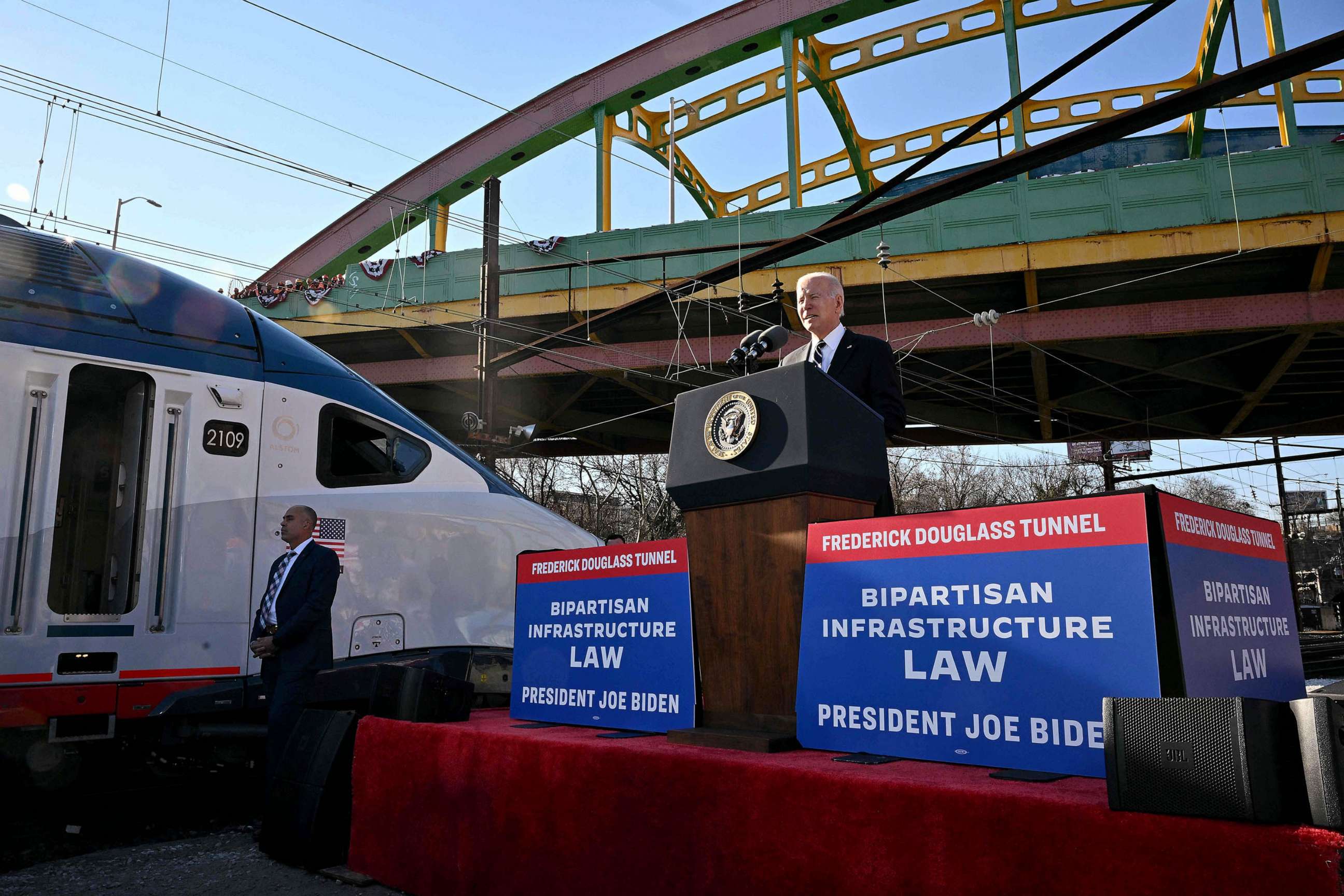 The new tunnel will be named after Frederick Douglass, who, Biden said, "boarded this train to freedom right here in Baltimore."
"He escaped slavery, he traveled the country by rail, fighting for abolition and civil rights," Biden said. "So, that's fitting we honor him in this way."
Biden's visit to Baltimore on Monday was the first in his a series of trips this week highlighting the infrastructure law. He will travel to New York City Tuesday to talk about the Hudson Tunnel Project and to Philadelphia on Friday to discuss removing lead pipes.
The new Baltimore tunnel will be equipped with two tubes along an alignment with softer curves; ventilation and emergency egress facilities; new signaling systems, overhead catenary and track; five new roadway and railroad bridges in the area surrounding the tunnel; and a new ADA-accessible West Baltimore MARC station, according to the White House.
"The Frederick Douglass Tunnel will be all electric," Biden said. "This can be game changing for the environment."
The president also announced the signing of different project agreements.
"Today we're announcing this project, we're gonna build on our project labor agreement," Biden said. "These agreements are agreements that contractors and unions put in place before the construction begins."
The Baltimore-Potomac Tunnel Replacement Program is expected to generate 30,000 jobs, including approximately 20,000 direct construction jobs. An additional $50 million investment from Amtrak will go towards local workforce development and community investments, including pre-apprenticeship and apprenticeship programs to ensure that local workers in West Baltimore can access these jobs, according to the White House.
ABC News' Ben Gittleson contributed to this report.