Teachers and students should return to the classroom and can do so safely, even in areas with high rates of viral transmission, if certain mitigation steps are taken, according to guidance released Friday by the Centers for Disease Control and Prevention.
The CDC recommendations for K-12 schools, while not binding, are the first federal guidelines that spell out specifically how elementary, middle and high schools could reopen based on local conditions.
CDC Director Rochelle Walensky told reporters the "operational strategy" was based on scientific research that showed outbreaks were rare in K-12 schools that took steps to prevent them, particularly universal mask wearing and social distancing.
"CDC's operational strategy is grounded in science and the best available evidence," Walensky said on a press call.
The plan relies on four color-coded "zones" based on the prevalence of community spread -- blue, yellow, orange and red -- that each have different mitigation steps.
For example, in a red or orange zone where viral transmission is highest, schools should only open on a hybrid basis or with reduced attendance, and strictly enforce maintaining 6 feet of distance among students and staff. It's suggested that sports be canceled in red zones.
For blue and yellow zones, the lowest levels of transmission, schools can return full time but are encouraged to maintain 6 feet of distance to the "greatest extent possible." Masks should be worn everywhere, even in areas where transmission is low.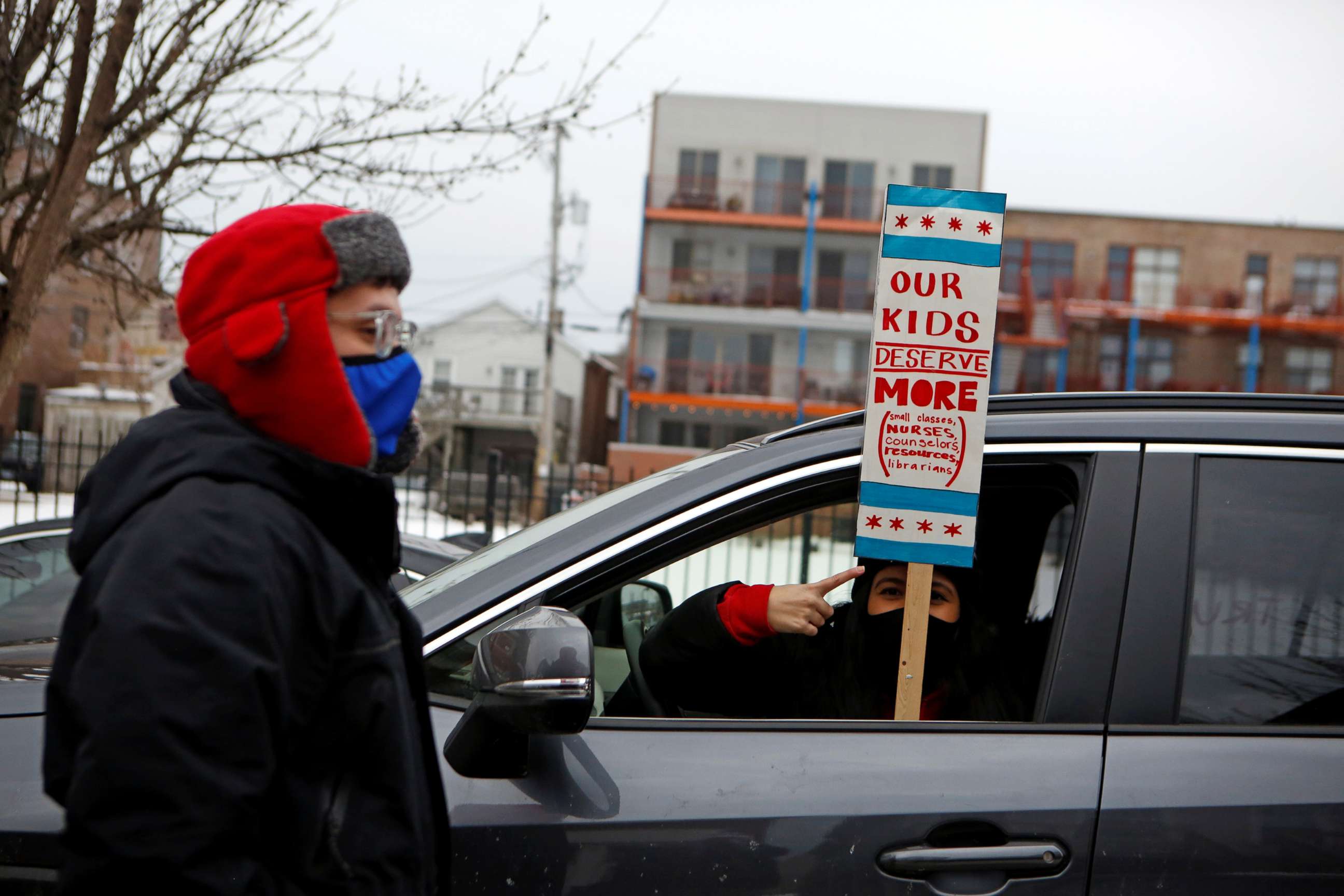 The plan also recommends expanding testing surveillance, prioritizing teachers for vaccinations and improving ventilation if possible, but it doesn't suggest those components as a prerequisite for students returning to classrooms.
"K-12 schools should be the last settings to close after all other mitigation measures in the community have been employed, and the first to reopen when they can do so safely," the new guidelines state. "Schools should be prioritized for reopening and remaining open for in-person instruction over nonessential businesses and activities."
The recommendations are a nod to educators, who for the past year have expressed intense fear over returning to the classroom without more specific instructions on how to do so safely.
Previously, the CDC had issued guidance that suggested only how to mitigate risk -- requiring masks and encouraging social distancing, for example. But the Trump administration had insisted that any metrics or benchmarks for reopening should be developed at the local level, resulting in heated clashes among local officials, parents and teachers unions about the definition of "safe," especially in regions with higher transmission rates.
Randi Weingarten, head of the American Federation of Teachers, called the revised guidelines a "rigorous road map" that should have been done 10 months ago -- a swipe at the previous administration.
Still, while Weingarten praised the new approach, she noted that more resources to implement the mitigation strategies would be critical and that the pandemic -- with the threat of variant viruses -- remains fluid.
"The guidance is instructive for this moment in time, but this disease is not static," she said in a statement.
Accompanying the CDC guidance is a new handbook for schools developed by the Department of Education. That report summarizes much of the CDC's findings and provides examples for school and community leaders, such as offering free masks and encouraging students to wash their masks daily.
Walensky said the CDC suggestions would not be used to shut down schools that don't follow the guidelines.
"I want to be clear: With the release of this operational strategy, CDC is not mandating that schools reopen. These recommendations simply provide schools a long-needed roadmap for how to do so safely under different levels of disease in the community," she said.
The announcement comes as schools across the country have been grappling with reopening safely for almost a year. Earlier this week, the Chicago Teachers Union voted on an agreement to return to schools following intense negotiations. The plan included telework accommodations for some staff.
"The vast majority of CPS families have been separated from their schools for nearly a year, and the ratification of our agreement ensures families have options to choose in-person learning and make a plan that is best for them," Chicago Mayor Lori Lightfoot and CPS CEO Dr. Janice Jackson said in a joint statement.
President Joe Biden said the nation should be able to open most K-8 schools within his first 100 days of office -- a benchmark, experts have said, that's probably already been met. He also said he would be working with schools to hire more teachers, reduce class sizes and provide more protective equipment to help meet the new guidelines.
"These needs cost money. But the cost of keeping our children, families and educators safe is nothing when compared with the cost of inaction," Biden said in a statement.
Lee Savio Beers, president of the American Academy of Pediatrics, called the CDC's approach "right on target."
"These public health protocols should continue to be the model schools follow as they increasingly transition to in-person learning," Beers said in a statement.
An earlier version of this story mischaracterized guidance for schools in "red zones." The CDC recommends that schools in those high areas should stay hybrid or reduce attendance, even with testing.