'Complete devastation' at Tyndall AFB after direct hit from Michael
Some F-22 fighters may have been damaged by the storm.
When Hurricane Michael struck Tyndall Air Force Base in Florida head on Wednesday, it caused extensive destruction to the base and damaged some military aircraft inside hangars that were affected as well. "Our base took a beating," said the commander at Tyndall in a letter to base personnel.
"Team Tyndall, our base took a beating, and I know you have a lot of questions," wrote Col. Brian S. Laidlaw, commander of the 325th Fighter Wing.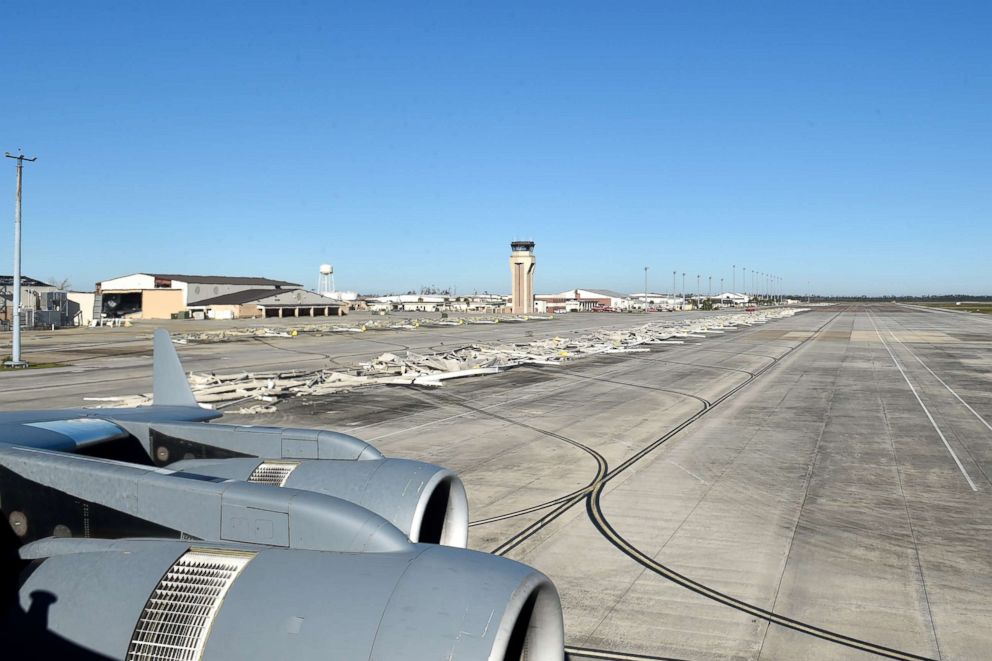 "By now you already know that Tyndall Air Force Base requires extensive cleanup and repairs," he added. "I will not recall you and your families until we can guarantee your safety. At this time I can't tell you how long that will take, but I'm on it."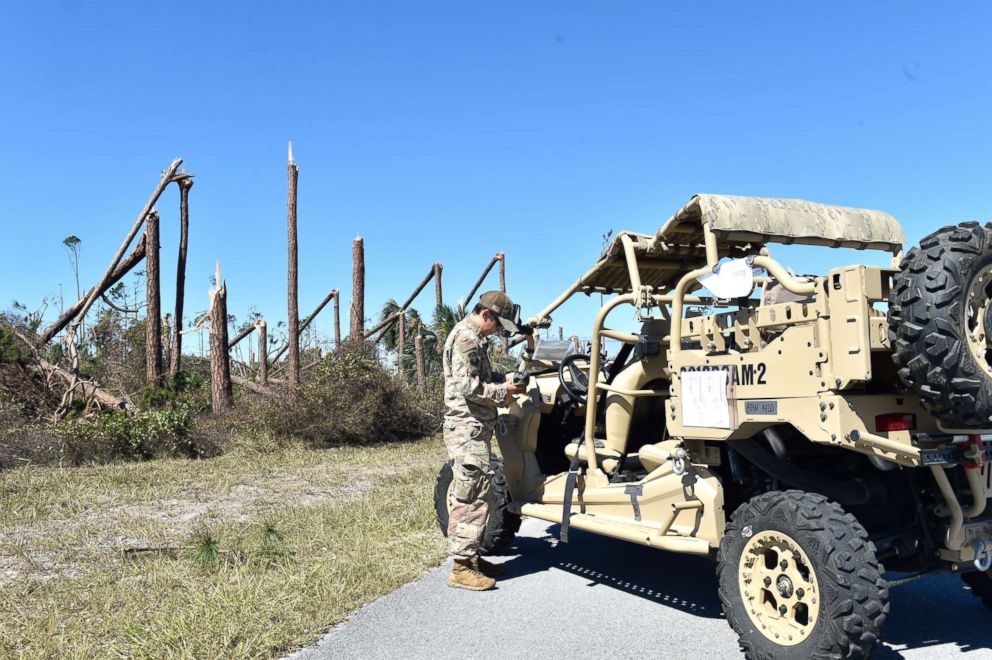 Earlier, the base had advised in a Facebook posting that "The flight line is devastated. Every building has severe damage. Many buildings are a complete loss."
Tyndall Air Force base is located between Panama City Beach and Mexico Beach close to where Hurricane Michael made landfall as a Category 4 hurricane on Wednesday.
The first wave of Air Force personnel who will help restore operations and begin relief efforts at Tyndall arrived on Friday aboard two C-17 military transport aircraft.
The 66-person 821st Contingency Response Group (CRG) will help begin the difficult task of preparing the base to receive supplies and equipment to clean it up.
"It's complete devastation to the topography, trees snapped in half, power lines down all over the place, and facilities have extreme damage," said Col. Justin Niederer, commander of the 281st CRG, in an interview with ABC News.
Niederer said the damage at Tyndall was comparable to what he saw in the Virgin Islands and St. Maarten last year after Hurricanes Maria and Irma.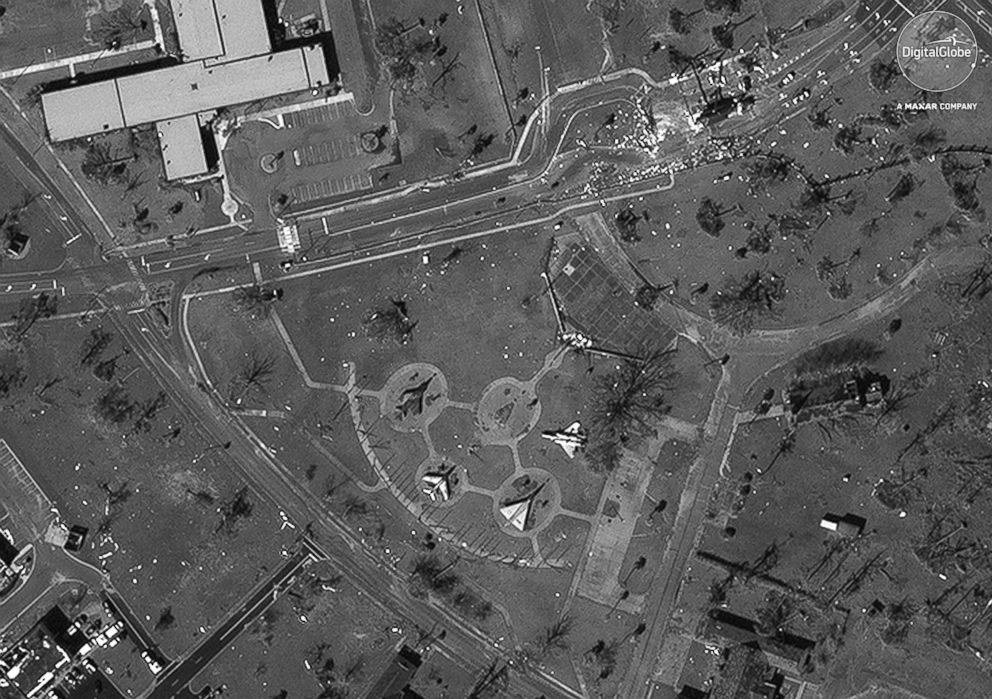 He also described the scary conditions experienced by the small number of base leaders that rode out the storm in what they thought was a secure facility.
"They were doing well until the winds reached 150 (sustained) knots then gusted to 170," said Niederer. "It blew the roof off the facility they were in. At that point, the eye of the storm passed over and when they went out to observe the environment around them they realized they were going to have a lot of work to do."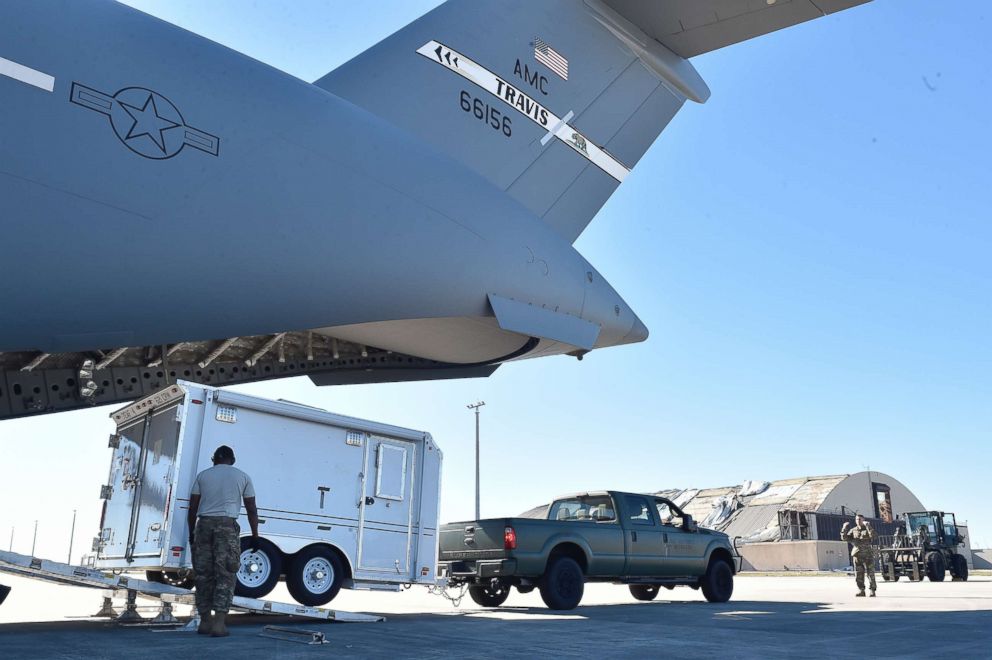 Ahead of the storm, the base had evacuated most of its 54 F-22 Raptor fighters and T-38 Talon trainers to Wright Patterson Air Force Base in Ohio.
However, a small number of F-22s were left behind to ride out the storm in hangars because they were undergoing maintenance.
It became clear on Friday that some of those aircraft may have sustained damage since the hangars they were housed in also experienced significant damage.
"A number of aircraft were left behind in hangars due to maintenance or safety reasons, and all of those hangars are damaged," said Maj. Malinda Singleton, an Air Force spokesperson.
"We anticipate the aircraft parked inside may be damaged as well, but we won't know the extent until our crews can safely enter those hangars and make an assessment."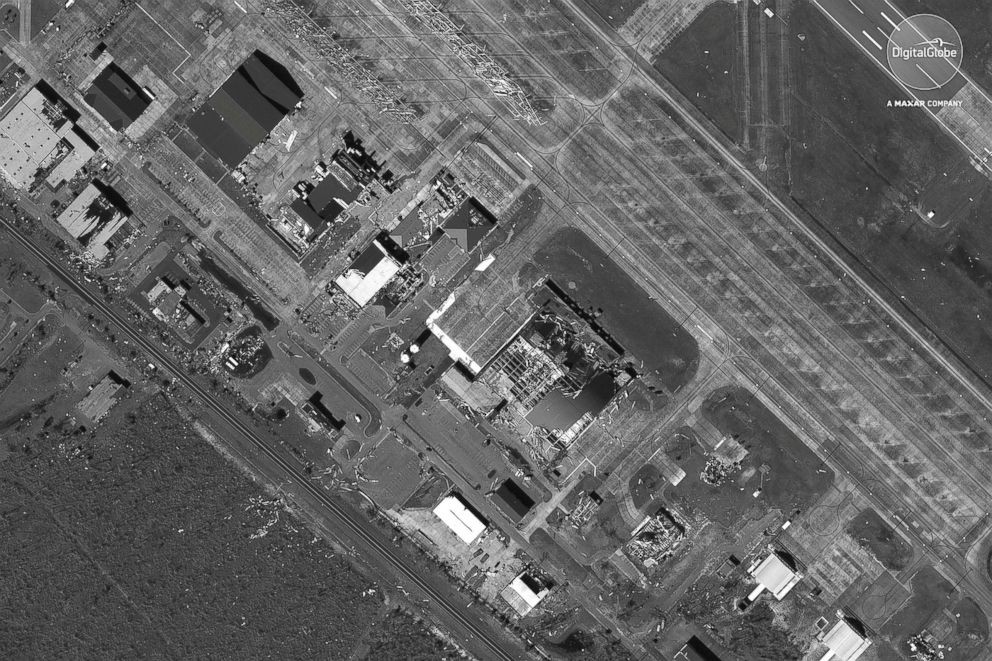 There are only 183 F-22 aircraft in the Air Force's inventory, with each of the advanced stealth aircraft costing $135 million each. With production lines no longer in existence, any irreparably damaged F-22s cannot be replaced.
Niederer said his team would soon begin readying operations to offload military aircraft delivering cargo and personnel to the base.
"We'll be receiving aircraft filled with engineering capability, lodging capability and personnel in order to help clean up the base proper and get the operations back up and running as quickly as possible," he said.
With no food, power, fuel or running water available on the base, his team will have enough supplies to sustain them for five days while they begin the arduous task of beginning 24-hour operations at the base.