— -- Following passage in the Senate and House, President Donald Trump on Monday night signed a bill to fund the government for three weeks and end the three-day-long federal government shutdown.
Congress had agreed to the short-term funding bill earlier Monday after Senate Republicans provided assurances to Democrats that immigration reform and other contentious issues would be addressed in the near future.
Late Monday night, Trump took to Twitter to laud the bill as a "big win for Republicans" while "Democrats cave on shutdown."
After the Senate passed the bill by an 81-18 margin Monday afternoon, the House of Representatives concurred with the measure 266-150, sending it to Trump. Between 700,000 and 800,000 federal employees were furloughed during the standoff, according to the Office of Management and Budget.
The deal was reached after Senate Majority Leader Mitch McConnell pledged that it was Republicans' "intention to take up legislation here in the Senate that would address DACA, border security and related issues, as well as disaster relief." Democrats had attempted to tie protection for Dreamers -- some 800,000 undocumented immigrants brought to the U.S. illegally as children -- to the funding bill. They had been covered by the Deferred Action on Childhood Arrivals (DACA) program, started under President Obama but ordered ended by President Trump.
"Let me be clear: This immigration debate will have a level playing field at the outset and an amendment process that's fair to all sides," McConnell said.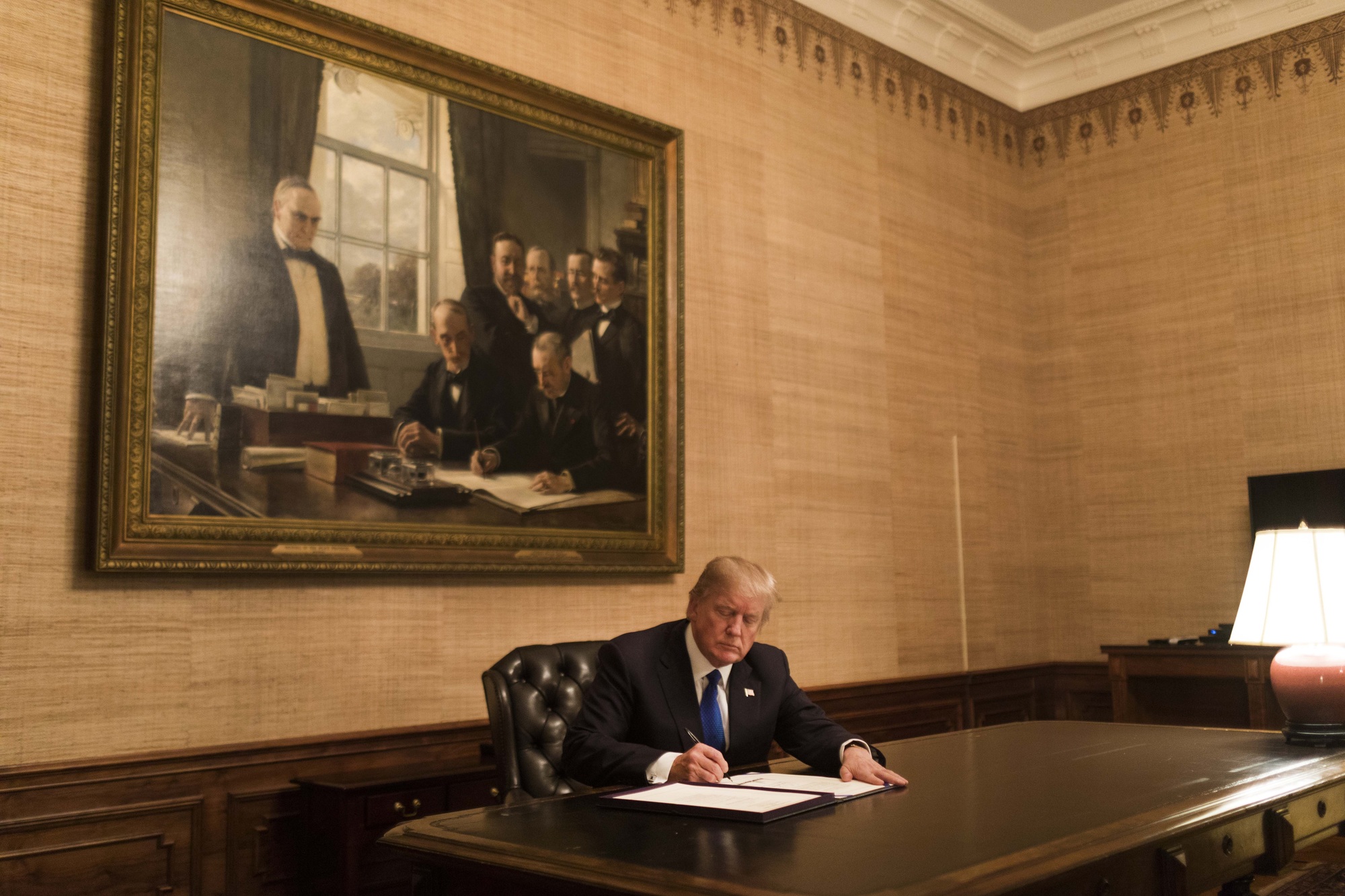 The continuing resolution to fund the government, which also included six years of funding for the Children's Health Insurance Program, passed after the Senate voted to end debate earlier in the day over the objections of just 18 senators.
Among the Democratic senators who voted against the measure were several rumored to be interested in a 2020 presidential run, including Sens. Kamala Harris, D-Calif., Cory Booker, D-N.J., Elizabeth Warren, D-Mass., and Kirsten Gillibrand, D-N.Y.
Though the vote to end debate was successful, Senate Minority Leader Chuck Schumer continued his criticism of the negotiation process and demonstrated particular frustration with what he described as a lack of bipartisanship from the White House.
"The great deal-making president sat on the sidelines," said Schumer on the Senate floor prior to the vote, explaining that he had not spoken with President Donald Trump since a meeting Friday before the shutdown began.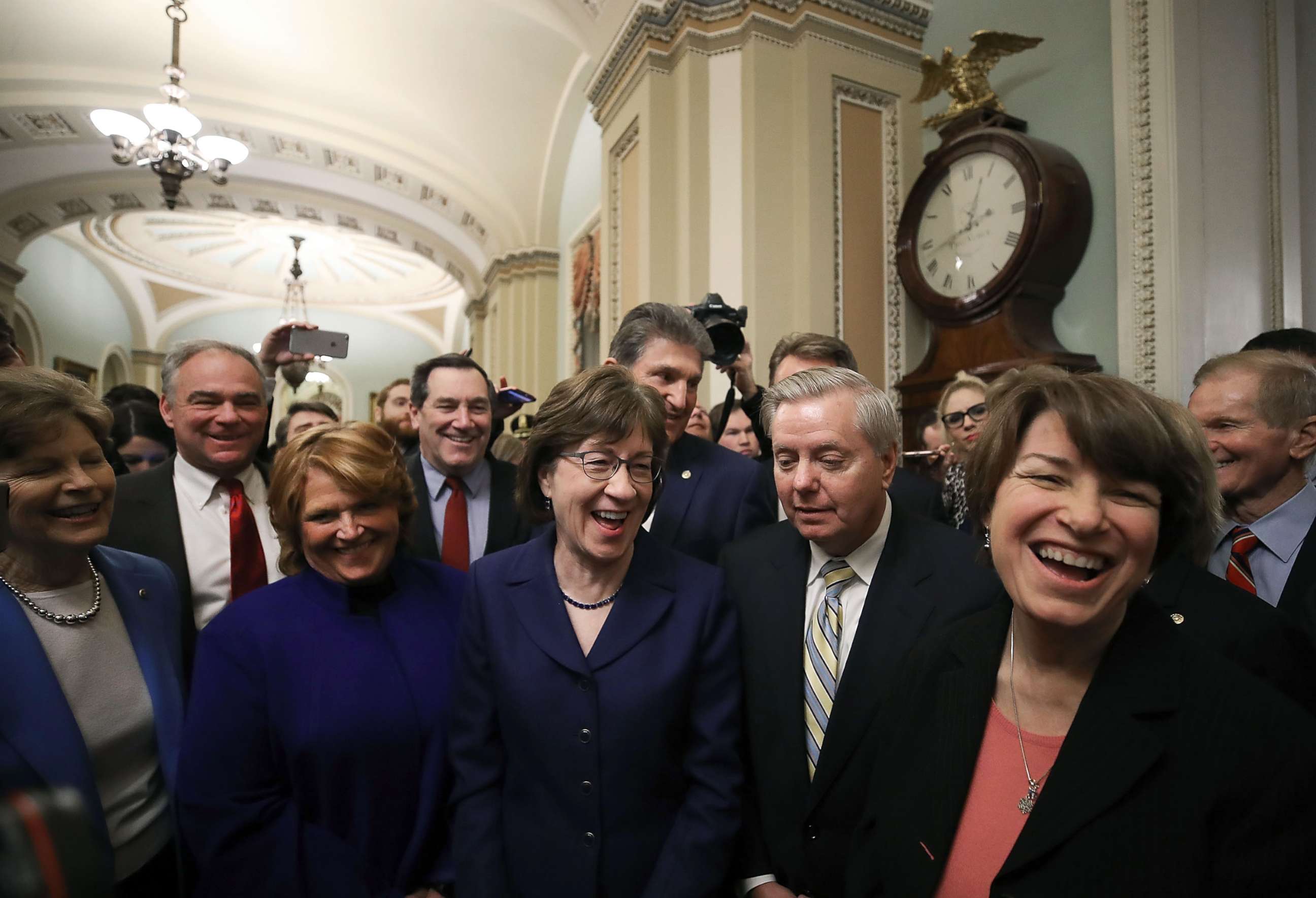 White House press secretary Sarah Sanders portrayed the deal agreed to as one proposed by Trump from the start — "to responsibly fund the government and debate immigration as a separate issue."
"I am pleased Democrats in Congress have come to their senses and are now willing to fund our great military, border patrol, first responders and insurance for vulnerable children," said Trump, in a statement read by Sanders at Monday's White House press briefing.
"We will make a long-term deal on immigration if, and only if, it's good for our country," the statement concluded.
Despite keeping isolated from Democrats during the shutdown, Trump met with Sens. Joe Manchin, D-W.V., Doug Jones, D-Ala., and a group of six Republicans Monday afternoon to chart a path forward on immigration.
"As soon as the Senate voted to reopen the government, the President continued conversations on the next steps on responsible immigration reform," Sanders said in a statement.
Earlier in the day, some moderate and Democratic senators had told ABC News that they hoped McConnell would delay the vote to allow a little more time to work out a broader deal. The cloture vote, which required 60 votes, had already failed once and Republicans were looking for as many as seven Democrats to join them as of Monday morning.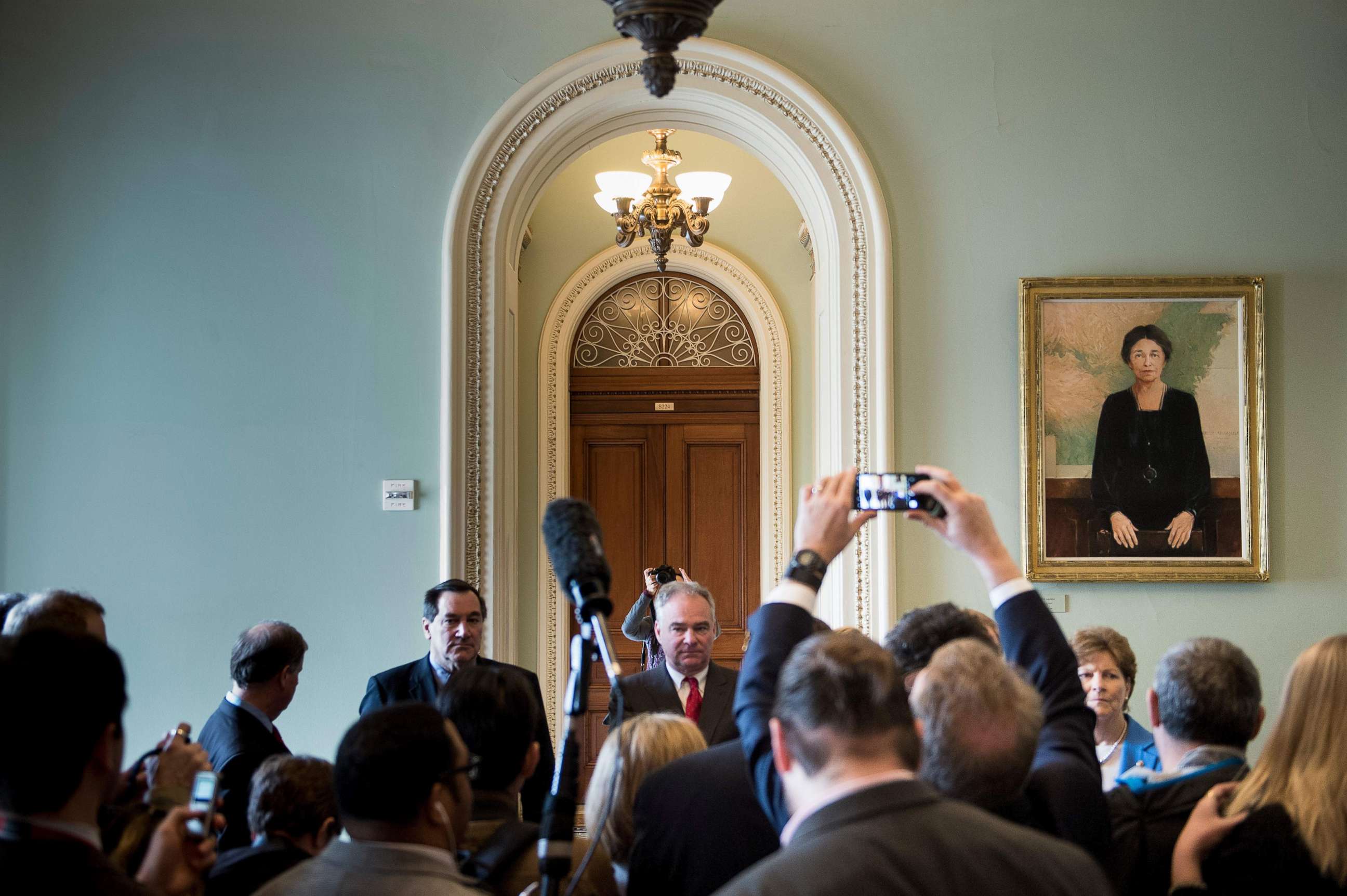 Behind closed doors, Schumer explained to fellow Democrats that their position in the minority precluded them from seeking a perfect deal, but expressed satisfaction at the progress made towards bringing significant immigration information to the Senate floor.
Senator Joe Manchin, a West Virginia Democrat, quoted Schumer as saying "It is what it is. We're not in the majority. You've got to play the hand that was dealt you, and this is what we have. For those who voted to shut it down, you've gotten further than we've ever gotten in the past five years to have a major piece of legislation on immigration committed to come to the floor since we did the 2013 immigration bill."
The effort to end the shutdown was successful despite the trepidation of some senators who emerged from bipartisan negotiations early Monday in agreement that McConnell needed to clarify his immigration-related promises.
"We need a little bit more clarity," Sen. Gary Peters, D-Mich., said, to the agreement of some Republicans.
"I would encourage [McConnell] to try to [get firmer language,]" said Sen. Jeff Flake, R-Ariz. "If [Democrats] can get language they're comfortable with, I think we'll have the government open."
While Flake characterized McConnell's effort as a "pretty high-profile promise," and some Democrats said that they felt additionally encouraged, it was far from certain that a solution would pass.
"I was more negative yesterday, last night, than I was today," said Sen. Amy Klobuchar, D-Minn., said before the vote, saying she thought the impasse could be resolved in "a day or two."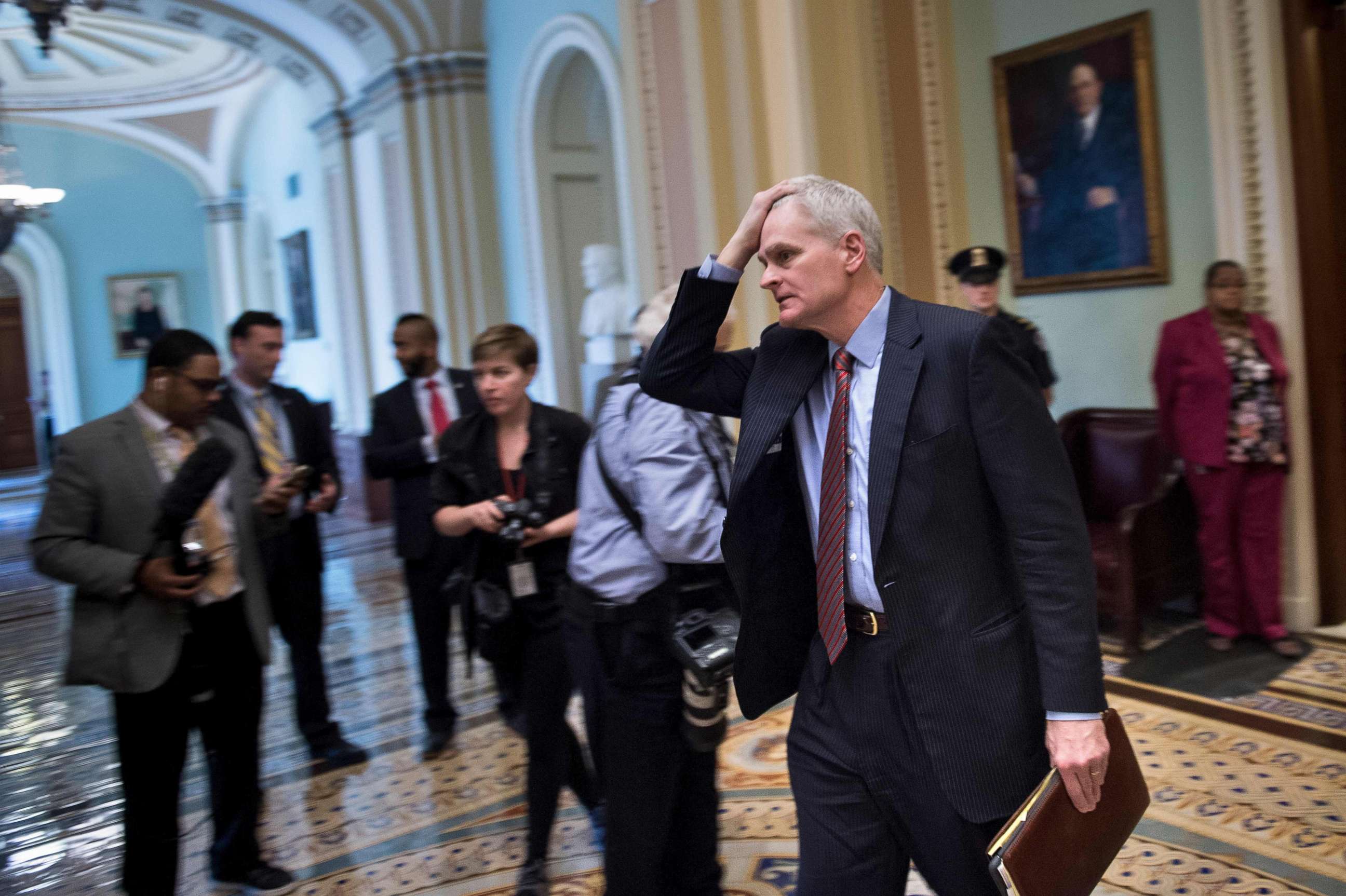 The blame game was in full force this weekend, with Trump tweeting about how the shutdown began with the first anniversary of his inauguration: "Democrats wanted to give me a nice present. #DemocratShutdown," he wrote.
Sen. Lindsey Graham, R-S.C., weighed in that the president is not being well-served by staff in the negotiations over immigration issues that are key to resolving the impasse and reopening the government.
Asked by ABC News if he was referring to Trump's senior policy adviser, Stephen Miller, a hardliner on immigration and close adviser on the issue to Trump, Graham said: "I'll just tell you his view of immigration has never been in the mainstream of the Senate. And I think we're never going to get there as long as we embrace concepts that cannot possibly get 60 votes."
The White House hit back, dismissing Graham's comments and calling him an "outlier."
"As long as Senator Graham chooses to support legislation that sides with people in this country illegally and unlawfully instead of our own American citizens, we are going nowhere. He's been an outlier for years," said White House spokesperson Hogan Gidley.
ABC News' Meridith McGraw, Jordyn Phelps, John Parkinson, Christopher Donato, David Caplan and Meghan Keneally contributed to this report.