Slain Home Depot worker's mom tells Congress, amid worrying retail crime: 'The system failed'
The true scope of the problem is hard to ascertain and address, a lawmaker said.
As much of the nation on Tuesday watched news coverage of former President Donald Trump's historic arraignment at a Miami courthouse, a panel of Republicans and Democrats on Capitol Hill were being riveted by something else: the testimony of a mother whose 26-year-old son, working as an asset protection officer, was fatally shot in April at a Home Depot in Pleasanton, California.
"The system failed my son," an emotional Lorie Mohs told members of the House Judiciary Committee. "We will never have another family photo. We will never hear his laughter or feel his hugs. I will never get to say, 'I love you.'"
According to lawmakers the "crushing," "dastardly" and "horrific" story of how Mohs' son, Blake, ended up being killed by an alleged thief is a jarring example of the surging threat from what authorities call organized retail crime, when groups of people steal high-dollar items from retailers to then sell those stolen goods online or elsewhere.
While this kind of theft has been around for years, retailers say it's reached unprecedented levels and become increasingly violent. And federal law enforcement warns that brutal gangs, dangerous international crime syndicates, and even groups with suspected ties to terrorism are increasingly dabbling in it.
"These are not cases of simple shoplifting," Rep. Andy Biggs, R-Ariz., said.
"[We must] really quash this kind of retail crime," added Rep. Sheila Jackson Lee, D-Texas.
Home Depot, where Blake worked, has been especially hit hard. In recent weeks, ABC News has investigated the growing issue, with in-depth reports featuring exclusive videos, rare interviews and an inside look at what Home Depot is trying to do about it.
But testifying to Congress on Tuesday, Mohs put some of the blame for her son's death on Home Depot itself.
She recounted that in regular phone calls with her son before he was shot, Blake would tell her about the many thieves who pulled knives or guns on him and "I would ask if he's been issued any bulletproof vests, pepper spray or safety gear."
"He would … tell me, 'No,'" she said. "As a mom, my concerns began to grow at the lack of [protective equipment] he had been issued by Home Depot. All of my concerns and fears were realized by one phone call."
On April 18, a woman Blake confronted at work for allegedly stealing a tool charger "pulled out her gun from her purse and shot my son -- in the heart, of all places," Mohs testified Tuesday.
The alleged shooter and an alleged getaway driver have been arrested on murder charges in the case.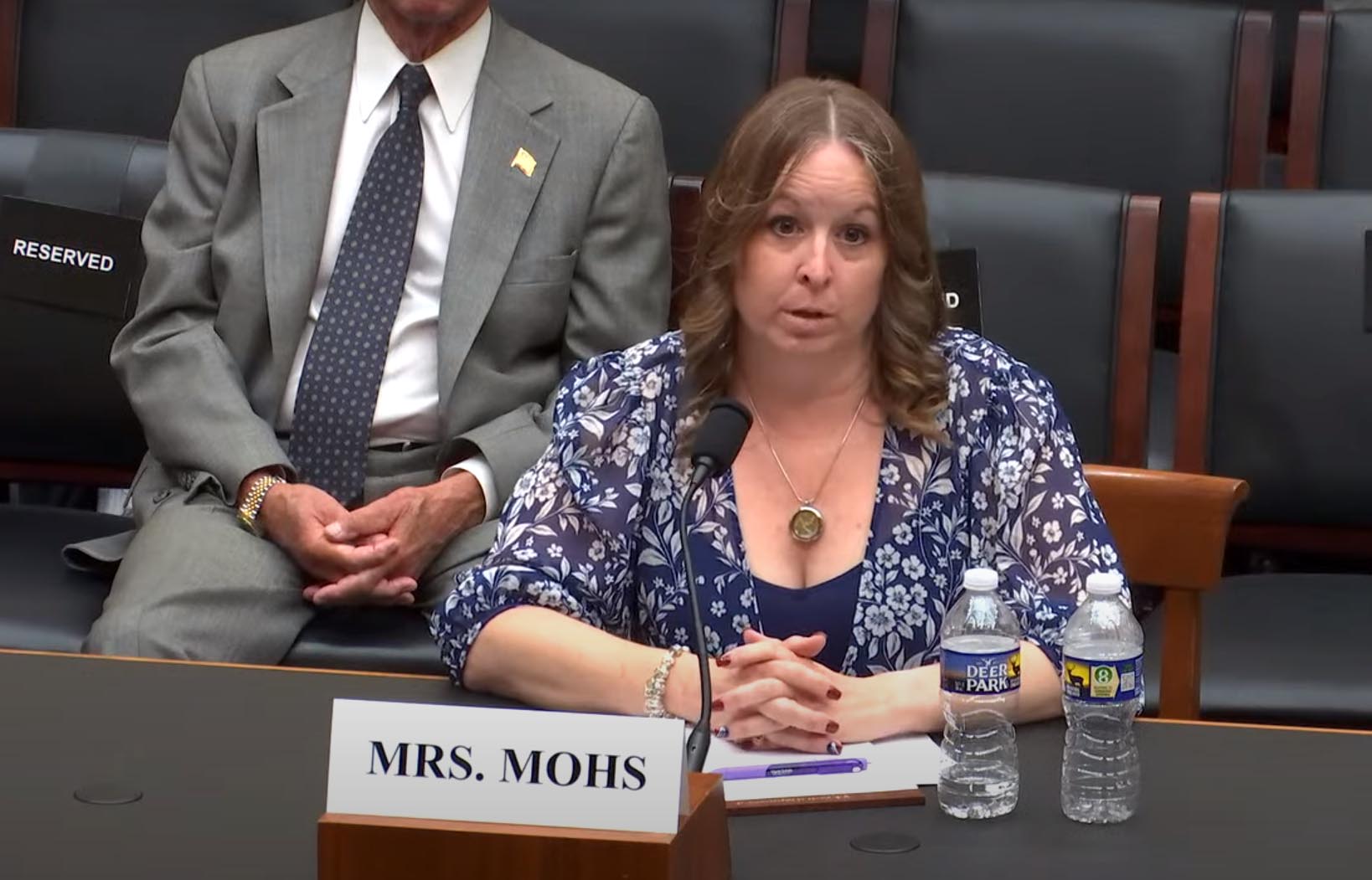 In a statement to ABC News, a spokeswoman for Home Depot called the killing of Mohs' son a "senseless tragedy," adding, "Blake was our associate and friend, and our hearts go out to his family and everyone who knew and loved him."
The statement said: "The safety of our associates and customers is always our number one priority. The Home Depot offers extensive training and resources to all of our associates, with additional training for Asset Protection associates, and we're constantly assessing what tools and training will keep people safest."
On Tuesday, Mohs testified that "so many could have prevented [her son's] death," including the U.S. Labor Department, which she said could mandate that retailers provide protective equipment for asset protection workers, and local justice systems, which she said "failed" to rehabilitate Blake's alleged killer over her lengthy criminal career.
Sitting beside Mohs on Tuesday, Kansas Attorney General Kris Kobach, a Republican, agreed that many "factors" are "exacerbating this problem" of organized retail theft.
In particular, he said, a "huge number" of cases never get prosecuted "due to the lack of prosecutorial capacity at the county level," which itself stems from "a shortage of criminal prosecuting attorneys across the country."
"Many [district attorneys] simply have too large a stack of crimes" to focus on cases where no one is physically harmed or personally victimized. Similarly, local police departments "only have a limited number of detectives, [so] if you've got multiple stores getting hit multiple times each day, they don't have the capacity to investigate all of them," he said.
Even when local prosecutors do bring charges, there is "a lack of detention," which allows criminals to strike retailers over and over again, Kobach added.
"In Kansas, the felony threshold is at $1,000, so you'll typically see them stealing $900 or so in any given criminal event," keeping them out of jail pending trial, Kobach said.
He said that -- in terms of dollars stolen through organized retail crime -- Kansas ranks among the top 10 states in the country, and that's mainly because the I-70 corridor that runs from Kansas City west to Colorado "is a pipeline" for drugs, making it also a pipeline for organized retail crime.
People struggling with substance abuse issues are often targeted for recruitment by organized crime rings, which can provide them a source of money, Kobach said. People with mental illness are also frequently recruited, the head of the National District Attorneys Association, John Flynn, told lawmakers.
That's why to effectively fight organized retail crime, it's important to "address the issue holistically," providing help to those who need substance abuse or mental health treatment and only using a "more law-and-order approach," including arrest and incarceration, against those higher up in the crime rings, Flynn said.
Jackson Lee, the Texas congresswoman, noted that the true scope of organized retail theft has been hard to ascertain because there is no "consistent and comprehensive" data on it. In fact, she said, there isn't even a "uniform definition" of what organized retail crime is, making it even harder to track and then tackle.
At times, Tuesday's hearing was unmistakably political, with Republican lawmakers and the conservative witnesses they invited saying that "in some quarters" of the country, as Kobach put it, prosecutors with "a lack of respect for the rule of law" are unwilling to bring certain cases even when they can. He did not point to any specific inaction, but some retailers and other law enforcement officials have previously expressed similar concerns to ABC News.
On Tuesday, one Democratic lawmaker, Rep. Madeleine Dean of Pennsylvania, accused Republicans of being "very interested in retail crime, [but] not very interested in saving lives" through further gun regulations.
A Republican lawmaker on the committee, Rep. Tom Tiffany of Wisconsin, criticized "woke" companies who now want help fighting retail theft and claimed Democrats are "why we are seeing the lawlessness."
When Tiffany then asked Mohs, still grieving over her son's death, to comment, Mohs balked, saying that "defunding police and things like that are not my expertise."
"I only involve myself in this … with my son's passing, unfortunately," she said.
"Our hope is that our story helps this committee understand the importance and the urgency for change," she told the lawmakers.
ABC News' Erielle Reshef and Laura Romero contributed to this report.