In sharp contrast to previous acrimonious showdowns and amid bitterly--disputed investigations, congressional Democrats on Tuesday emerged from a White House meeting with President Donald Trump calling it "constructive" and announcing an agreement to spend $2 trillion to tackle U.S. infrastructure in a "big and bold way."
House Speaker Nancy Pelosi told reporters outside the West Wing the hour-and-a-half meeting with Trump, top aides and Cabinet officials was "very productive," a characterization echoed in a statement by White House press secretary Sarah Sanders.
"We have to invest in this country's future and bring our infrastructure to a level better than it has ever been before," Sanders said.
While fireworks flared at previous White House meetings, Senate Minority Leader Chuck Schumer said there was "goodwill" during Tuesday's discussions.
Schumer said the plan isn't short term -- it's hoped it will have an impact for "25 years." Improving roads, bridges, highways, and water systems were discussed, and, according to Schumer, broadband and the power grid "so we could bring clean energy from one end of the country to another." Senate Majority Leader Mitch McConnell will announce just how sweeping the "big and bold" plan will be, according to Pelosi.
The group will meet again in three weeks to discuss specific proposals and the president will present his ideas on ways to foot the giant bill.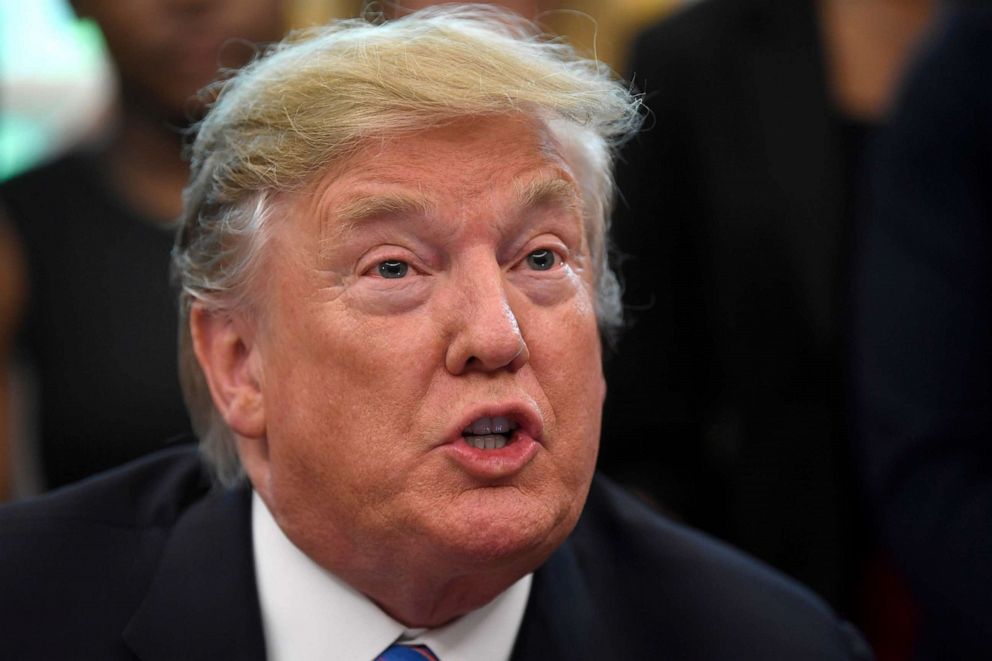 Democrats said the topic of investigations did not come at Tuesday's meeting, as the meeting came amid growing tensions between Democrats and the White House in the wake of the Mueller report.
In an exchange with ABC News Chief White House Correspondent Jonathan Karl, Schumer expressed optimism that Democrats can both investigate and work to legislate with the president at the same time.
"In previous meetings the president said if the investigations continue, I can't work with you. He didn't bring it up," Schumer told Karl. "I believe, we can do both at once."
"We can come up with some good ideas on infrastructure and we want to hear his ideas on funding," Schumer said. "That's going to be the crucial point in my opinion. And the House and the Senate can proceed in its oversight responsibilities. The two are not mutually exclusive, and we were glad he didn't make it that way."
Meanwhile, acting Chief of Staff Mick Mulvaney openly expressed skepticism at the prospects of any infrastructure while halfway across the country in California speaking at the Milken Institute conference.
"Let me put it this way, you and I agree that we need to do infrastructure, OK, you're a Democrat, I'm a Republican. There are certain things we agree on that could form the basis of an agreement. Here's where it breaks down, and it's not on the basis of how do you pay for it," he said.
"Why go ahead and commit to an infrastructure deal now but we're not going to change the environment under which it gets built?" he asked rhetorically. "That's not acceptable to this president … he's not interested in sending a trillion dollars now for something that won't get built until 2029."
Ahead of the meeting, Democrats appeared split on how Congress will pay for a package that could reach up to $2 trillion, especially with calls to increase the gasoline tax.
House Speaker Nancy Pelosi phoned Trump on April 4 to request the meeting. She was joined by Senate Minority Leader Chuck Schumer and top policy stakeholders at the White House.
Pelosi and Schumer wrote a letter to Trump on Monday outlining Democratic priorities, "which we wanted you to be aware of before the meeting," including "substantial, new and real revenue," clean energy and resiliency priorities, and "strong Buy America, labor, and women, veteran and minority-owned business protections."
"We look forward to hearing your ideas on how to pay for this package to ensure that it is big and bold enough to meet our country's needs," Pelosi and Schumer wrote. "This bill can and should be a major jobs and ownership boost for the American people -- manufacturers, labor contractors, and women, veteran and minority-owned businesses."
But heading into the meeting, Democrats had not coalesced around a dollar amount for a package, and they weren't expected to present the president with a list of offsets to potential infrastructure spending.
A source close to Schumer warned that unless Trump considers "undoing" elements of the Tax Cuts and Jobs Act, "Schumer won't even consider a proposal from the president to raise the gas tax, of which the poor and working people would bear the brunt."
But several Democratic aides said Schumer's red line is not representative of all Democrats, given that the 2017 tax cut measure is arguably Trump's greatest legislative achievement.
"It's not a likely outcome," one senior Democratic aide predicted ahead of the meeting. "People see what he's trying to do there, but I think there are others who think it complicates what's already a complicated situation."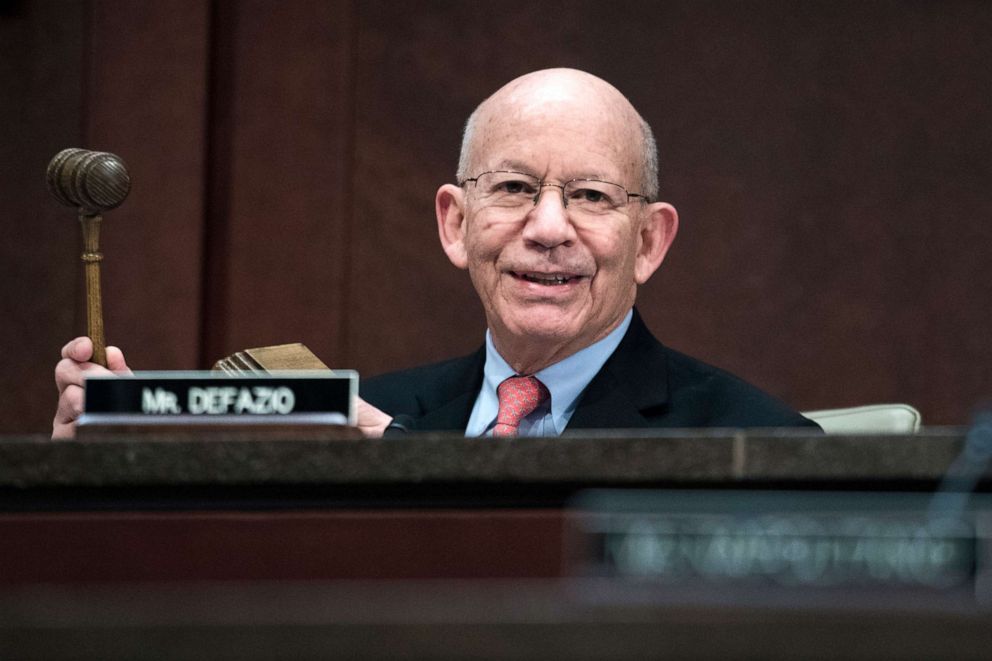 House Transportation and Infrastructure Chairman Peter DeFazio, a vocal proponent of raising the gasoline tax, which hasn't been increased since 1993, said doing so could raise billions of dollars, though he has deferred to the Ways and Means committee for the specifics on pulling the legislative branch's purse strings.
DeFazio testified before the committee in March and argued Congress could raise $500 billion for infrastructure investment "by indexing the gas and diesel tax, with the increases capped at 1.5 cents per year."
"By letting existing user fees -- the gasoline and diesel tax -- sit unadjusted for over 25 years, Congress has undermined this longstanding notion and shaken the stability of highway and transit funding in recent years. Since 1993, federal gas and diesel taxes have lost over 40% of their purchasing power," DeFazio testified on March 6. "We can provide an immediate boost in investment by issuing bonds tied to the future indexation revenues. The bond revenues are available immediately and fully offset."
DeFazio is one of the Democratic leaders invited to join Pelosi and Schumer at the meeting Tuesday.
"I am in discussions with my leadership in advance of this meeting and I am hopeful that the talks will be productive, and a catalyst for the robust infrastructure investment we desperately need and to which I'm deeply committed to enacting," DeFazio, D-Ore., said in a statement to ABC News.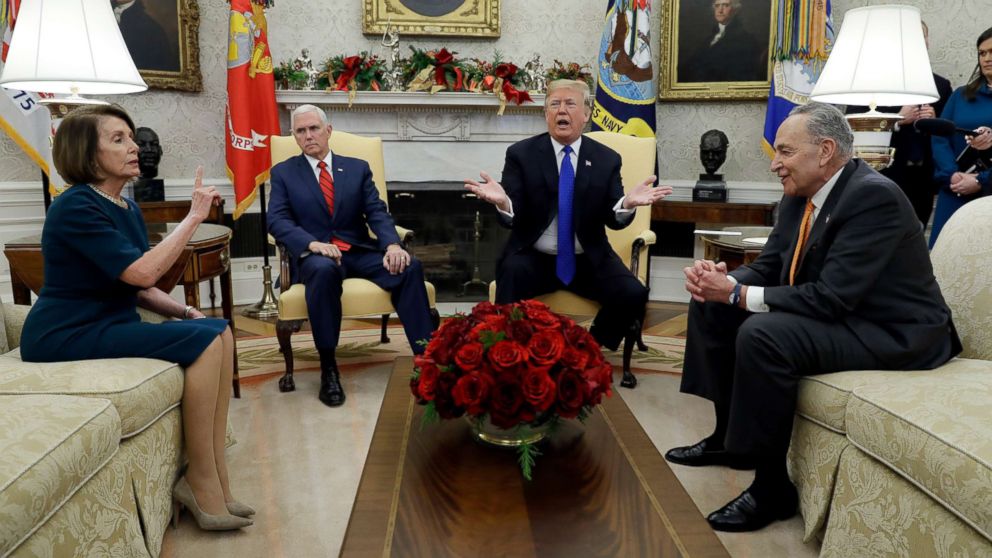 Pelosi and Schumer last met with Trump at the White House on Jan. 9, amid the 35-day government shutdown, shortly after the start of the new session of Congress and just a few weeks after congressional leaders engaged in a public airing of their grievances on Dec. 11 in front of the White House press corps in the Oval Office.
The follow-up, closed-door January meeting ended with Trump walking out of the Situation Room less than 15 minutes into the meeting, declaring it "a total waste of time" after Democrats refused to budge on the president's demands for a border wall.
ABC News' Jordyn Phelps contributed to this report.