President Donald Trump's eldest son, Donald Trump Jr, has been subpoenaed to appear before the Republican-controlled Senate Intelligence Committee, three sources familiar with the matter confirmed to ABC News.
Trump Jr. has previously met with three congressional committees, including the Senate Intelligence Committee in December of 2017, as part of their investigation into Russian interference in the 2016 presidential election.
While the committee's rationale for calling on Trump Jr. to return remains unknown, the decision to subpoena the president's son suggests the committee, which has conducted its investigation more subtly than its counterparts in the Democrat-controlled House of Representatives, continues its probe in the wake of special counsel Robert Mueller's report.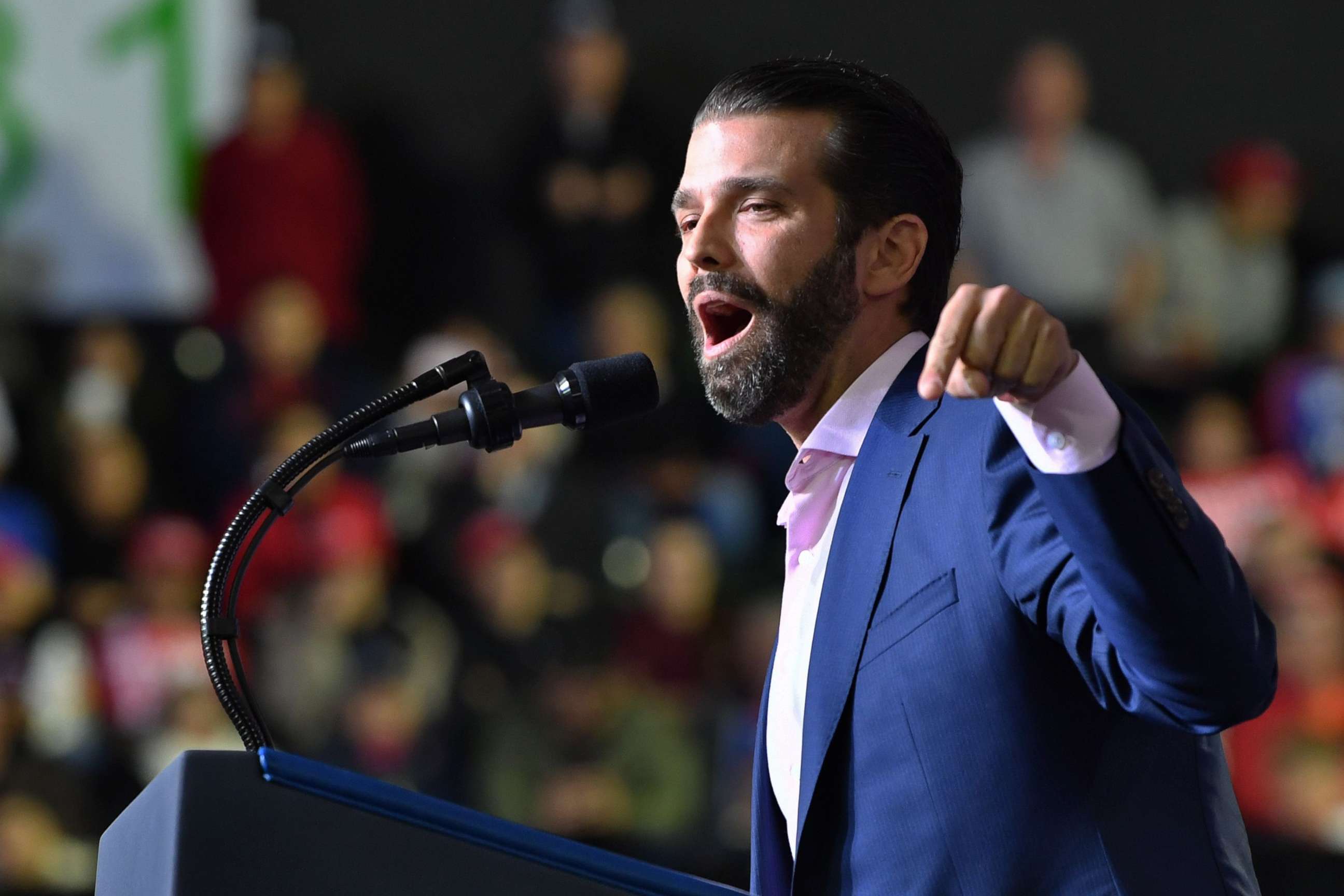 A source close to Trump Jr. said there was an agreement between the president's son and the committee that he would only have to come in and testify once as long as he was willing to stay for as long as they'd like, which the source said he did, having stayed with the panel for more than nine hours back in December 2017.
Trump Jr. has continued to provide documents as requested and as part of negotiations around this subpoena – which began weeks ago – he offered to answer questions in writing, according to a separate source close to the president's son.
An attorney for Trump Jr., reached by ABC News, declined to comment on the subpoena, which was first reported by Axios.
In a statement, the Senate Intel Committee said, "We do not discuss the details of witness engagements with the Committee. Throughout the investigation, the Committee has reserved the right to recall witnesses for additional testimony as needed, as every witness and witness counsel has been made aware."
The committee's chairman, Sen. Richard Burr, R-N.C., who has the power to block committee subpoenas, has said he will retire from the Senate in 2022 rather than seeking re-election.
A fellow Republican, Sen. Rand Paul, R-Ky., slammed Burr after news of the subpoena came out on Wednesday, writing on Twitter, "Apparently the Republican chair of the Senate Intel Committee didn't get the memo from the Majority Leader that this case was closed..."
Sen. Paul's remark referenced Senate Majority Leader Mitch McConnell's comments on the Senate floor on Tuesday, during which McConnell proclaimed that, with the Mueller investigation behind us, it is "case closed."
On Thursday morning, the committee's vice chairman, Sen. Mark Warner, D-Va., said he would not discuss "our process of which witnesses we've called before us and what we will do on a going-forward basis."
In addition to his prior testimony before the Senate Intelligence Committee, Trump Jr. also met with the Senate Judiciary Committee in September of 2017 for more than five hours and with the House Intelligence Committee for more than eight hours in December of 2017.