— -- The man whom President-elect Donald Trump picked as his national security adviser has said he doesn't believe that all cultures are "morally equivalent" and once described Islam as "a cancer," comments that have many in the Muslim community worried about what his new job might mean for them.
Retired Army Lt. Gen. Michael Flynn served as an adviser to Trump on national security and foreign policy throughout the presidential campaign. Flynn has said he agreed with Trump's initial proposal to temporarily ban Muslims from entering the United States, but told Al Jazeera earlier this year it likely "wouldn't work," and that he supports the vetting of Muslims coming from Syria and places where terrorism is a major threat.
He also accompanied Trump to his first top-secret national security briefing in August this year, and he was vetted as a potential running mate before Vice President-elect Mike Pence was eventually announced, two senior level sources with direct knowledge told ABC News earlier this year.
"I am pleased that Lieutenant General Michael Flynn will be by my side as we work to defeat radical Islamic terrorism, navigate geopolitical challenges and keep Americans safe at home and abroad," Trump said in a statement today. "General Flynn is one of the country's foremost experts on military and intelligence matters and he will be an invaluable asset to me and my administration."
The position of National Security Adviser does not require U.S. Senate approval.
Here are some of his controversial comments:
Flynn on 'Radical Islam'
Flynn, a registered Democrat who had a decades-long military career, served under the Obama administration until reportedly being forced to retire early as director of the Defense Intelligence Agency in 2014. The early retirement resulted from "the stand I took on radical Islam," he wrote in an op-ed for the New York Post.
Pentagon press secretary John Kirby reportedly said at the time that the retirement had "been planned for some time" and that then-Defense Secretary Chuck Hagel "appreciates [his] service."
For Flynn's part, he told Fox News in April 2015, "I've been at war with Islam, or a component of Islam, for the last decade."
Flynn earlier this year released a book -- "The Field of Fight: How We Can Win The Global War Against Radical Islam And Its Allies" -- that he co-wrote sharing his views on what he called the "global war against radical Islam," calling for the United States to develop a deeper understanding of radical ideology.
Flynn wrote, "we're in a world war against a messianic mass movement of evil people, most of them inspired by a totalitarian ideology: Radical Islam."
He also said in the book, "I don't believe all cultures are morally equivalent, and I think the West, and especially America, is far more civilized, far more ethical and moral, than the system our main enemies want to impose on us."
"And we've got to stop feeling the slightest bit guilty about calling them by name and identifying them as fanatical killers acting on behalf of a failed civilization."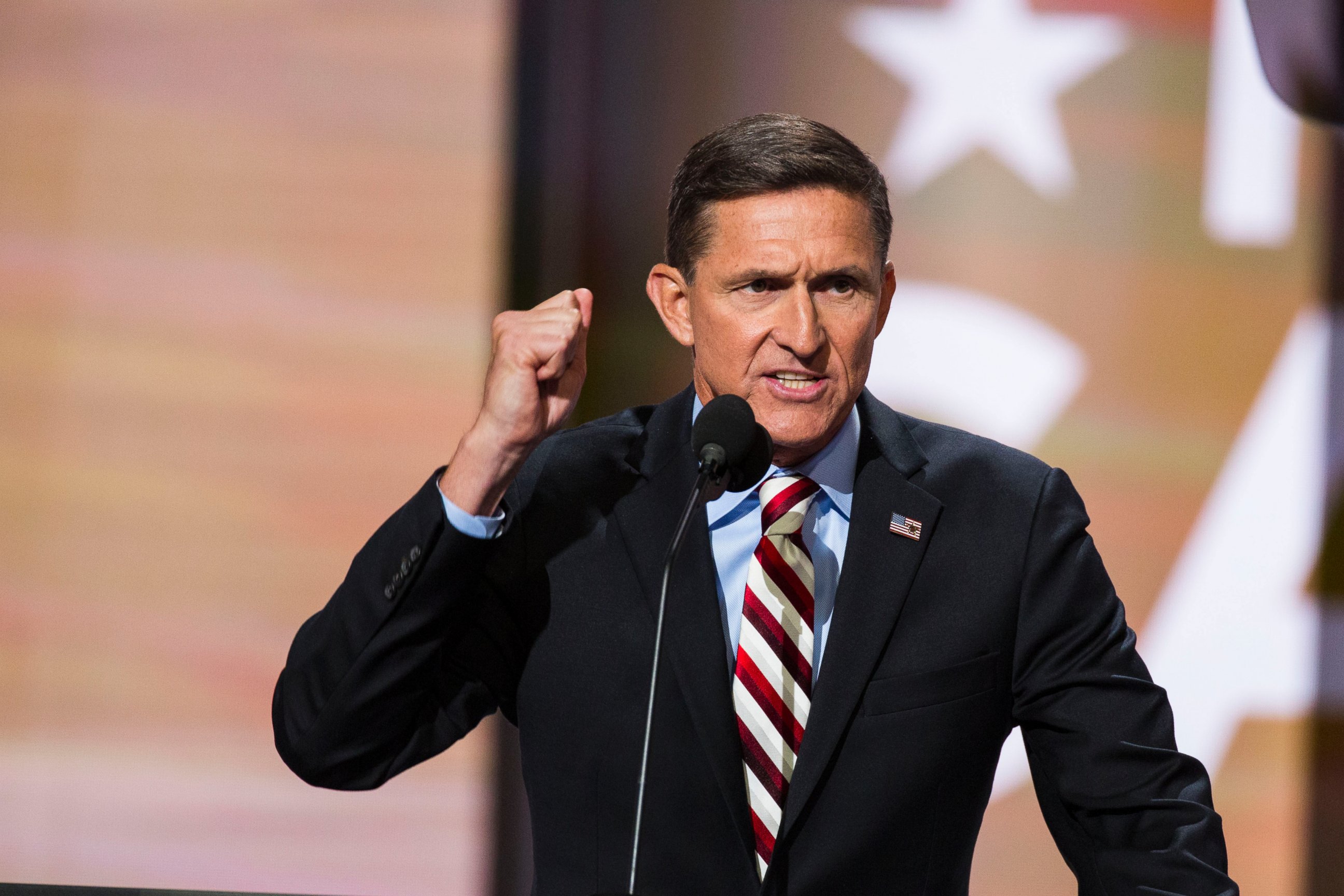 Flynn, who's chairman and CEO of Flynn Intel Group, is also a board member of ACT for America, which the Southern Poverty Law Center calls "far and away the largest grassroots anti-Muslim group in America."
The organization bills itself as "the nation's largest non-profit, non-partisan, grassroots national security organization" that's "committed to recruiting, training, and mobilizing citizens community by community to help protect and preserve American culture and to keep this nation safe," according to its website.
ACT for America did not respond to ABC News' request for comment
"Mr. Flynn's past Islamophobic statements, and his association with the nation's most venomous anti-Muslim hate group, should disqualify him from serving in any public office," Ibrahim Hooper, spokesman for the Council on American-Islamic Relations, told ABC News before Flynn's official selection.
In this tweet from February, Flynn said the fear of Muslims is a rational one:
Fear of Muslims is RATIONAL: please forward this to others: the truth fears no questions ... " he tweeted, referring to an anti-Muslim video from a third party.
"Radical Islam" is a designation that President Obama has refused to recognize. Throughout his tenure as president, he has sought to make a clear distinction between Islam built on peaceful teachings and the acts of terrorism carried out by extremists who adhere to radical interpretations of the religion.
Flynn did not respond to ABC News' request for comment left with Flynn Intel.
But he said in a statement this morning via the Trump Transition team that, "I am deeply humbled and honored to accept the position as National Security Adviser to serve both our country and our nation's next President, Donald J. Trump."
Muslims 'All on Guard'
Speaking this summer at an ACT for America event in Dallas, Flynn likened Islam to "a cancer," according to the Dallas Morning News, adding that documents taken from terrorist groups tell followers to "get into the bloodstream of the opposition," which Flynn said he interprets as attacks on Western nations.
Muslim activists are troubled by the prospect of a Trump administration that might include Flynn.
"President-elect Trump is carefully curating a senior team that seem to have one thing in common: a deep seated animosity against Islam and Muslims. [Lt.] General Flynn is one of them, and has been on the record about his sentiments towards Islam and Muslims repeatedly," said Rabia Chaudry, a senior fellow at the United States Institute of Peace and a board member of the new Muslim-Jewish Advisory Council that was launched to combat Islamophobia and anti-Semitism.
"Putting this man in charge of domestic security matters has the potential of great damage to American Muslims, who are certain to be at top of his 'enemy within' list, rather than white nationals, which both studies and authorities show are the real greatest domestic threat we face," she said before Flynn's official selection.
Hazem Bata, secretary general of the Islamic Society of North America, says Muslim leaders across the United States "are all on guard."
"Our community is preparing for an America that has parts of government openly hostile to Muslims," Bata said before Flynn's official selection. "We are hoping for the best, but getting ready for the worst."