Barring Kanye West, it's not news that the vast majority of hip-hop artists -- from underground rappers to icons like Jay Z, Snoop Dogg, Eminem and T.I. -- have become powerful voices in the resistance against President Donald Trump.
But only a few years ago -- as recently as 2015 -- hip-hop's storied relationship with the celebrity business mogul-turned president told a very different tale.
Trump was an indisputable icon in hip-hop music for decades, and the admiration for his success and swagger is documented in more than 300 rap verses. Lyrics examined by ABC News show Trump was hailed for his wealth and power and idolized in songs that date back to at least the late 1980s.
"He was an American icon that stood for success and wealth, and that was something that was valued, particularly among a community of folks that were coming from lower class backgrounds and people who were locked out of the mainstream American economy," Bakari Kitwana, the Executive Director of Rap Sessions, told ABC News.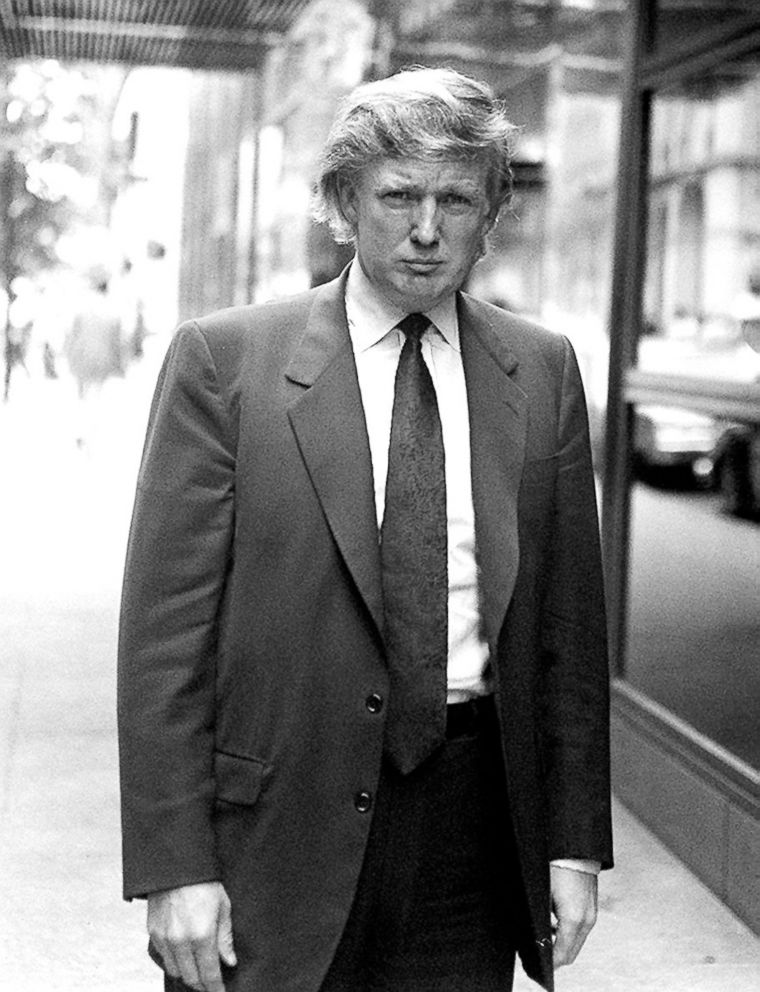 What Trump's hip-hop tweets reveal
Before he ran for president, Trump got shouts-outs from virtually every corner of the hip-hop world -- West Coast rappers like Snoop Dogg and Kendrick Lamar, East Coast rappers like Puff Daddy aka P. Diddy and 50 Cent and southern rappers like Lil Wayne and Jeezy.
Several songs were even named after Trump.
In his 2011 song, "Trump," Atlanta rapper Jeezy hails his own success and labels himself the Trump of the hood: "Richest n**** in my hood, call me Donald Trump, the type of n**** to count my money while I smoke a blunt."
In "Up Like Trump," -- the 2014 hit by hip-hop duo Rae Sremmurd, Swae Lee raps, "Forbes list, Forbes list, Forbes list, Forbes, read it like the Bible/Up like Donald Trump, chain swings like nunchucks."
And in the late rapper Mac Miller's 2014 hit, "Donald Trump," the Pittsburgh rapper boasts about his Trump-like persona: "Ay yo, the flyest m*****f***** in the room. Yeah, you know it's me."
And in more than 60 tweets about hip-hop, Trump either wrote about songs he was mentioned in or artists who praised or criticized him.
"Oh no, another rapper doing a Trump song --"Young Jeezy - Trump Lyrics." Why aren't these guys paying me?" Trump tweeted in 2012.
Oh no, another rapper doing a Trump song --"Young Jeezy - Trump Lyrics." Why aren't these guys paying me?

— Donald J. Trump (@realDonaldTrump)

September 14, 2012
In nearly 50 tweets, Trump wrote about Miller's 2011 hit, "Donald Trump," going from slamming the rapper and demanding that he gets royalties from the song to boasting about how many views the song got and claiming that it's doing well because Miller used his name.
Here are a few of those tweets:
From modern day stars like Jay-Z, Kendrick Lamar, Rick Ross and Nicki Minaj, to old-school legends such as Ice Cube, Raekwon, Master P., Busta Rhymes and Mos Def, Trump and his brand were name-dropped by top artists in hip-hop for nearly 30 years and several mentioned him more than once.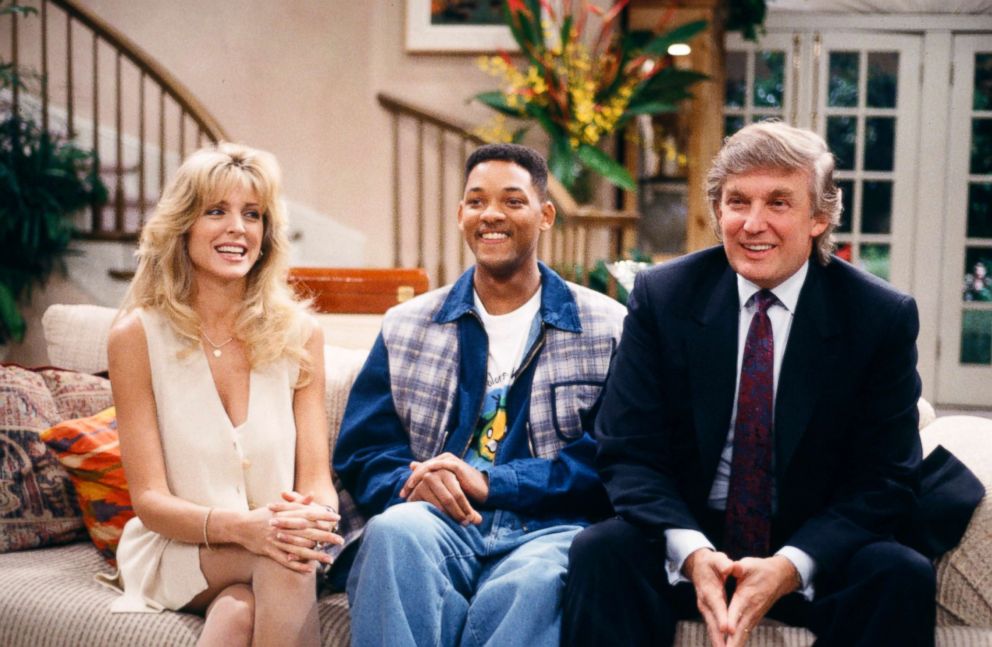 At the time, Trump was seen attending parties with Puff Daddy, was personal friends with hip-hop mogul Russell Simmons and was making guest appearances on iconic shows like "The Fresh Prince of Bel Air" alongside Will Smith. Trump even appeared on G-Unit radio in 2005 with 50 Cent.
Trump noted Diddy's admiration for him by sharing an article about it in October 2015.
But Kitwana, a culture critic who wrote the book, "Why White Kids Love Hip-Hop," cautions that Trump's relationship with hip-hop was always about Trump.
References to him were "more of a nod to the aspirational culture in hip-hop," Kitwana said, not an indication that the business mogul, who spread birther theories about Barack Obama, launched a crusade against the Central Park Five and mocked the "Black Lives Matter" movement, was a friend to the hip-hip community.
"I wouldn't say that Trump was a part of the hip-hop community," Kitwana told ABC News. "I would say that he got shout-outs. Even Jay Z talked about being at Trump Tower, but that's just like anyone getting shout-outs in hip-hop."
'I'm Donald Trump in a white tee and white 1's'
In his 2004 book "How to Get Rich" Trump not only says that having an ego is OK, but strongly argues that it is a necessary personality trait and without it, you can't be successful. Trump explains his ideology in a chapter titled, "Have an Ego":
"Having a well-developed ego, contrary to popular opinion, is a positive attribute. It is the center of our consciousness and serves to give us a sense of purpose. I remember saying to someone, 'Show me someone with no ego and I'll show you a big loser.'"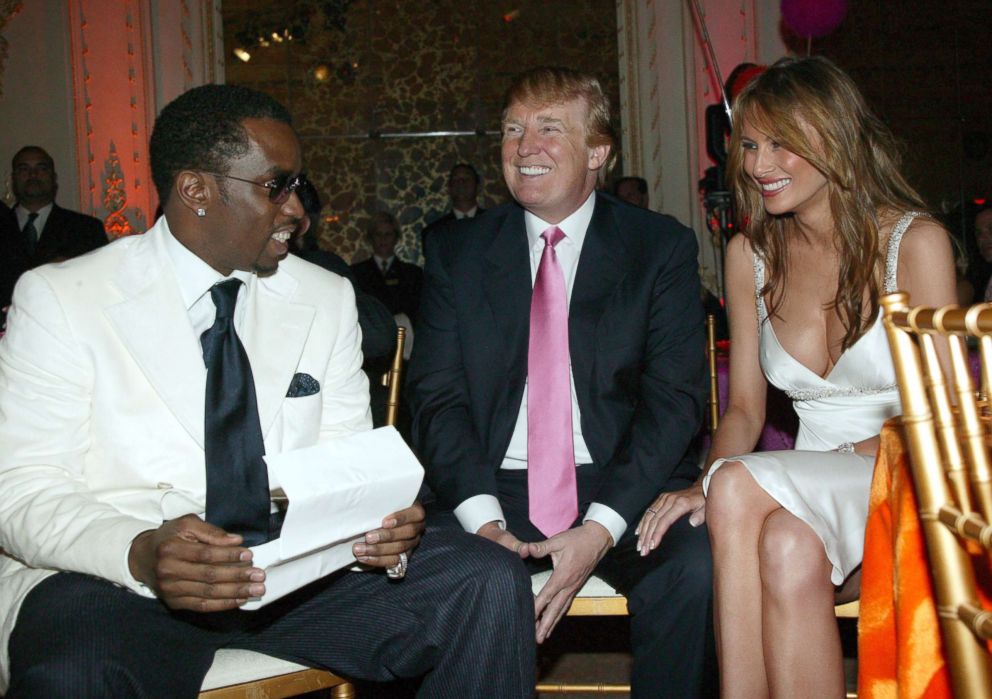 Having a big ego has also been central to many rappers' identities and the subject of many rap songs -- and many rappers referenced Trump to boast about themselves.
Examples of lyrics that mirror this notion are so copious, but here are a few examples of songs that tie the notion of having an ego directly to Trump:
In "Black Trump," a 2003 song featuring Raekwon, the Wu-Tang Clan rapper boasts about his money and status: "You gotta make power moves, black gunz and cash rule," and ends the song with "Guess who's the black Trump."
In his classic 2005 album and single, "Thug Motivation 101," Jeezy raps, "I'm Donald Trump in a white tee and white 1's/ The conversation is money, n****, you want some?"
In Kanye West's 2010 single, "So Appalled," West compares his baller status to Trump's: "I'm so appalled, Spalding ball, balding Donald Trump taking dollars from y'all."
In his 2003 hit, "Dirt Off Your Shoulders," Jay Z famously raps: "If you feeling like a pimp n----, go and brush your shoulders off," and in his outro says, "You're now tuned into the m-----f------ greatest. Best rapper alive, best rapper alive."
In "How to Get Rich," Trump writes that brushing the dirt off your own shoulder -- which he refers to as tooting your own horn -- is key to success: "So don't be afraid to toot your own horn when you've done something worth tooting about."
'All I do is win'
Few politicians talk about "winning" as much as Trump. The president continued to boast about winning the election months after Inauguration Day, vowed that America will "get tired of winning" if he's elected and has boasted about winning everything from the presidential debates, the economy, and the polls.
Trump even treated his first divorce "as a business deal and he cannot lose, he has to win," his ex-wife Ivana Trump told ABC News in October 2017.
And for years, hip-hop celebrated Trump's "winning."
Hip-hop lyrics are filled with success stories from many artists who come from humble backgrounds and the name "Trump" -- which also happens to rhyme with a lot, Kitwana noted -- was the perfect reference for many rappers to bring the point home.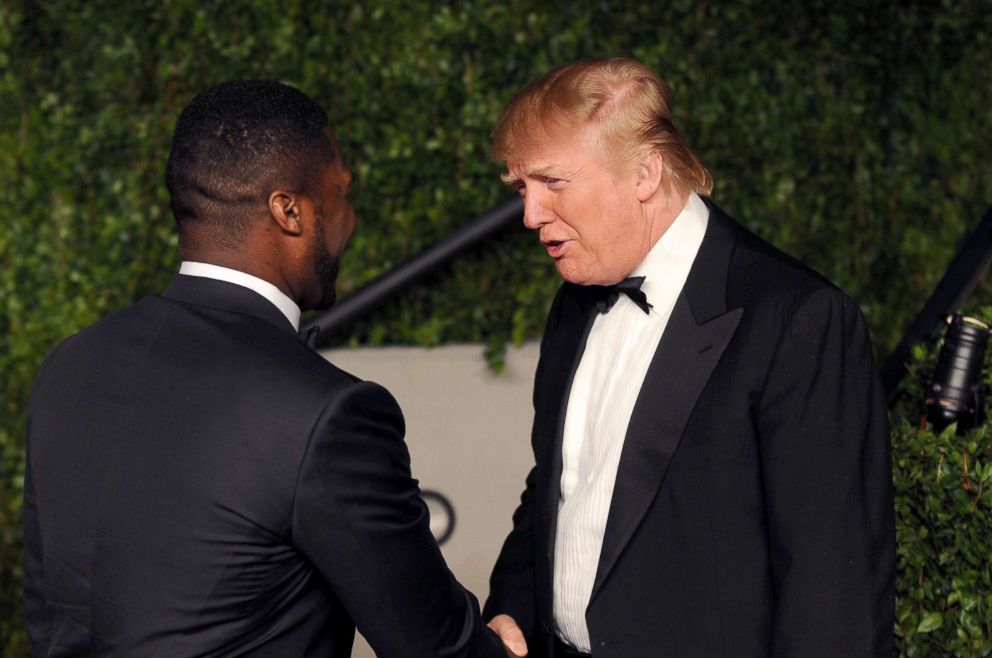 Gucci Mane compares his wins to Trump in the 2015 song "Straight Drop": "Break down all my bales in Ferragamo/ Hugo Boss, jumper cause I just Donald Trump you."
"So much money in my house I'm having cold sweats/ Throwing bands in the club they sending death threats/ Donald Trump bank account, you can call it that," Waka Flocka Flame raps in the remix of French Montana's "Everything's A Go."
In his 2012 song "I Need Dollas," T.I. reflects on his success and describes the new level he's on by invoking Trump: "Used to want dough like JC (penny) but now I'm thinking Donald Trump."
In DJ Khaled's "All I Do Is Win," a track from his 2010 album "Victory," T-Pain's hook goes:
"All I do is win, win, win no matter what/Got money on my mind, I can never get enough."
When Trump spoke to a crowd of supporters in June 2017 at a rally in Cedar Rapids, Iowa, decrying his critics, the President's words literally sounded like they were lifted from Khaled's hit: "They have a phony witch hunt going against me and you know what: All we do is win, win, win."
'Get the whole Trump Tower top floor for the hood'
In "How to Get Rich," Trump reflects on the powerful brand name he has built and boasts about how the name "Trump" has come to symbolize quality and success.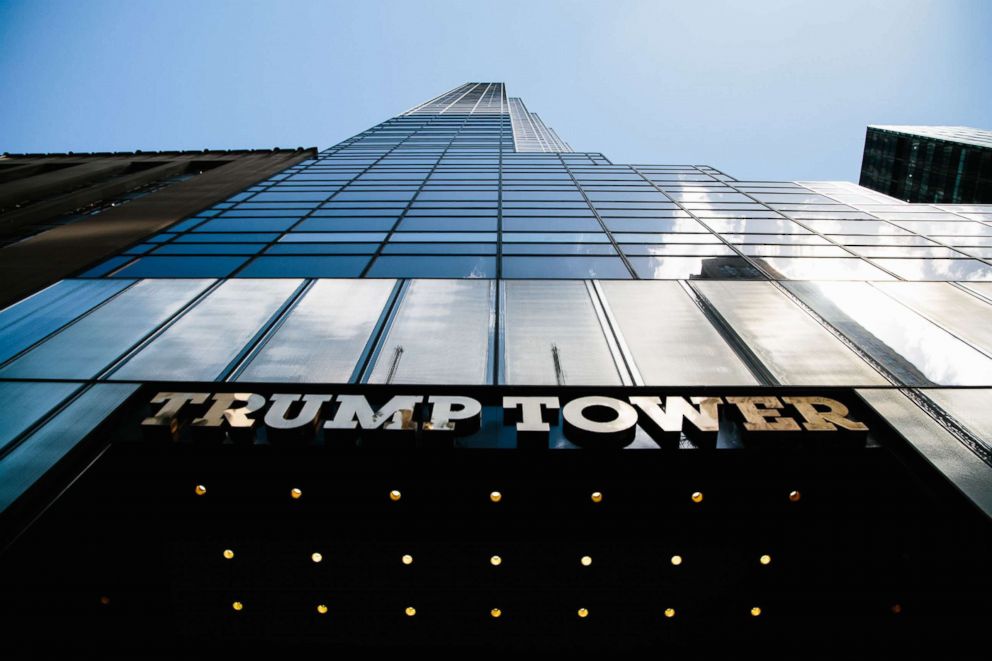 A revealing excerpt comes in the beginning, where Trump relates the story of how he decided to name Trump Tower after himself.
"I was originally going to call Trump Tower by another name -- Tiffany Tower, for the famous jewelry store next door. I asked a friend, "Do you think it should be Trump Tower or Tiffany Tower?' He said, 'When you change your name to Tiffany, call it Tiffany Tower.' We've all seen the power of a brand name. ... Trump has become a great brand name, due to my rigorous standards of design and quality."
He was definitely right, and hip-hop took notice. For years artists promoted Trump's brand.
Since the '80s, Trump Tower in New York City and Trump's casinos in Atlantic City were powerful symbols of the Trump empire and were frequented by many rappers.
In DJ Jazzy Jeff and the Fresh Prince's 1989 song "Numero Uno," Will Smith raps, "Cause you're gambling just like craps at Trump," and in the duo's 1989 song, "I Think I Can Beat Mike Tyson," Smith raps, "Me and Mike, two months, Trump, Atlantic City."
In the 2011 song, "New York Minute (remix)," Nicki Minaj raps: "I was in the Trump Towers looking for some shower gel."
In Nas's 2008 song "Make the World Go Round," he raps: "Get the whole Trump Tower top floor for the hood."
And while filming the video for the 2008 song, "How We Rock," in which rapper Termanology name-drops Trump, he and his crew stayed at Trump Tower and even "paid out of pocket," he told ABC News, because "that's how cool we thought it was."
"I copped enough coke and guns to open Trump Towers of my own, then I control the slums," he raps in the song.
For many, Trump -- or what he symbolized -- was the dream and in "How to Get Rich" Trump reflects on this:
"I've read stories in which I'm described as a cartoon, a comic book version of the big-city business mogul with the gorgeous girlfriend and the private plane and the personal golf course and the penthouse apartment with marble floors and gold bathroom fixtures," Trump wrote in the chapter "Think Big and Live Large." "But my cartoon is real. I am the creator of my own comic book, and I love living in it."
"It used to be cool to be like 'I'm like Trump, I got the money, I got the girl, I'm the cool guy with all the wealth and all that,'" Termanology said. "But now that we got to see what he's about, we no longer rock with him."
In hip-hop, Trump will never be great again
Upon jumping into the presidential ring, Trump quickly became hip-hop's public enemy, number one. Artists may have liked his persona, but they did not like his politics.
Although Kanye West, who is set to meet with Trump at the White House on Thursday, has remained defiant in the face of backlash over his support for the president, the rapper's stance, which has prompted a firestorm from fans and artists alike, is virtually an outlier in the hip-hop community.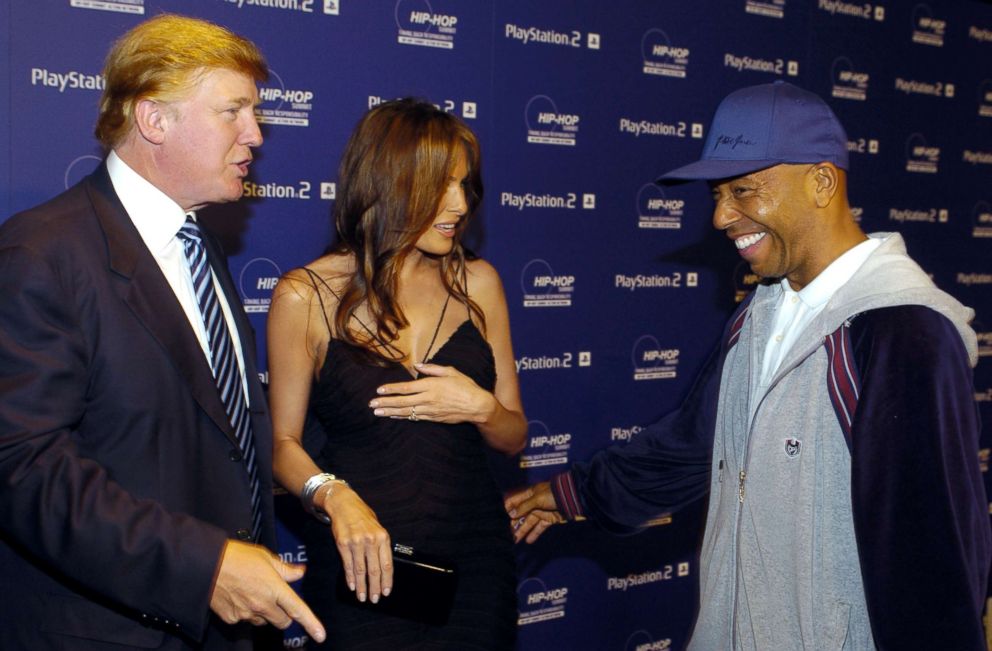 Trump's old friend Russell Simmons, who backed Democratic presidential candidate Hillary Clinton in 2016, reflected on the deterioration of their relationship in a 2016 letter to his "old friend" Trump and urged him to "stop fueling fires of hate."
Citing everything from his dismissal of the "Black Lives Matter" movement, his advocacy for stop-and-frisk policing policies, his comments following the deadly 2017 white supremacist rally in Charlottesville, Virginia, to his ongoing battle against NFL players who take a knee during the national anthem to protest racism, plus a host of other controversial comments on race and racism in America, hip-hop artists have railed against Trump in both lyrics and public appearances.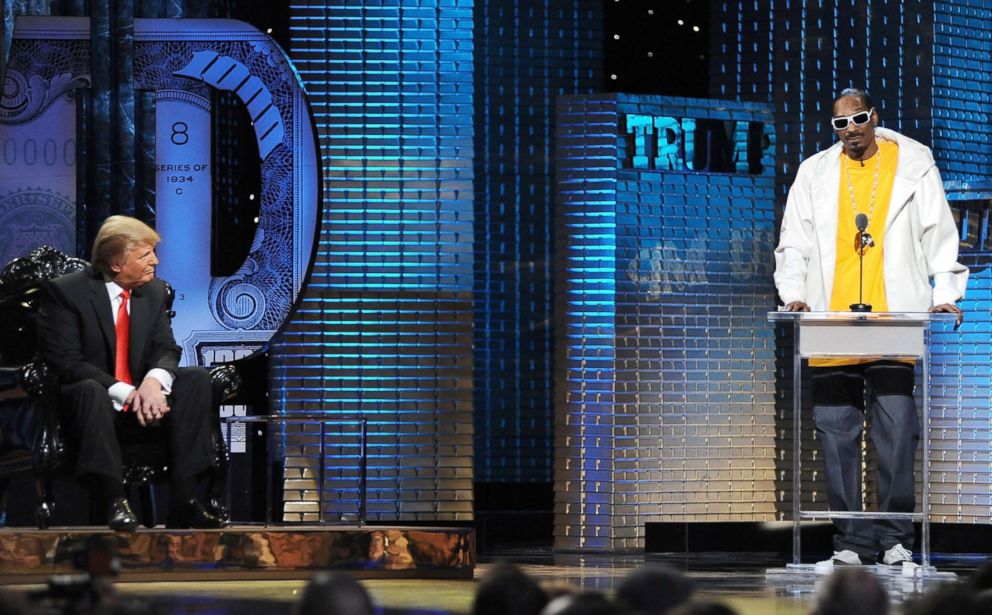 Rappers like Jay Z, T.I. and Snoop Dogg -- all of whom celebrated Trump's wealth in the past -- became some of his most vocal critics.
"Can you imagine what the outcry would be if @SnoopDogg, failing career and all, had aimed and fired the gun at President Obama? Jail time!" Trump tweeted in response to Snoop Dogg's 2017 video for "Lavender," where he aims a toy gun at a clown appearing to be dressed up as Trump.
Can you imagine what the outcry would be if @SnoopDogg, failing career and all, had aimed and fired the gun at President Obama? Jail time!

— Donald J. Trump (@realDonaldTrump)

March 15, 2017
And in January Trump responded to Jay Z's criticism of his administration in a tweet, writing, "Somebody please inform Jay-Z that because of my policies, Black Unemployment has just been reported to be at the LOWEST RATE EVER RECORDED!"
In his 2016 viral anti-Trump anthem, "FDT" or "F*** Donald Trump," rapper YG offers a direct reflection on the transformation of Trump's symbolism in hip-hop over the years:
"Me and all my peoples, we always thought he was straight. Influential m****f**** when it came to the business. But now, since we know how you really feel, this how we feel -- F*** Donald Trump," YG raps, accusing Trump of being a "racist."
Termanology, who has been performing "How We Rock" at his shows since 2008, reflected on the evolution of the symbolism of "Trump" and said that his own verse now carries a different meaning.
"We didn't know that [Trump] was going to become president, and we didn't know he was going to act the way he acts. It kind of struck all of us by surprise and now we cringe when we hear our own references to the guy we thought was cool. It wasn't political back then," Termanology added. "The coolest thing you could do was be in Trump Tower. It just symbolized wealth and success ... now it doesn't symbolize that anymore. It symbolizes racism and ignorance."