As vote counting and recounting continues in Florida, the state's election authority said Wednesday that it had requested a federal investigation into altered voter forms.
The forms, which by-mail voters use to correct problems with signatures accompanying their ballots, appeared to have instructed voters to return them late. The Florida Department of State asked U.S. attorneys in three Florida districts to investigate, writing in a letter that creating such an altered form would be a crime.
Florida is the site of an ongoing vote recount in three statewide races, for U.S. senator, governor and state agriculture commissioner.
Four counties -- Broward, Citrus, Okaloosa and Santa Rosa -- received forms from mail-in voters that appeared to have been altered. The altered forms instructed voters to return them "no later than 5 p.m. on Thursday, November 8." The forms are due "no later than 5 p.m. the day before the election" -- as written on the original form.
"We respectfully ask that you take all necessary steps to investigate and remedy such abuse. Please contact us should you need any additional information," reads a letter Florida Department of State Interim General Counsel Bradley McVay sent to U.S. attorneys in the Northern, Middle and Southern Districts of Florida on Nov. 9.
The type of form, known as a "vote-by-mail cure affidavit" -- is used by voters who forgot to sign a "vote-by-mail certificate" when they returned their ballots, or whose signatures do not match those on file with their voter-registration records, according to Florida's Division of Elections website. Voters must return them with a copy of identification.
Voters can deliver the forms in person, fax, or email them to county election officials.
"If you forgot to sign your vote-by-mail ballot certificate when you returned your ballot, or you get information that your signature on the certificate did not match your registration record, you have the opportunity to correct the situation," the Florida Elections Division website tells voters, guiding them to the form.
Voters can request by-mail ballots in Florida even if they will not be absent on Election Day. By-mail ballots must be returned and received by county officials by 7 p.m. on Election Day; voters must return their affidavits correcting signature issues the day before.
The department sent copies of the altered forms, received by county officials, to the U.S. attorneys. The department provided copies to ABC News.
"The Department continues to review any information or complaints we receive regarding election fraud or other criminal activity," Florida Department of State spokeswoman Sarah Revell told ABC News on Wednesday. "Last Friday, the Department sent a letter to the Offices of the United States Attorneys requesting they investigate possible violations of Florida and federal elections laws that have come to our attention."
Florida's Department of State and its statewide law enforcement agency had been prompted by Attorney General Pam Bondi on Sunday to investigate any possible election-related crimes -- though not necessarily of this kind.
Amid allusions to "fraud" by Republican Gov. Rick Scott, who narrowly leads Democratic Sen. Bill Nelson in the U.S. Senate race currently undergoing a recount, Bondi had prompted the secretary of state and Florida Department of Law Enforcement commissioner to investigate any possible election misconduct, sending a letter to each on Sunday. Bondi's letter referenced some of the criticisms Scott's legal team had voiced against election officials in the Democratic counties of Broward and Palm Beach.
Those criticisms related to the counting of votes by those officials, but the secretary of state's request for an investigation focuses on a different kind of alleged crime -- misleading voters as they seek to cast ballots.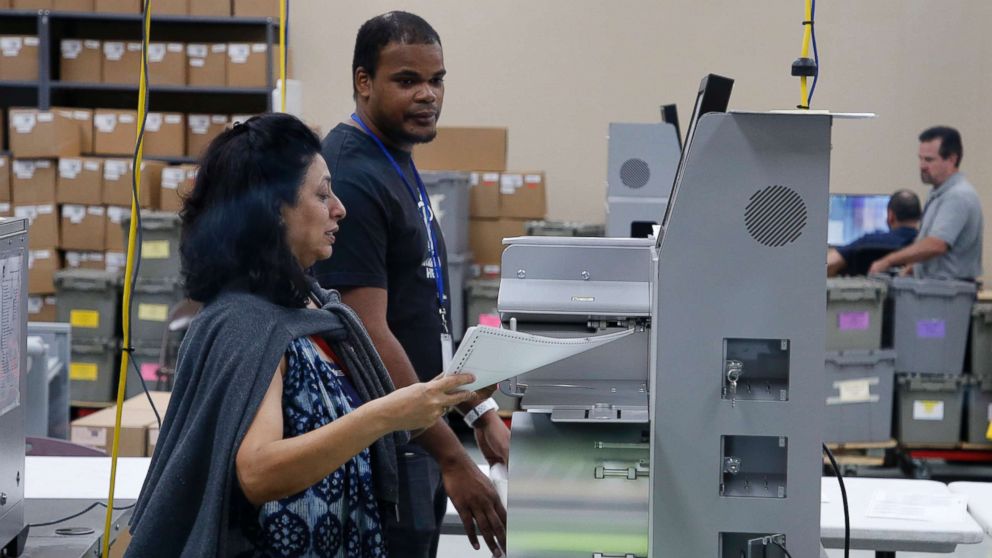 "[A]ltering a form in a manner that provided the incorrect date ... imposes a burden on the voter significant enough to frustrate the voter's ability to vote," McVay wrote to the attorneys general.
Florida faces a 3 p.m. Thursday deadline to complete a machine recount of votes in the three statewide races being recounted. If any remain within a margin of 0.25 percentage points, as is likely in the Senate contest, the state will move to a manual recount of some ballots, which must be completed by Sunday -- though those deadlines are being contested by Nelson in federal court.
Meanwhile, a federal court is hearing a lawsuit by Sen. Bill Nelson to invalidate Florida's law requiring that by-mail and provisional votes must include signatures that match those on file with voter-registration books -- which his campaign filed well before this request for an investigation. On Wednesday, a federal judge left open the possibility of allowing voters more time to amend and verify their signatures with county election officials.
ABC News reached out to the Florida Republican and Democratic parties for comment.
"We are grateful for any investigation of credible allegations of wrongdoing in this process," said Republican Party of Florida Chairman Blaise Ingoglia.
ABC News' Stephanie Wash contributed to this report.