A procedural first step to take up GOP-backed legislation to prohibit the federal government from banning gas stoves failed on Tuesday afternoon -- at the hands of 12 GOP lawmakers.
It was merely the first opportunity for House Freedom Caucus members dissatisfied with McCarthy and President Joe Biden's debt limit deal to revolt publicly against the speaker, joining 208 Democrats to vote down the rule.
While it may be wonky, this procedural hurdle puts the fragility of McCarthy's speakership on full display.
"We're not going to live in the era of the imperial speaker anymore," GOP Rep. Matt Gaetz of Florida told reporters after he voted against the rule Tuesday.
"We're not going to live in an era where our members are punished like this," the Florida lawmaker said, referring to Rep. Andrew Clyde.
Clyde told reporters earlier Tuesday that GOP leadership threatened not to bring up one of his sponsored bills if he voted against the debt ceiling rule last week.
On the House floor Tuesday afternoon, nearly a dozen Freedom Caucus members -- including Gaetz and Clyde -- engaged in heated conversations with Majority Leader Steve Scalise and Majority Whip Tom Emmer. Reporters in the gallery could hear the back and forth while the vote was open for more than 40 minutes.
Scalise ultimately switched his vote to no, allowing the GOP to take advantage of a House procedure to bring up the rule vote again later.
The procedural step, H.R. 463, would have provided for the consideration of House Resolutions 1640 and 1615. H.R. 1640, the "Save Our Gas Stoves Act," would prohibit the Department of Energy from finalizing the energy efficiency rules for gas stoves. H.R. 1615, the "Gas Stove Freedom and Protection Act," would prohibit the Consumer Product Safety Commission from banning gas stoves as a hazardous product or issuing any product safety standard that would prohibit the sale of gas stoves or make them significantly more expensive.
The CPSC said in January it had no plans to ban gas stoves, although similar efforts have advanced at the state level, such as a law in New York banning natural gas stoves and furnaces in most new buildings.
McCarthy made several concessions to members of his party in his campaign for the speaker's gavel earlier this year, including allowing a single member to introduce a motion to vacate.
Tuesday marks the first time in nearly 21 years that a rule vote has failed to pass the House. Even on the most contentious pieces of legislation, the majority party is able to deliver enough votes to open up floor debate of the given bill itself.
It also marks the second time in less than a week that McCarthy has faced an uphill battle during a procedural rubber stamp vote due to his slim majority: 222 Republicans to 213 Democrats. When the House needed to pass the rule on the debt ceiling deal last week, the speaker had to rely on 52 Democrats to pass it after he lost 29 GOP defectors.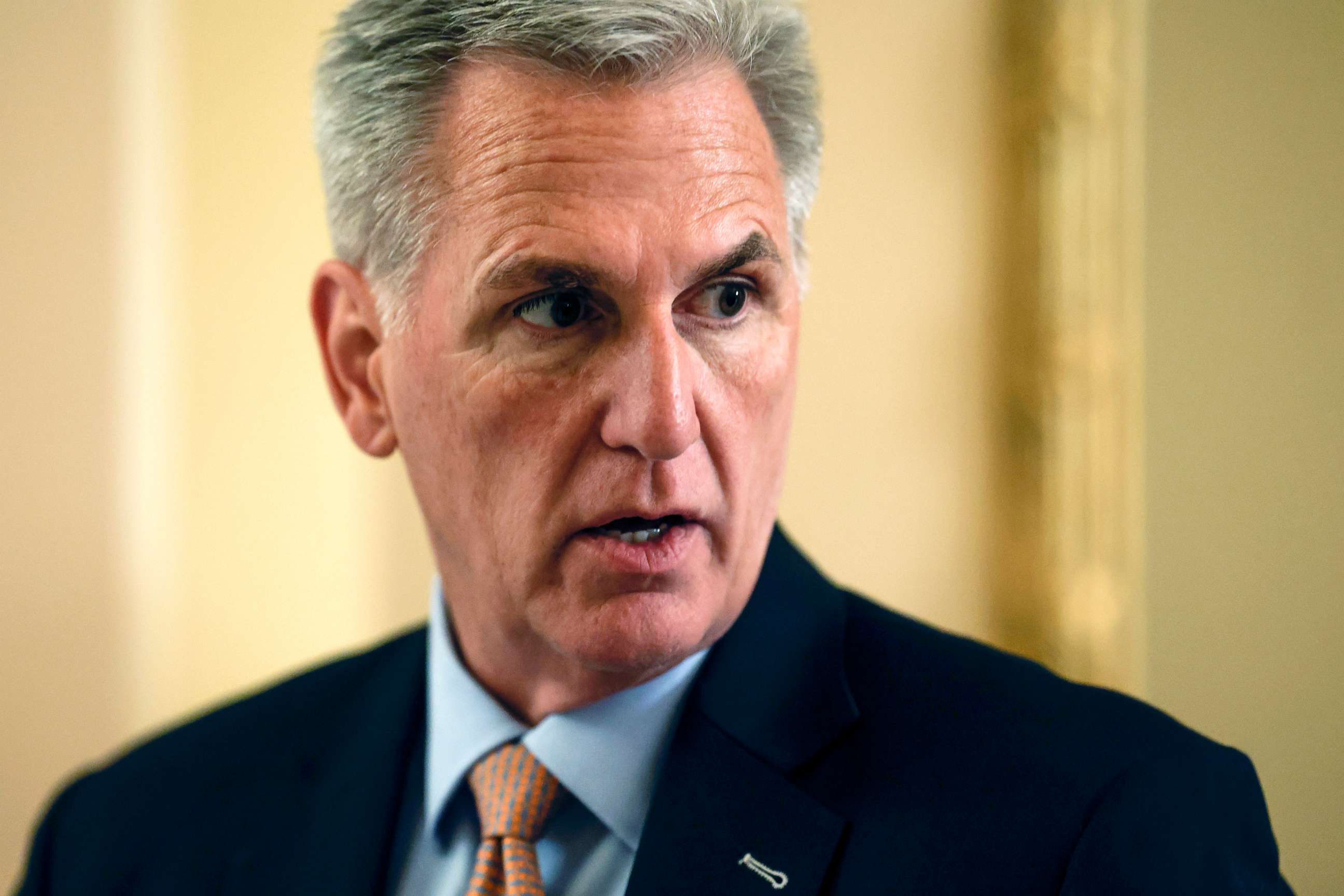 As McCarthy meets with members of the Freedom Caucus in his office tonight, the chamber is at a standstill until further notice.
ABC News' Stephanie Ebbs contributed to this report.